Understanding the Jakarta terror attacks
Tuesday, Jan 19, 2016, 12:51 AM | Source: Pursuit
Dave McRae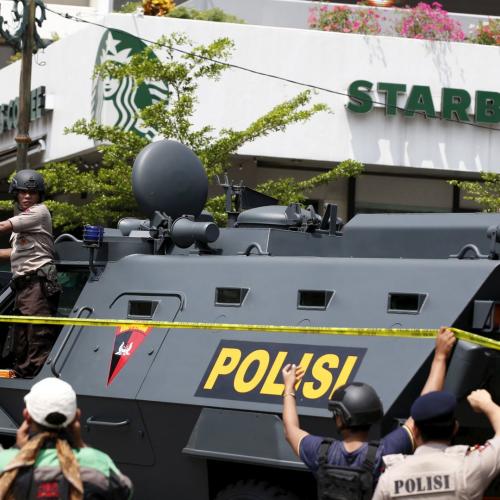 For several years, terror attacks in Indonesia have almost exclusively targeted police, eschewing the Western targets that were a focus of large-scale bombings in Jakarta and Bali from 2002-2005 and 2009. The perpetrators on 14 January still targeted Indonesian police, but began their attack by bombing a Starbucks café.
In a special edition of the Talking Indonesia podcast focusing on the Jakarta attack, leading terror expert and author of The Roots of Terrorism in Indonesia, Solahudin*, explains the renewed targeting of Western interests reflects the influence of an appeal by Abu Muhammad Al-Adnani , an Islamic State in Iraq and al-Sham (ISIS) spokesman, calling for ISIS supporters across the world to target the citizens of members of the international anti-ISIS coalition.
External ideological influences are not new to Indonesian terrorism. Solahudin has previously outlined that Indonesian terrorists almost never targeted Western interests before a 1998 fatwa issued by Osama bin Laden.
Meanwhile, the shift to targeting police after 2009 was linked inextricably with the popularity among Indonesian jihadis of the teachings of Jordanian jihadi religious scholar Muhammad Al Maqdisi, as well as reflecting perpetrators' anger at the shooting and arrest of terror suspects.
Of course, not all jihadi groups in Indonesia support ISIS, even among those sending members to Syria. Other groups are subject to different international ideological influences, including from Al Qaeda, and Solahudin outlines their critical response to the 14 January attack. "It's very interesting, actually some of the pro-Al Qaeda supporters [in Indonesia] already released the statement that the Thursday attack violates Islamic law," he says, "especially when they mention that most of the casualties, most of the victims are ordinary Muslims, so they actually condemn the Thursday attack."
Asked to compare Indonesia to other regions such as Europe and the Middle East, Solahudin still sees the ISIS threat in Indonesia as very small compared to other countries following the 14 January attack.
Talking Indonesia is a fortnightly podcast available at the Indonesia At Melbourne blog hosted by the Asia Institute's Dr Dave McRae and Dr Ken Setiawan, presenting extended interviews with experts on Indonesian politics, foreign policy, culture, language and more.
*Full disclosure: I translated the English language edition of Solahudin's book.