Armchair travel: 50 years of Melbourne films
Thursday, Apr 28, 2016, 01:39 AM | Source: Pursuit
Nicolette Freeman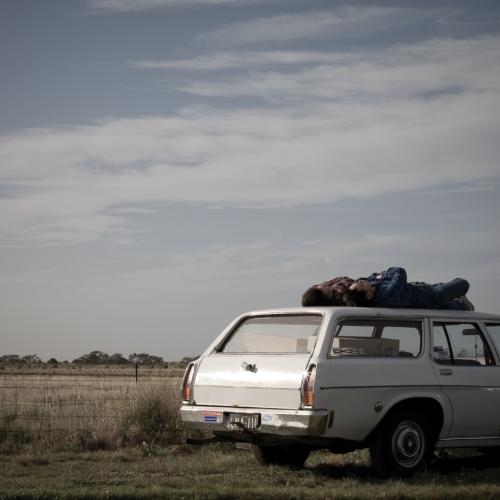 Anyone who still frequents those picture palaces with comfortable seating will understand my association of movies with armchair travel. Indeed, magic-lantern shows with glass slides of far-off destinations, and accompanying travelogue narration, were the earliest precursors to cinema-going.
Of course, jet technology has long since freed us from relying on the cinema for travel. These days we watch movies while we sit on those planes, or on our phones as we amble around.
I have been on my own journey via film recently, meandering through a 50-year-old archive of little-known film treasures. I have the great fortune of heading Australia's oldest film school, which is celebrating its golden anniversary this year; it started its life at the Swinburne Institute of Technology in 1966 and in 1992 transferred to its current home at the University of Melbourne's Faculty of the Victorian College of the Arts and Melbourne Conservatorium of Music.
In recognition of the school's legacy and enviable contribution to the Australian screen industry, we are using this milestone to make freely available, for the first time, 50 student films from the past half century – four of which are embedded within this article.
Those 50 films will be released gradually over the coming weeks, in the run up to our anniversary on 19 June, accompanied by articles that contextualise the filmmakers and the eras in which they were working. It's just the start of a larger Digital Archive project that will eventually see our entire back catalogue made available to the public, to researchers, to teachers, and to filmmakers.
And there is much to be gained from watching them.
While viewing these films, and considering our school's and our nation's history, I have been reminded of how remarkably we have changed our view of ourselves as a nation, in the context of the wider world of exotic destinations, and of filmmaking.

Life is elsewhere
It's worth remembering that the school started before the moon landing, in an era when most of us thought the "important stuff" only happened north of the equator – London, San Francisco and Paris had The Beatles, the Summer of Love and the French New Wave respectively.
But in 1966, the year the school opened, the top box-office film at Australian cinemas was not a foreign story (as had been the norm since the demise of our local industry at the end of the 1920s); it was They're a Weird Mob (1966), a film based on the novel of the same name by John O'Grady, about Australia's bizarre and xenophobic culture, told through the eyes of a fictional Italian immigrant.
Although, alas, it was realised not by "one of ours" but by the brilliant British director Michael Powell.
The establishment of our first Australian film school was part of a dream by visionaries including Philip Adams, Fred Schepisi, and the school's first Head, Brian Robinson, to change that situation – to get Australian directors, producers, and crew telling their own stories in their own way.
Australia, by the way, is credited with making the world's first feature film, The Story of the Kelly Gang (1906). Yet even in 1970 Kelly was played by Mick Jagger in the UK director Tony Richardson's Ned Kelly. It wasn't until 2003 that our own Heath Ledger played Kelly in the Australian director Gregor Jordan's version.
Choosing the films
So how did we choose the first 50 film?
Of course, there are award-winners, and films made by students who went on to make titles we all recognise – films such as The Chant of Jimmy Blacksmith (1978), Mad Max (1979), My Brilliant Career (1979), Muriel's Wedding (1988), Evil Angels (1988), Death in Brunswick (1990), Chopper (2000), The Proposition (2005), Animal Kingdom (2010), Mary and Max (2009), Snowtown (2011), Red Dog (2011), and The Dressmaker (2015).
But there are also films that shine with a different value: they give us insight into what Australia was like during those 50 years, into unique and memorable characters both real and fictional, and into the fears and dreams that characterise those times.
As a filmmaker, I have spent considerable time in archives, in Canberra, Washington, and New York. When looking through archival footage, you recognise the inherent qualities of each individual fragment but, more interestingly, you discover metaphors for something that is connected to you personally.

The process of re-looking, from a greater distance, at films that were devised for other audiences, in other contexts, gives us a unique opportunity to reflect, while also imagining what if.
If you are curious to see the early work of some of our most influential filmmakers (Gillian Armstrong, Jill Bilcock, Ian Baker, Robert Luketic, John Hillcoat, Matt Saville, Nikki Caro, Tony Ayres, Glendyn Ivin and Emma Freeman) or to see both the real and fictional Australia of the last 50 years, then I urge you to visit the films we will be releasing, decade by decade, in the coming weeks.
Spend a while travelling to other times and perspectives. In doing so, you'll experience the social, political and cultural shifts that have influenced our sense of ourselves as Australians, and given us the drive and confidence to tell our own stories on our film and television screens.
Of course, the story of the school and its emerging filmmaking talent is not over. We look forward to the next 50 years and the travel it continues to afford us from our comfy armchairs, or our screens on the go.
Banner image: Still from Happy Country (2008). Corrie Chen.
This is the first article in a series to mark the Golden Anniversary of Film and Television at the Victorian College of the Arts. See Part Two, Part Three, Part Four and Part Five. Visit the Film and Television 50th Anniversary website and Digital Archive website for more information.