Julia Gillard wins ALP leadership spill: expert reaction
Monday, Feb 27, 2012, 01:19 AM | Source: The Conversation
Brian Galligan, Carol Johnson, David Lowe, Mark Rolfe, Michael McKinley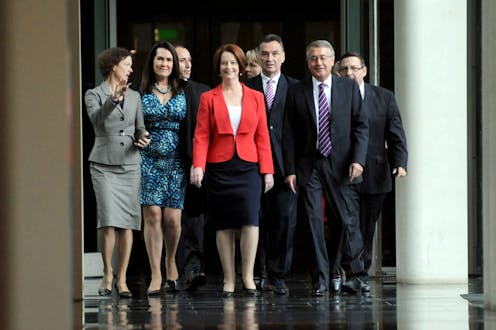 Prime minister Julia Gillard has defeated Kevin Rudd in this morning's leadership ballot by 71 votes to 31.
Rudd has said he will not initiate a further challenge to the prime minister's leadership, but has not ruled out being drafted by his parliamentary colleagues in future.
The Conversation's team of political experts responds to the outcome of the spill.
---
Professor David Lowe, Director of the Alfred Deakin Research Institute, Deakin University
This is the kind of victory the Gillard camp had to have. The numbers suggest they'd be reasonably encouraged [by the result]. If it had been a slimmer margin, even slightly slimmer, you'd find a lot of people in the media talking about Rudd's chances of challenging again. It's a convincing victory – but only just.
Gillard has a chance to really relaunch herself because she and her supporters have managed a very strong narrative publicly that they've been hamstrung by Rudd's undermining. Now she's got this sense that provided Rudd will behave himself, and let's assume that he'll keep his word on that, she now has a chance to relaunch to the public in ways that show the "real Julia".
In that sense, the relaunch provides her an opportunity. Given we're so far out from an election, I think there's still some grounds for optimism [for the ALP]. I don't think [the ALP is] heading to oblivion. She can take heart from a small movement upwards in the opinion polls.
If you combine that with what is still a pretty good story about how Australia is faring economically in a time of global crisis, and all those other stories of good policy reform that they haven't been able to sell well enough, and you can build that narrative into the relaunch, and if the "real Julia" can emerge a bit more unhindered by Kevin, then there is still a chance.
The other side of the coin is that those watching from the stakes will be watching very keenly, and the "Rudd excuse" may no longer be there.
The opposition will be carefully building well-designed hand grenades as we speak so they can try to make the government stumble. [Gillard's] stumbles will be watched all the more closely from now on.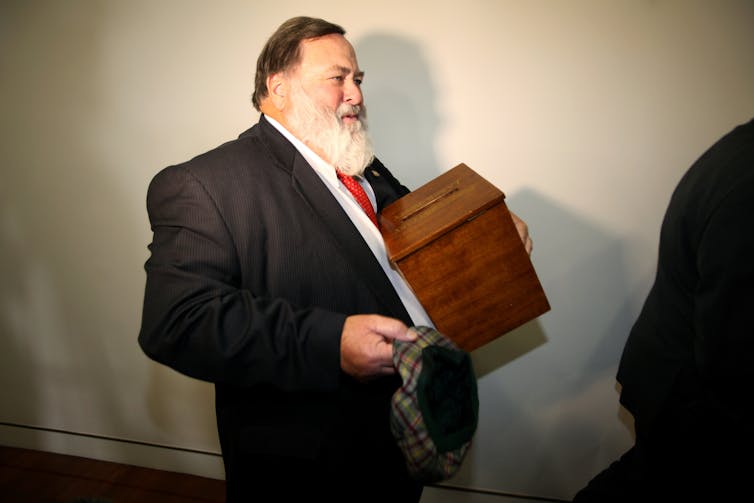 Dr Mark Rolfe, Lecturer, UNSW
Everyone expected these sorts of numbers, but if we all predicted it why was everybody so nervous? And why were several ministers so vitriolic in their attacks on Rudd last week? We know there was something wrong with Rudd's prime ministership but it seems like Gillard's supporters were running so scared of him getting too many numbers, that they had to come out on the attack.
In that respect, the reaction now after the vote seems a bit too hopeful, a bit too much like trying to put the whole incident behind. But Rudd is not going to stop. We all know he's a sort of determined, semi-psychopath so to speak.
Why would he suddenly give up? He certainly is going to give up on undermining Gillard publicly but it doesn't mean he's going to give up on putting himself out there. He can now write and broadcast in the media, he can tour seats of his supporters, generally putting his face out there.
In fact, it wasn't in Rudd's interest to win today. He doesn't want to take over now, when it means of months and months of running government, which is after all, his weakest point and his popularity may tank again. So he only needs a short time to come back, show he's popular, build Labor's numbers up a bit after the carbon tax has been bedded down from 1 July.
This has always been his strategy.
Labor now may get some bump in the polls because Julia now seems to be more of her straight talking self. But it's not going to radically restore the trust and credibility issue. Once a leader loses trust it's very hard to restore.
But after all that's happened the results of the polls on the weekend show the two party-preferred is still only 53 to 47 for the Coalition. Despite all that's happened, there's a softness in the coalition vote. The Liberal party should be in a great position like the Coalition up in Queensland where the two party preferred vote is 60 to 40. This softness is due to Abbott, as much as he has been this fierce campaigner, he's really not much more popular than Gillard. Labor could use this if it got its act together.
Professor Carol Johnson, Professor of Politics, University of Adelaide
It is a very convincing win at 71 to 31, and it would have been 72 to 31 if a member hadn't been off on maternity leave. But whether it will finally put [the leadership] to rest is another question.
I think one of the important issues to watch very carefully is what Kevin Rudd and his supporters say about the legitimacy of this vote. Bruce Hawker was suggesting beforehand that some MPs had been under pressure to vote for Julia Gillard and Kevin Rudd has suggested that at times too.
There has still been a suggestion that the faceless men are pulling the strings and this may not be a full reflection of Labor politicians' true views. Why that is important is it feeds into the suggestion that Kevin Rudd is being illegitimately kept away from the prime ministership.
One of the key issues is whether he will acknowledge now that the problem has not just been the so-called "faceless men", most of whom have not been faceless in this current round, but that the problem has always been that he also lacks the support of his parliamentary colleagues.
He had amazing popularity in the electorate, he could give quite brilliant speeches and at his best be inspiring and come across as a person who empathised with ordinary Australians but his fatal flaw was that his colleagues, the people he actually worked with, didn't want to keep working with him and didn't think he could manage the business of government.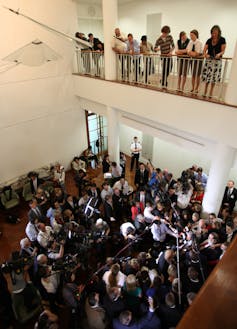 Julia Gillard and her supporters will now hope that her legitimacy as leader is well established where it hadn't been after 2010.
I don't think there'll be a major relaunch of policy; the extraordinary situation this Labor government finds itself in is that their policies have actually been going very well. The economy has been going gangbusters. The Australian Labor government has one of the lowest proportions of government debt to GDP in the Western world.
What they need to do and what Gillard and Wayne Swan have been failing to do – that must be remembered, the weakness of this government isn't just Julia Gillard – is that they've been failing to sell the success.
You have this disconnect. Many people in the Western world would love to be in a situation as healthy as Australia's society and economy at present, but the government hasn't been able to sell that to the public.
Dr Michael McKinley, Senior Lecturer, International Relations and Strategy, ANU
This is still not a good result for Gillard, around 30% of her caucus don't want her and 55% of the population don't think she's up to it. You'd always take a greater than two thirds majority in any vote as a solid victory but the problem is we're dealing with politics. And when you have around 30% of your caucus who think you're on the nose you don't have a recipe for healing.
When they talk about healing in politics, it's bullshit. People in politics don't heal, not in the short-term. They might in 20 or 30 or a couple of hundred years, but they don't do it over a year.
For the rest of the week, we'll have a lot of nonsense from both sides. Gillard will now say, "everyone is moving on to unity", and you can believe that if you want to. The opposition will have an almost infinite supply of cheap shots which suggest the Labor party is unfit to govern. And the Labor party itself will be a party ravaged by fear of losing the next election, by a sense of impending doom.
[The leadership ballot] has done nothing to give them confidence and that means Labor will be trying to pretend that it can win the next election. Short of Tony Abbott being found in bed with a live man or a dead woman, they're not going to make it.
[Labor] might get certain lifts in the polls and they may go up in the public estimation but they've basically got a very serious wound and it's like having lost a limb. No matter what the party does, it's going to have that whisper of defeat in its ear for the next 15 months.
Paul Strangio, senior lecturer in politics, Monash university
The numbers certainly suggest that this was a decisive victory. What it further indicates is that some of the claims from the Rudd camp about the numbers that he had behind him were significantly inflated and it also suggests that Rudd was unable to claim any momentum from the "people power" campaign that he ran last week.
I have always thought that a Rudd comeback was highly unlikely. All the indications are that he doesn't have the base of support in caucus and the resentments towards are powerful.
In terms of where we go from here, this has obviously been a damaging time for the government. However, if there is a silver lining it is that the strong expression of party room support for Gillard might enhance her authority in the public's mind and perhaps even been psychologically empowering for Gillard herself.
The caucus also showed it wasn't going to be spooked by the opinion polls or swayed by the Rudd family's "people power" campaign. My view is that there's something encouraging about that and perhaps the Labor Party has learned some hard lessons from the whole Rudd phenomenon.
In facing down Rudd, Gillard also started to build a narrative of what the government has achieved under her leadership and it might in itself provide a turning point. Having said that, I think we have to be circumspect in our predictions about what lies ahead - and that also goes for the forecasts of certain doom for the government. This has been and is likely continue to be a volatile and unpredictable period.
Professor Brian Galligan, Professor of Political Science, University of Melbourne
It's significant in that the vote has finally come about, and as was pretty universally predicted, Julia Gillard has won. But Kevin Rudd has got credible support. His main pitch all along was to reach beyond caucus – where he I presume knew he didn't have numbers – to try to get some leverage because he's way ahead of Gillard in public opinion polls.
The outcome is that the Labor caucus and the bulk of the ministers have remained behind the prime minister despite the public opinion polls showing they're in a losing position.
It's clearly settled for the time being but none of these things is settled permanently. Politics is volatile. Gillard and the Labor government can move on now and show that they're genuinely focused on policy and bedding down some of the significant things they've been doing and, importantly, working out how they sell those to the Australian public.
But that's the problem. It's anomalous. If you go overseas people are surprised that Australian politics seems to be at such a low ebb when comparatively the economy is so strong and everything seems to be working well here. It's a clumsy government that really can't stay on top of that and turn it to its advantage.
I think Gillard really has to reunite the party and settle down these deep divisions now. She was one of those with Wayne Swan leading the field in the bitterly acrimonious, negative things said about Rudd, when she and the treasurer were right in there with Rudd [when he was prime minister]. Why didn't they pull him into line then, why didn't they counsel him to change?
Gillard has an ongoing basic trust issue with the Australian people. Why would you trust somebody like that? She really has to work at building that trust. The electorate is a bit turned off and part of that will be ensuring she has the support, at least overtly, of caucus.
But who knows? Kevin Rudd seems to have a popular spark. Despite all the negative things said about him by his colleagues about what a dysfunctional prime minister he was, he can go out there and get an enthusiastic popular response in a way that Gillard seems to struggle with. But she's now in a strengthened position. She's shown she's got the solid support of the Labor party, they're locked in behind her. Some might think they're lemmings who are going to follow her over the cliff at the next election.
As the election comes close, then I think if her popularity [falls] and the government is not in a winning position there could be another attempt to change leaders.
More to come.

The authors do not work for, consult, own shares in or receive funding from any company or organisation that would benefit from this article, and have disclosed no relevant affiliations beyond their academic appointment.