Amazon's arrival can drive innovation and improvement
Thursday, Feb 9, 2017, 12:11 AM | Source: Pursuit
Colin McLeod
We all know that Amazon is coming to Australia, but even though Amazon has yet to announce its plans for an Australian entry, that hasn't stopped reactions like 'wreak havoc' and 'decimation'.
However, even without the details and exact timing of Amazon's entry to Australia, there are a few things we can be reasonably sure about:
1. Online retailing is still relatively small in Australia, at around 7% of the total retail market. The suggestion that Amazon will open its own distribution centre in Australia may increase access to a greater range of products (who hasn't had the dreaded 'does not ship to Australia' message?), but ABS data shows there is little growth in online retailing. Amazon will have some impact, but it is unlikely to create a stampede to online shopping.
2. Amazon's biggest impact may be on consumer perceptions. Amazon puts a huge amount of information in the customer's hands including pricing, product range and independent recommendations, which gives them tremendous bargaining power. Price matching is already a common retail practice, but consumers will increasingly see the ability to get the best price as a given, along with access to greater selection and objective information about products. These dynamics are likely to push revenue down and costs up, even if sales aren't lost to Amazon.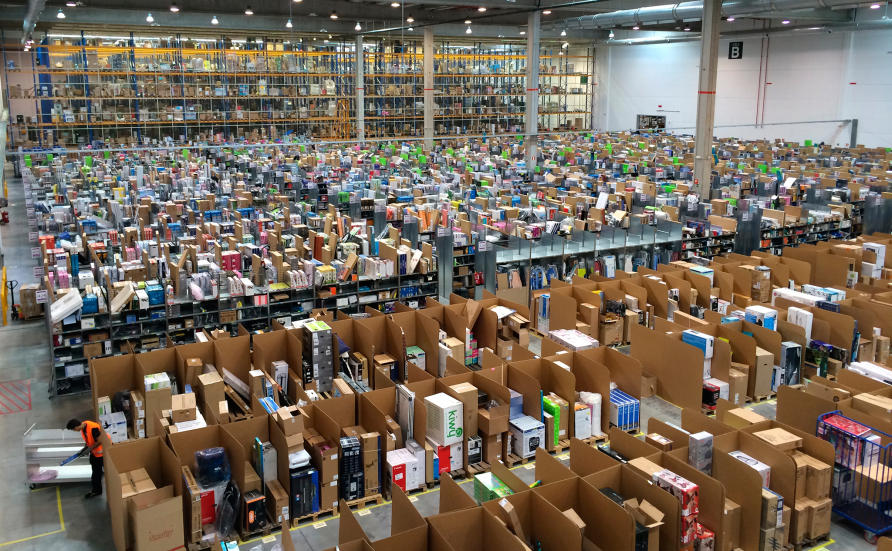 How Should Australian Retailers Respond?
Australian retailers may want to think about their ability to reduce Amazon's advantages while extending their own. There are some areas where Amazon has advantages that are difficult to reduce because they are built into a completely different business model. For example, the timing in Amazon's cash flow model where they only pay for the product after it is bought by a customer has been estimated as worth billions of dollars a year.
Nevertheless, there does seem to be a couple, of opportunities to close and widen the gap. They are:
Customer Information
Few companies in the world can match Amazon's ability to use insights into customer shopping behaviour to manage procurement, stock, staffing, technology deployment and content to create a massive competitive and financial advantage. But now, bricks and mortar retailers are increasingly finding ways to close the information gap.
One example is Kepler Analytics, an alumni of the very first intake of companies to the Melbourne Accelerator Program (MAP), the University of Melbourne's start up incubator. Kepler uses smartphone wireless technology to monitor customer activity in a store and have found there is an ideal ratio of staff to customers that varies between individual stores, even when they are in the same retail group – too many staff and wage costs are higher than necessary; not enough staff and customers leave the store.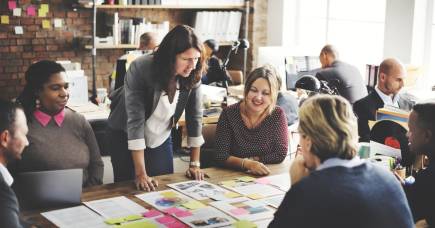 It's also about the right staff. For example, if an electronics retailer needs more staff on a Friday night, do they put them in computers, TV's, mobile phones, home office, games or household electronics? Kepler can tell them.
It's still a long way from what Amazon can do, but this information has helped produce significant financial improvements.
The In-store Experience
A couple of years ago, one of the founders of Myagi, a local technology company, was importing a range of technical climbing, skiing and bushwalking products and was surprised to find that despite providing extensive training information, staff in the stores weren't able to explain the product features because the retailers didn't give them any product training.
He found several reports from university research centres and industry associations that indicated less than 10% of retail staff get any formal product or customer service training – training is ad hoc, unstructured and never tested for retention or comprehension. Many retailers were giving up one of their major advantages – the ability of staff to add to the customer in store experience by using their product knowledge to match product to customer needs.

In response, Myagi built a training platform that delivers training content anywhere, anytime, on any device and it is curated, catalogued and tested. Fast forward three years and, in a presentation to students at the Wade Institute, Myagi's CEO reported they have venture backing, offices in Silicon Valley and the UK, their revenue is growing exponentially and clients include some of the world's great brands like Nike, Adidas, Reebok, TaylorMade, Titleist and the world's largest chain of bicycle retailers.
Less than 15% of their revenue comes from Australia, but hopefully local retailers are identifying ways to help their staff effectively manage the customers' instore experience.
Growth Strategy and Amazon Fresh
One of the most intriguing propositions in Amazon's proposed entry to Australia is the launch of Amazon Fresh. This is basically an online supermarket, but currently Amazon Fresh is only available in a few US cities and has only recently begun international trials, starting in London. Rolling it out in a country the size of Australia would be a real challenge for the famed Amazon logistics capabilities.
Of course, virtual shopping and home delivery for supermarket products is hardly a new thing. In the picture below, a South Korean commuter in a subway station in Seoul is using his smartphone shopping in a 'virtual supermarket' to scan the barcodes from images of the products. He will send and pay for the order on his phone and can either pick up the order or have it delivered home.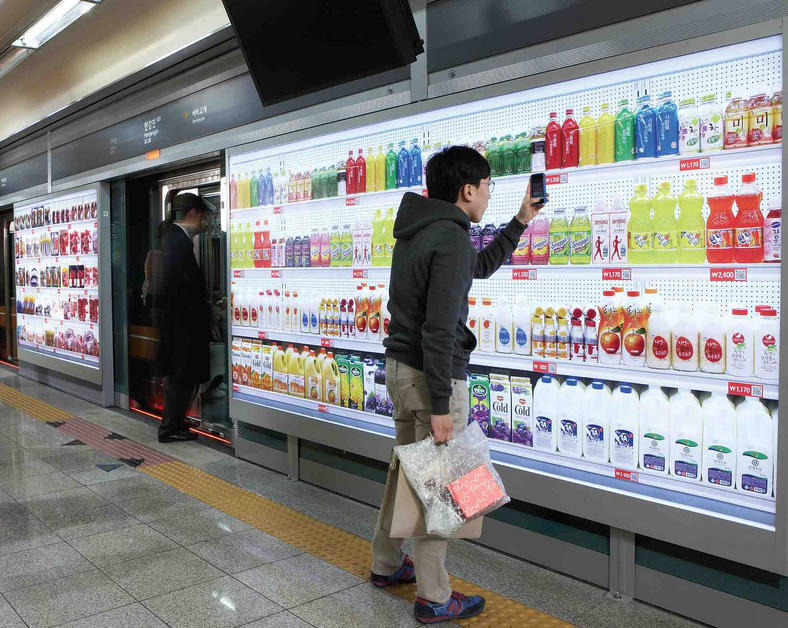 The UK's Tesco launched this service in 2011 and in the intervening years, we have seen apps, shopping platforms and delivery services launched by everyone from garage based start-ups to direct sales by farmers to local powerhouses like Coles and Woolworth.
If Amazon Fresh does work, the parent company has a pretty well-known growth strategy – attract new users in one category and migrate them across the other 22 product categories that Amazon offers, so Amazon Fresh potentially becomes a platform to enter multiple consumer product markets.
Amazon launched just 20 years ago with books as its sole product, and has grown to be the fifth largest public company in the US with a market capitalisation close to $US 400 billion, so this strategy works. While some of the market capitalisation is driven by activities other than retailing, the strength of Amazon lies in the execution of its retail strategy – it is Amazon's ability to execute that will be tested in the Australian supermarket industry.
The New World Customer
The reality is that customers are changing and Amazon is a catalyst, not the cause, but the result is that traditional retail models need to adapt to the new world of customers – well informed, lots of choices and looking for experiences, not just product transactions. The examples above show that technology may be part of an answer, but technology alone is not the answer.
As Charles Darwin said, it is not the strongest of the species that survive, nor the most intelligent, but the one most responsive to change. It is estimated that in 2016/2017, leading retailers in the US will permanently close over 1000 stores, and 'failure to adapt' has become the common explanation.
Change will happen regardless of the players in the market. Retailers need to get ahead of it.
Professor McLeod holds a number of director and advisory roles at Kepler Analytics, The OnTime Group, Matthews Steer Pty Ltd and MyGolgi Pty Ltd. He also has a personal relationship with the founders of Myagi, but no formal relationship with the company.
Banner image: The conveyor belt at the Amazon centre in Ridgmont, United Kingdom. Picture: Chris Ratcliffe/Bloomberg via Getty Images