Poll wrap: Morrison's ratings slump in Newspoll; Wentworth's huge difference in on-the-day and early voting
Monday, Oct 29, 2018, 03:38 AM | Source: The Conversation
Adrian Beaumont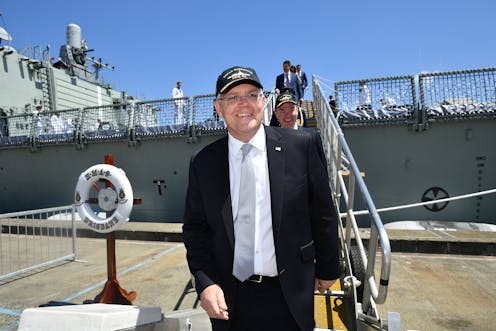 This week's Newspoll, conducted October 25-28 from a sample of 1,650, gave Labor a 54-46 lead, a one-point gain for Labor since last fortnight. Primary votes were 39% Labor (up one), 36% Coalition (down one), 9% Greens (down two) and 6% One Nation (steady). Rounding probably assisted Labor in this poll.
41% were satisfied with Scott Morrison (down four), and 44% were dissatisfied (up six), for a net approval of -3, down ten points. Bill Shorten's net approval was up three points to -13. While Shorten's ratings are poor, this is his best net approval this term. Morrison led Shorten by 43-35 as better PM (45-34 last fortnight).
58% thought Morrison should hold the election when due next year, while 33% thought he should call an early election before the end of this year.
Since Morrison became PM, his net approvals have been +2, +5, +7 and now -3. Turnbull's first four net approvals were +18, +25, +35 and +32. It took six months for Turnbull to receive his first negative Newspoll net approval, it has taken Morrison just two months.
According to analyst Kevin Bonham, even if Morrison never receives another positive Newspoll net approval, he will still have more positive net approvals than either Tony Abbott (two) or Paul Keating (zero) did as PM.
Morrison's slump could be caused by the Liberals' loss of Wentworth, but it could also be due to increasingly bad perceptions of the Coalition over issues such as climate change. The falls in the stock market and house prices are likely to impact consumer confidence, and governments usually perform worse when the economy is not perceived to be doing well.
Essential: 53-47 to Labor
Last week's Essential poll, mostly taken before the Wentworth byelection, gave Labor a 53-47 lead, unchanged from three weeks ago. Primary votes were also unchanged, with the Coalition on 38%, Labor 37%, the Greens 10% and One Nation 7%. This poll was conducted October 18-21 from a sample of 1,027.
Essential uses the previous election method to assign preferences, assuming One Nation preferences split about 50-50. Since December 2017, Newspoll has assumed One Nation preferences split about 60-40 to the Coalition. If Essential and Newspoll used the same method, there would probably be a two-point gap between the two. Since Morrison became PM, Newspoll has given Labor better two party results than Essential despite the One Nation adjustment.
60% (up nine since April) cited cost-of-living as one of their top three issues, while 37% cited health (up one), 29% housing affordability (steady) and 27% creating jobs (down five). Income and business tax cuts were at the bottom with just 12% and 5% respectively who thought they were important issues.
59% thought the change of PM had made no difference and the Morrison government was still the same government, while 20% thought it was a new government. By 35-28, they preferred Morrison to Turnbull as PM (57-29 among Coalition voters).
63% (down one since September 2017) thought that climate change was caused by human activity, while 25% (up one) thought we were just witnessing a normal fluctuation in the earth's climate. 56% (steady) thought Australia was not doing enough to address climate change, 23% (up three) thought we were doing enough, and 7% (down one) thought we were doing too much.
37% did not support a separate national day to recognise Indigenous Australians, 36% supported a separate day alongside Australia Day, and just 14% supported a separate day instead of Australia Day.
Massive difference between on-the-day and early voting in Wentworth
With probably fewer than 1,000 postal votes to come before Friday's deadline for reception, independent Kerryn Phelps won the October 20 Wentworth byelection by a 51.2-48.8 margin over Liberal Dave Sharma, a vote margin of 1,783, and a swing of 18.9% against the Liberals. Primary votes were 43.1% Liberal (down 19.1%), 29.2% Phelps, 11.5% Labor (down 6.2%) and 8.6% Greens (down 6.3%).
---
Read more: Wentworth byelection called too early for Phelps as Liberals recover in late counting
---
Early on election night, Wentworth was called for Phelps owing to her strong performance on election-day booths. Pre-poll and postal votes counted by October 21 were much stronger than expected for Sharma, as this tweet from the ABC's Antony Green shows.
Green also tweeted that there has been a big drop in Sharma's percentage share of the postals as later batches are counted. Sharma was at 64.4% on postals counted by the morning of October 21, but dropped to just 44.3% in postals counted October 25. Later postals would have been sent closer to the election date.
Later postals tend to be less conservative-friendly than earlier ones, but not to this extent. It is clear from this data that Wentworth voters shifted decisively against the Liberals in the final days.
I think the most important reason for this shift was Coalition senators voting with Pauline Hanson on her "It's OK to be white" motion. This motion would have absolutely no appeal to an electorate with a high level of educational attainment relative to the overall population.
Victorian Galaxy poll: 53-47 to Labor
The Victorian election will be held on November 24. A Galaxy poll for the Bus Association, conducted last week from an unknown sample, gave Labor a 53-47 lead, unchanged since September. Primary votes were 40% Labor (down two), 39% Coalition (down one) and 12% Greens (up two). This poll was probably close to 54-46 to Labor.
44% approved of Premier Daniel Andrews (up four), and 35% disapproved (down seven), for a net approval of +9, up eleven points. Opposition Leader Matthew Guy's net approval was up one point to -18.
Since the change in PM, there have been two 53-47 to Labor results from Galaxy, and a 52-48 from ReachTEL. Labor is likely to win the Victorian election, though they could be forced into a minority government if the Greens take inner city seats.
US midterm elections, and far-right wins Brazil presidential election
US midterm elections will be held on November 6. I wrote for The Poll Bludger on Saturday that Democrats are likely to win the House, but Republicans are likely to retain the Senate. Trump's ratings dropped from highs last seen in March 2017. The recent far-right terrorist events may shift public opinion.
The Brazilian presidential election runoff was held Sunday after no candidate won an outright majority in the first round on October 7. The far-right candidate, Jair Bolsonaro, defeated the left-wing Workers' Party candidate, Fernando Haddad, by a 55.1-44.9 margin. Bolsonaro has made comments sympathetic to the 1964-85 Brazil military dictatorship. Corruption by the established parties and a recession are key reasons for this result.
Adrian Beaumont does not work for, consult, own shares in or receive funding from any company or organisation that would benefit from this article, and has disclosed no relevant affiliations beyond their academic appointment.