Trans-Pacific Partnership rules could block alcohol warnings
Wednesday, Jul 24, 2013, 04:37 AM | Source: The Conversation
Deborah Gleeson, Paula O'Brien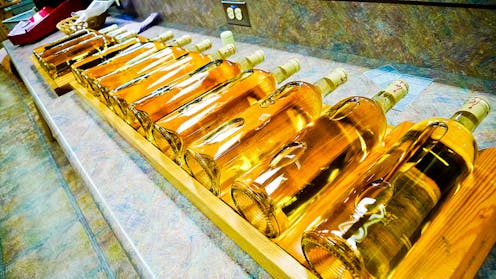 New rules for alcohol labelling were discussed in Malaysia earlier this week by countries negotiating the Trans-Pacific Partnership. The proposed rules could stymie the introduction of effective health warnings on alcohol products in all the countries involved.
The Trans-Pacific Partnership is a regional trade agreement being negotiated between 12 Pacific Rim countries – Australia, Brunei, Canada, Chile, Japan, Malaysia, Mexico, New Zealand, Peru, Singapore, Vietnam and the United States.
Australia's representatives have high hopes for the agreement, seeing it as the pathway to a free-trade area in the Asia-Pacific that could rival the European Union in value.
But the talks have been highly controversial, in part due to concerns about the effects the pact could have on many areas of public health, such as access to medicines and tobacco control.
And news that the agreement's proposed text includes an annex on the labelling of wine and distilled spirits is raising concerns among Australian alcohol policy and public health groups because it could block effective health warnings on alcohol containers.
Curbing harm
A matter of months after introducing the world's first tobacco plain packaging laws, the Australian government appears to be contemplating signing a version of the agreement that would restrict its power to apply strong health warnings to alcohol products.
This apparent blind spot may be due to perceptions that alcohol is not an intrinsically harmful product and an important export commodity. Alcohol certainly has strong cultural and social significance in Australian society.
But its harmful use is associated with large-scale health, social and economic costs for our country. Indeed, the cost of alcohol's harm to people other than the drinker was estimated in 2010 at $36 billion a year.
Having warning labels on alcoholic beverage containers is considered an effective way to reduce alcohol-related harm.
The World Health Organisation has recommended alcohol warning labels. So too have several Australian government inquiries, which have emphasised that the government should mandate such warnings, rather than leaving it to the alcohol industry to voluntarily implement warnings.
The industry does not have a strong track record on labelling. In June 2011, the alcohol industry-funded body, DrinkWise, launched a voluntary system of consumer information on alcohol labels.
A review undertaken 12 months later by the Foundation for Alcohol Research and Education found that only 16% of the 250 products sampled carried any DrinkWise consumer messages.
Of the products that featured a DrinkWise message, the information took up less than 5% of the label or face of the packaging in 98% of cases. Only one product put the warning on the front of the bottle. Brewers also placed warnings on the bottom of six-packs and cartons of beer.
The government announced in June 2013 that it would review industry efforts to introduce pregnancy-related health warnings on alcohol. If the results are similar to those found by FARE in June 2012, there is a compelling case for the government to legislate for mandatory warning labels.
Effective warnings
Any mandatory labelling scheme should consider the substantial evidence from tobacco control about what type of design is most effective and where labels are best placed on products to get the message across.
Based on a review of the available evidence, the Foundation for Alcohol Research and Education has suggested that text and graphic health warnings should be placed on the front of the product, be horizontal in direction, cover a large proportion of the label, and have a minimum font and label size.
But the Trans-Pacific Partnership rules being considered may prevent countries from mandating health warnings in line with these principles. The Technical Barriers to Trade chapter of the agreement potentially presents two obstacles with introducing effective alcohol health warnings.
The first problem is that the terms of this chapter may make it more difficult for governments to introduce public health policies that have not been tried before and proven to work. Under a rule like this, plain packaging for tobacco products would never have been implemented.
This is often a problem for countries that are first in trying an innovative public health approach. But unless there's some leeway to try new approaches, how are advances in health to be made?
The second potential problem is that the text in the Trans-Pacific Partnership applying to alcohol products may be modelled on the World Wine Trade Group Agreement.
The World Wine Trade Group Agreement is a new international agreement signed by several wine-trading countries. Some of those negotiating the Trans-Pacific Partnership, including Australia, New Zealand, Canada and the United States are signatories.
The Agreement appears to almost entirely limit a country's right to stipulate where information should be placed on a wine label. This type of provision would prevent countries from requiring health warnings to be placed in the position where they would have most impact - the front label on a bottle or can.
Compromising freedom
If rules such as these are included in the Trans-Pacific Partnership, they will present real risks to signatories' ability to introduce effective health warnings for alcohol. The World Wine Trade Group Agreement only involves a small number of countries but its effects would be magnified if it is used as the basis for the Trans-Pacific Partnership.
Agreeing to Trans-Pacific Partnership rules that restrict health efforts would be counter to good evidence-based public health policy. It would close off a strategy, which when combined with others such as restricting availability and limiting promotion, would help reduce the rising human toll of alcohol.
It would also undermine the excellent track record for public health leadership that Australia has established with tobacco, in particular plain packaging.

Deborah Gleeson receives funding from the Australian Research Council. She is a member of the Public Health Association of Australia and active in the People's Health Movement.
Paula O'Brien does not work for, consult, own shares in or receive funding from any company or organization that would benefit from this article, and has disclosed no relevant affiliations beyond their academic appointment.