Not just 'a bit of fun': why sports, gambling and kids are a bad mix
Tuesday, May 21, 2013, 05:31 AM | Source: The Conversation
Nathan Grills, Gillian Porter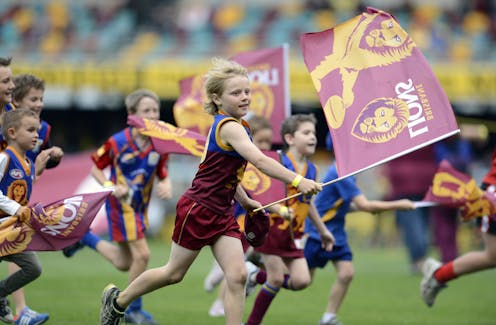 Have your children watched a footy match recently? Well, if they watched AFL on TV they also consumed about 50.5 separate episodes of sports betting marketing, from TV and stadium ads, to footy jumpers and even the footy commentary. If they went to the ground they would have seen, on average, 58.5 gambling ads.
Australia is a lucrative market for the sport gambling industry – we have the biggest gambling losses per capita of any country in the world. Key players centrebet, sportingbet, TAB Sportsbet, tomwaterhouse.com and bet365 are competing for market share and advertising has been their number one weapon. This year alone there has been a 20% increase in spending on gambling advertising.
So, what's wrong with these gambling agencies advertising their product everywhere? After all, gambling is legal, advertising is legal, adults can make their own choices and it's just a bit of fun.
Actually, these arguments are false on all four counts if they relate to children:
It's illegal for children to place bets

It's illegal to advertise gambling during children's programming, but sporting telecasts are exception.

Children don't understand the persuasive intent of marketing messages and can't critically evaluate them to make informed decisions

It's not just a bit of fun for many children. Family breakdown, poverty, or even the loss of a parent to gambling-associated suicide is not fun.
Pathological gambling remains a psychological diagnosis in the new diagnostic manual for mental illness (the DSM-5) and continues to cripple thousands of Australians.
The Productivity Commission estimated in 2010 that 80,000 to 160,000 Australian adults were severe problem gamblers, with a further 230,000 to 350,000 at moderate risk of developing problem gambling.
Kids think betting is normal
The saturation of advertising normalises gambling and kids come to associate gambling as integral part of the sport. Rather than talking about their favourite team, kids are now talking about the odds of that team winning.
This inevitably translates into more under-age gambling, as kids can now anonymously gamble online and on smart phones. Online checks are insufficient, as ABC1's 4Corners revealed last night, with kids as young as 12 placing bets and pressuring their peers to bet as part of the fan experience.
At a population level, normalising sport gambling will mean more people take up the habit, and more people will gamble at risky levels. There is also evidence of more risky gambling behaviour when online betting options are used.
Barriers to reform
So if regulators recognise that gambling advertising to children is inappropriate, why are we even having this debate?
We have to remember that the gambling industry pours millions of dollars into sport and it's not altruism. They pay millions of dollars for advertising rights, naming rights on jerseys, to TV stations, to club sponsorships. Clubs, codes, media companies and advertisers are all businesses and right now there is much money to be made through gambling.
Why, then, doesn't the government regulate to prevent advertising that is damaging children? After all at election time it is a good idea to do what voters want.
The powerful gambling and advertising industry has significant sway over the government and has pressured governments to drag their feet. The Gillard government, for instance, was pressured into reneging on the deal with independent MP Andrew Wilkie to introduce effective gambling reforms.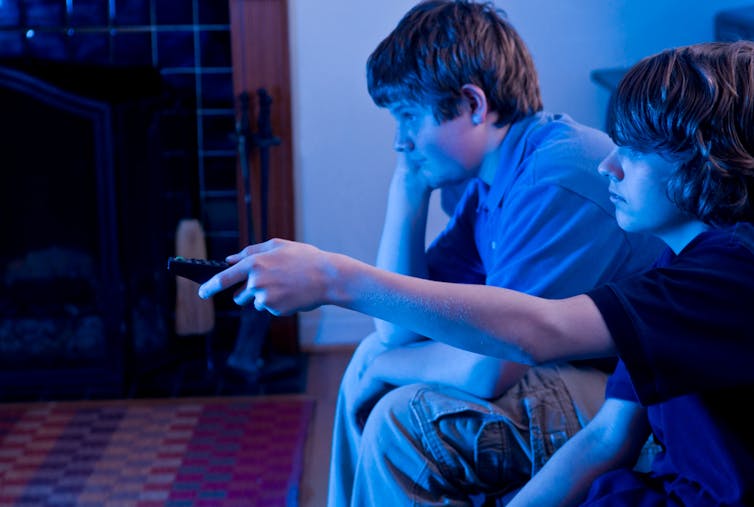 Another factor might be just how addicted our governments are to gambling revenue. Revenue from the gambling industry props up our deflated government coffers. In Australia, the government revenue from gambling is in the order of A$5 billion or around 10% of total tax revenue. The simple proverb "don't bite the hand the feeds you" might explain the government's lack of action.
Perhaps another reason for lack of action is the fear of a backlash from industry. This worked for the mining industry but seems to have been ineffective for industries whose name is not so trusted. The tobacco industry opposition to plain packaging, for instance, fell on deaf public ears. The trust and public support for the gambling industry might be similar to that of the tobacco industry.
The road to real reform
In response to pressure, FreeTV Australia (representing the broadcasters of Australia) today announced it will submit a revised code to Australian Communications and Media Authority to "ban promotion of live odds during play and by commentators during the game".
On the surface this seems like a positive step, but it's more an attempt to deflect from the real issue. This ban will only limit live odds promotion and will mean the industry can continue to advertise gambling to our children 58 times during an average footy match.
What we need is real action. The Joint Parliamentary Committee On Gambling Reform will report back before the election. Several independents and the Greens have suggested the removal of the sporting exemption to bans on gambling advertising during children viewing hours, including weekends. Such bans should also include advertising which is included in match commentary and pre- or post-match reviews.
It's not only the Greens and independents who are speaking up. There is even support from the conservative side of politics, with Tony Abbott promising to limit gambling advertising to kids during sport. But will the Gillard government act in this area?
This may well win some much-needed votes but more importantly, it will protect vulnerable children from the powerful gambling industry. As a society, we need to be much more aware of the dangers of trapping a new generation into addiction and debt.

The authors do not work for, consult, own shares in or receive funding from any company or organisation that would benefit from this article, and have disclosed no relevant affiliations beyond their academic appointment.