Of Anthems and Advertisements
Tuesday, Jan 7, 2014, 05:00 AM | Source: The Conversation
Lauren Rosewarne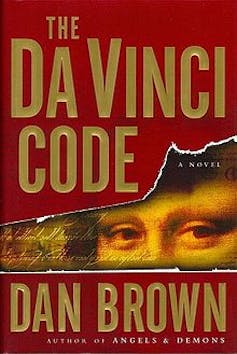 Years ago I heard about a speed-dating event held at a library. Participants were asked to bring a book that "encapsulated" them. My imaginings involved people sitting at teeny tiny little tables proudly holding their personalities in front of them like kindergarten drawings.
If I were to go, I'd smirkingly show-off a copy of The Da Vinci Code. Or The Secret. I'm not sure my "fuck you" to the idea of judging someone on any one book would be appropriately conveyed through my smart-arse selection, but I'd feel righteous nevertheless.
Needless to say, the one-book self-marketing thing has been on my mind recently.
A week before Christmas, before I'd even put on my seat-belt - before, in fact, any greetings were exchanged - he said, "I'm guessing this is your anthem." And he clicked play on his car stereo.
My brow furrowed. My anthem?
The out-loud conversation centred on the song - I hadn't heard it before and was delighted and alarmed. The comparatively quieter conversation - happening alone, in my head, where the lion's share of The Crazy plays out - centred on the idea of an anthem. On my anthem. On how I felt about being connected to a song about masculinity.
I had first met the man in the driver's seat in a work context: I was talking politics during a TV interview. This perhaps explains why he thinks of me as inextricably bound to the topic. Not a bad thing, certainly.
But, in the months since, had I not been successful in presenting a more personal side? Had I not explained to him how any shred of radical feminism died the first time I had sex? Hadn't I aptly demonstrated my capacity to play fast and loose with my convictions?
So, if I was ready to dismiss Joe Jackson's tune - as fantastic as it is - as my anthem, what am I picking instead? More importantly, what am I going to populate the "Rosewarne Anthems" CD I promised to make him?
This, of course, is not the first time I've grappled with this quandary. Last summer I hosted my first radio show and needed a snippet of a track for the intro.
Eschewing the easy temptations of Pat Benatar, Kate Bush and Tori Amos, I choose five seconds of Wolf Parade's "Kissing the Beehive" (2008) timed perfectly to include the line: "As if you didn't know that it would sting". Not that I'm the kind of person to have a mantra, but I won't pretend the line doesn't perpetually feel painfully poignant.
So here's the dilemma. What's the goal of an anthem? Is it aspirational? To rev us and pump us and to soundtrack our way into the ring Rocky-style? Personally, I've never used music this way. If I'm down, I listen to music to feel worse, alternatively I listen to an audiobook to distract myself. Music can only ever amplify contentment if I'm already there. If I want to move slightly faster on the treadmill I listen to songs with more beats than I'd normally choose; Cher's "Gypsies, Tramps and Thieves" (1971), for example, works a treat. A far cry from an anthem, however.
So if I don't have any punchin' and fightin' and spirit-soarin' songs, what about music then that, at the very least, serves as some kind of advertisement? That encapsulates enough of my identity to make it feel mine? I mean, if someone can go along to a literary-themed speed-dating debacle with just one book to market their very essence, surely I can find a song - or at least, a CD of them - that can achieve the same thing?
Which leads us back to the perpetual mix-tape making dilemma. Of course, the task involves picking tracks that say something about us; even if it's just testimony to our good taste. But it's so much more complicated than that. Do we select the tracks that we'd sing ourselves if we had any talent? Should I pick songs I'd like sung to me? Is my feminism trampled completely if I keep allowing men to sing my psyche for me? Does including Peaches' Fuck the Pain Away (2000) establish a promise I may not follow-through on?
A dear friend revealed recently that she loses relationships precisely around the time she makes a bloke a mix-tape. Everytime. Is populating a CD with the deep and the revelatory a too-much-too-soon relationship jinx or can it be spectacularly prophetic?
Leonard Cohen's "Suzanne" (1967) for example, goes on most of my mix-tapes, largely for the lines "And you know that she's half crazy / But that's why you want to be there." What happens though, if the listener clutches on to the bit about the "tea and oranges" and misses the whole point? A fraught exercise, of course.
So I've shortlisted to 45 "anthems". Probably 30 too many for a mix-tape but it's a work in progress. The non-negotiables thus far include:
For some reason it feels slightly less abhorrent to be potentially judged and dismissed on the basis of a mix-tape than a novel.