In Conversation: Maxine McKew and Linda Darling-Hammond
Friday, Jan 31, 2014, 02:24 AM | Source: The Conversation
Maxine McKew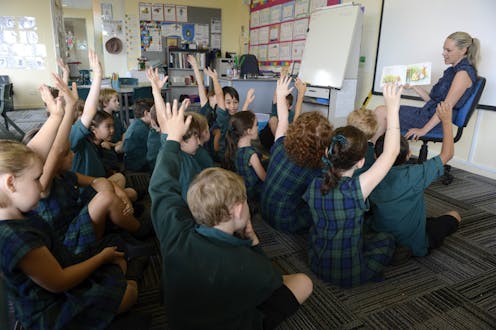 Watch the video of Maxine McKew interviewing Stanford professor Linda Darling-Hammond below.
Australian schoolkids are scoring higher than their US counterparts in maths, science and literacy, but a visiting expert has warned that economically disadvantaged children are falling further behind.
Professor Linda Darling-Hammond is a world-leading authority on education and teacher training. She is faculty director of the Stanford Centre for Opportunity Policy in Education, and a Miegunyah visiting fellow at the University of Melbourne.
Her main research areas are educational equity, teaching quality and school reform, and she served on US president Barack Obama's policy transition team in 2008.
Darling-Hammond warns that inequity is becoming a real problem for Australian children and, while the situation is still far better here than in the US, the government needs to act soon.
She compares the opportunities that economically disadvantaged children have in the US and Australia. Describing the changes Obama's policies have undergone during his time as president, Darling-Hammond expresses disappointment at the lack of real change that they have effected.
National testing schemes draw criticism from Darling-Hammond – in particular Australia's NAPLAN system, which she says "dumbs down" student assessment.
NAPLAN's multiple-choice format "tests students' ability to sit tests", she says, and is ineffective at measuring their ability to learn. That is the most important skill teachers should be imparting in a world of unceasing technological advancement.
"In the period between 1999 and 2003, there was more new knowledge created than there had been in our entire history," she explains.
Simply standing in front of a class and telling children how we are used to doing things "just won't work", because in their lifetimes they will constantly need to learn to use new pieces of technology.
"Our children need to learn how to acquire knowledge. The 'transmission' system (of teaching) doesn't work."
Another strong focus for Darling-Hammond is on methods of evaluating teacher performance and on the importance of mentoring by already experienced professionals.
"There should be evaluation of beginning teachers before they enter, like you would think of a bar exam or a medical licensing exam," she says.
"You can't wait until people get into the occupation and say, 'Now we'll sort out whether you know what to do'."
Teacher assessment and development was the focus of Darling-Hammond's Miegunyah Dean's Lecture at the Melbourne Graduate School of Education, where she stressed the need for a shift in perception of the teaching profession.
"We need to change that awful old adage – 'Those who can't, teach' – and we need to turn it into 'Those who can teach, and those who can't – go into a less significant line of work'," she said.

Maxine McKew is a former Labor MP.