Monday, Dec 2, 2013, 04:48 AM | Source: The Conversation
Lauren Rosewarne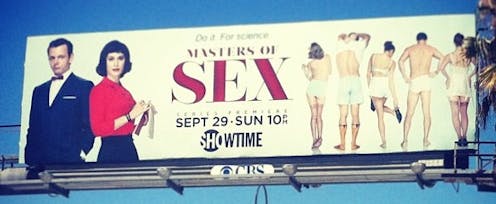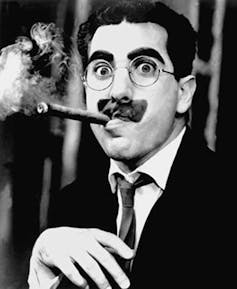 If dinner runs smoothly and if future plans get made, by the third meal he - whoever he is - will suggest one of two vegetarian restaurants.
This happened the other night. The delightfully lascivious man seated opposite proposed a selection of animal-themed share-plates and I was compelled to admit to (the passion-killer of) my vegetarianism.
"If I'd have known we could have gone to Shakahari."
And so I explained that I really prefer not to eat at vegetarian restaurants. That I'd rather, in fact, pick prawns out of dishes than eat amongst all the peace, love and mung beans. I threw in the Groucho Marx club that'd have me as a member line for good measure.
He put his head in his hands. (I like to believe he was charmed).
Not only are all of Melbourne's vegetarian restaurants tainted by meals with lovers past, but far more anxiety-inducing, there's too much delusional expectation that I'll experience culinary ecstasy.
A real estate agent I once… lay with… had a professional creed: "under promise, over deliver". It's applicable, of course, to everything from food to sex to work product: no mushroom risotto is that good, and no, you don't know more about my anatomy than I do.
Which leads me to Masters of Sex.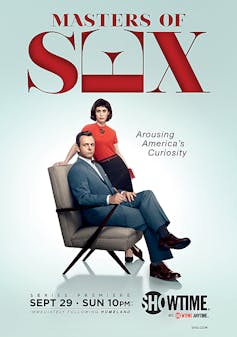 For as longing as it's been screening, people have been asking me about it. Akin to the vegetarian expected to orgasmically enjoy the eggplant, as a sex researcher I was expected to not only have watched it, but loved it.
For me, period stuff is very hit or miss. Would it be period like Mad Men (2008-), say, where I'd rather stick my head in the oven than watch a third episode. Or would it be more like Life on Mars (2006-2007) or Ashes to Ashes (2008-2010) where I'd sell my hypothetical firstborn for even just a scene more of the Gene Genie?
After agreeing to participate in a Masters of Sex-themed podcast, in preparation I binge-watched 8 episodes. More television than I'd normally do in a weekend, sure, but such is the dedication to my craft.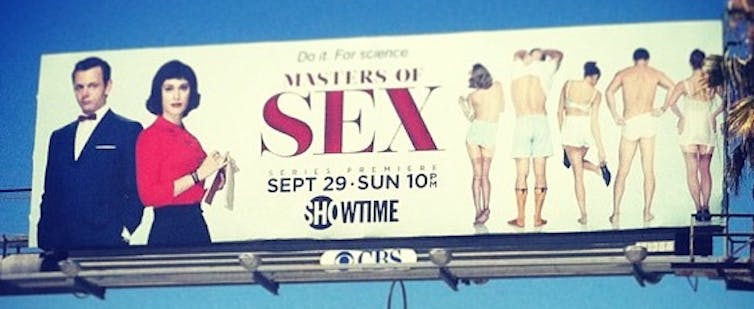 The title of the series, the trailer, the taglines and the copious footage of gorgeous, unfettered breasts, sex of course was the selling point.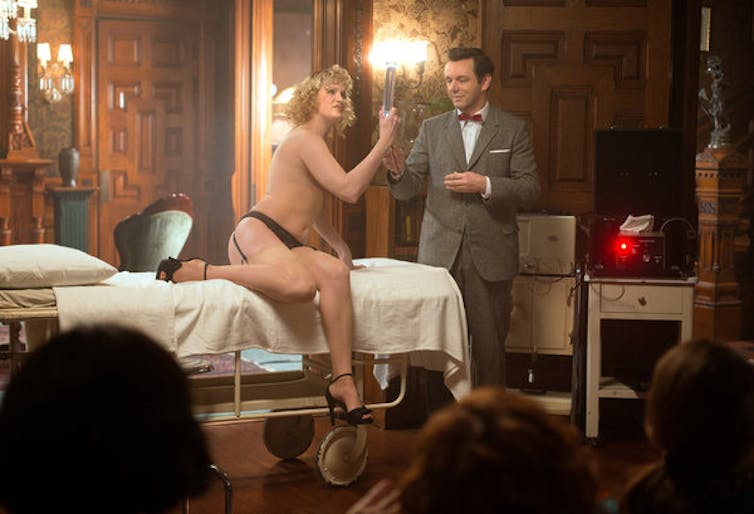 Masters of Sex wasn't quite as painful as a plate of under-seasoned lentils but as each episode ended I was left with the very same question: what is missing here?
What aren't I getting? What do I need in a narrative to dub it sexy?
Sure, I can appreciate that Lizzy Caplan and Allison Janney are gorgeous, equally, I can see that there's quite a lot of sex for a TV show, but it's hardly enough to raise the heart-beat, least of all to dampen the nether regions.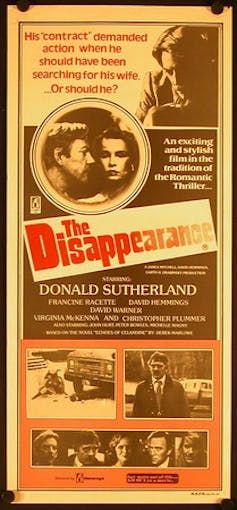 Worse than this, it felt as though it was supposed to be sexy, wasn't, and thus we're left with a very slick soap opera sans Ridge.
Screen sexiness is a tricky beast. While watching Masters of Sex I compiled a list sexier list of options. The Donald Sutherland thriller The Disappearance (1977), came to mind with one of cinema's sexiest non-lip kisses. The film itself, however, is substantially forgettable. Ditto Bound (1997).
Sexy and interesting in the one film are precious finds: Crash (1996) and Secretary (2002) fit the bill, but James Spader in his late 30s/early 40s pretty much could have starred in a toilet paper ad and delivered lashings of swoon-worthy delight.
And then it gets trickier: what makes a film like In The Mood for Love (2000) - a film pretty much alarmingly void of physical contact - so very erotic?
There's no recipe. It's subjective and influenced by past experiences and hormones and our respective kinks and quirks. For me however, and a deluge of scenes of simulated female masturbation just isn't enough.