Aussie Rules rules thanks to the eight-hour working day
Thursday, Jun 5, 2014, 08:36 PM | Source: The Conversation
Tony Ward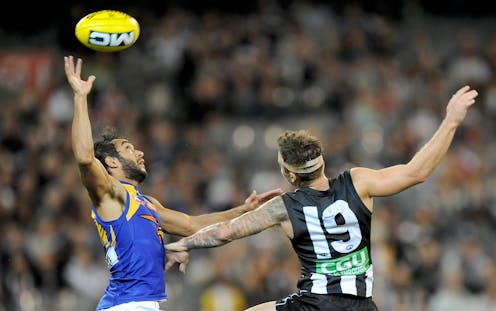 Why is AFL the main sport in Victoria and the other southern States while New South Wales and Queensland follow rugby? That's long been a vexed question, but we may now be closer to an answer.
In Melbourne in 2009-10, more than 30% of the adult population attended an Aussie Rules match – ten-times more than attended a rugby match. In Sydney, by contrast, some 20% of the adult population attended rugby, five-times more than attended an Aussie Rules match.
And the differences are long standing: rules and rugby were already respectively the dominant football codes in the 1880s.
Whisper it quietly to Aussie Rules fans, but they are the odd ones out. Like Sydney, the football code in most countries across the world is either soccer or rugby – the English games which became popular in the 1880s.
So why did Melbourne develop its own game? My new research, published later this month in the journal Sporting Traditions, looks at this question – and comes up with an unusual answer.
Three key events in Melbourne in 1858-59 are often suggested as starting the sport.
The first was a letter to English sporting paper Bell's Life on 10 July 1858. Leading sportsman Tom Wills warned about a "state of torpor" creeping over cricketers in winter as their game was "put aside for some months". He suggested football as a possible remedy – but also reckoned a rifle club, or athletics might do the trick.
Another spark came ten months later, when Wills joined three others at the Parade Hotel in May 1859. The group drafted some rudimentary rules for football. They were aware of a wide range of rules in Victoria and elsewhere pertaining to other ball sports. Wills himself recommended the Rugby School rules – which had 33 rules, some highly specific to the school.
His colleagues thought these too complex, and opted for simplicity with just ten rules. They were very much a work in progress.
Immediate revisions occurred in July 1859; representatives of nine football clubs drafted The Victorian Football Rules in May 1860; and another full consolidation occurred in 1866.
But the most common reference is to a game on August 7 1858, commemorated in a statute at the Melbourne Cricket Ground. The "first game of Australian football" took place between elite schools Scotch College and Melbourne Grammar.
While all three events contributed, research shows that none explains how the sport became dominant in Melbourne – and they have other problems too. Take the Scotch-Grammar match. It was far from the first game of football in Melbourne.
From the start of the 1850s newspapers had run advertisements for football matches. Some were organised by pubs, others took place as part of so-called Gymnastic Games. The Scotch-Grammar match was not even the first football game in 1858 – two games were played the previous Saturday, July 31.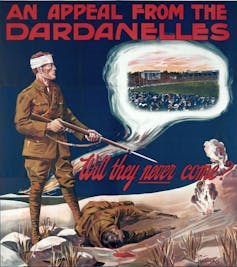 And there were other influences. As many have pointed out, Koori tribes had long played games played with balls made from possum skins or hair, one called marn-grook.
Tom Wills, who grew up in the Western District, may himself have played marn-grook. And many other early white settlers had seen such games. But historians have found little evidence of direct links between these games and the development of Aussie rules.
Before formal codification, there were a bewildering variety of sports, and all sorts of influences on those sports. For scratch games organised by pubs, with small crowds, the diversity didn't matter. To find how rules became a dominant sport, we need to look wider than the sport itself.
The key, as so often in sport, is timing. Dominant sports, and the assortment of rules and competitions that go with them, need to attract large crowds. Aussie Rules' success by 1880 was above all due to Melbourne being ahead of the pack in developing leisure time on Saturday afternoons.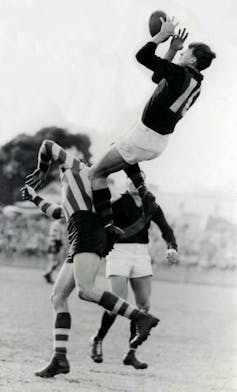 Widespread leisure time on Saturday afternoons developed in Melbourne from the 1860s, well ahead of the rest of the world. It stemmed from the success of the building trades in winning the eight-hour day in 1856. Over the next decade, several trades negotiated deals of longer hours on weekdays for Saturday afternoons off.
By the early 1870s, many skilled workers in Melbourne enjoyed Saturday afternoons off, and this created the possibility of big crowds. Crowd sizes of 10,000 were reported by 1875, and reached 15,000 in 1880.
Regular competition requires agreed rules – even if only as a basis for jeering the umpire for not applying them properly. And in the absence of clearly codified rules from England, Aussie rules in Melbourne developed from the initial influences above.
In Sydney in contrast, Saturday leisure and large crowds for football only developed around 1880. By then, rugby was codified, and the Sydney establishment preferred an imperial sport to The Victorian Football Rules.
If large numbers in Melbourne had only started to enjoy football in the early 1880s, it is likely they too would have followed rugby or soccer. So Aussie Rules' dominance in Melbourne has a lot to do with the success of the eight-hour day movement.

Tony Ward does not work for, consult to, own shares in or receive funding from any company or organisation that would benefit from this article, and has no relevant affiliations