Thursday, May 1, 2014, 12:24 AM | Source: The Conversation
Adrian Beaumont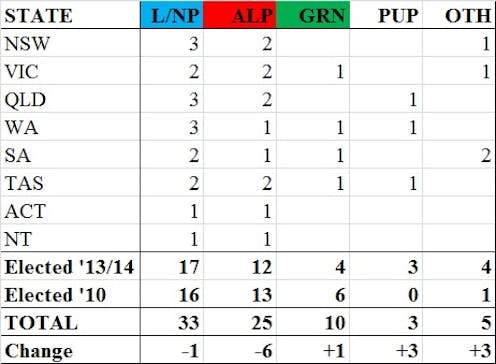 At the WA Senate re-election held on 5 April, the total major party vote was less than 60%, with the combined Liberal/National vote at 37.1%, down 7.2%, while Labor got a dire 21.5%, down 5.1%. The Greens and Palmer United Party (PUP) were the big improvers, with the Greens up 6.1% to 15.6% and PUP up 7.3% to 12.3%. The WA Senate turnout was a very respectable 88.5%.
The Liberals won three seats, with Labor, the Greens and PUP winning one seat each. Kevin Bonham notes that the ABC calculator had the Liberals winning the final seat by about 8,000 votes, but they actually won it by over 12,000 votes. This was because more left-wing voters voted below the line (BTL) than at previous WA Senate elections. The ABC calculator assumes that all BTLs follow the group voting ticket, but in practice this does not apply, and some of the left-wing BTL votes that were assumed to flow to Labor in the ABC calculator went to PUP or the Liberals ahead of Labor.
The table below shows the make-up of the 76-member Senate that will sit from July 2014. Barring a double dissolution, the Senate composition will not change until July 2017. If there is a normal half-Senate election in 2016, the Senators elected in 2010 will be up. As a result, a left-wing Senate will not be feasible until at least July 2020 without a double dissolution.
Latest Federal Polling
The surge for the Greens to 17% in Nielsen has not been replicated in other polling. Last week's Morgan had the Greens at 13%, and this week's Essential has them at 10%. While both these polls have the Greens at or near highs not seen since prior to the 2010 election, the evidence strongly suggests that the 17% in the previous Nielsen was an outlier.
Last week's Morgan was at 52-48 to Labor. As Morgan leans to Labor by about 1%, the adjusted result is 51-49, in line with polling generally so far this year. This week's Essential was 52-48 to Labor, which is certainly the best Labor has done in Essential since 2010. We will need more reputable polling to see if the movement in Essential is true. I think that most pollsters are holding their fire until after the 13 May Budget.