Toyota's exit was inevitable: now for real test of government
Wednesday, Feb 12, 2014, 04:36 AM | Source: The Conversation
Peter Gahan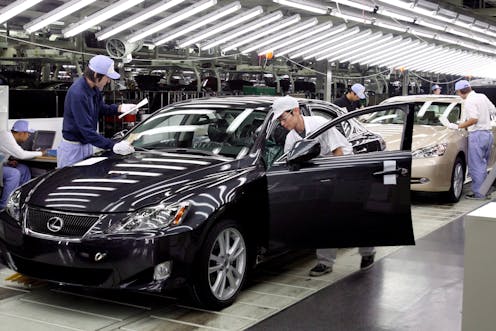 Toyota Australia President and CEO, Max Yasuda, has described the car maker's decision to leave Australia as one of the saddest days in its history worldwide.
I do not doubt the emotion expressed by Mr Yasuda, but he has probably known for some considerable time that this decision was inevitable. It has less to do with intransigent unions and much more to do with a high Australian dollar and importantly, a global shift by the automotive industry into emerging markets.
The problem with the dollar
Yasuda emphasised Toyota's decision was not made on any single factor alone. He pointed to the high Australian dollar, which has made exports unviable, the high costs of manufacturing (including energy) and low economies of scale which has also impacted its profitability and ability to compete in the Australian market in "one of the most open and fragmented automotive markets in the world". (Interesting, he also highlighted "current and future free trade agreements" as contributing to the prospect of declining demand for Australian made cars.)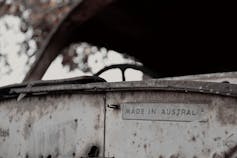 These factors, coupled with the exit of Holden and Ford that supported the viability of the component manufacturing and supply for all three auto makers – provides the immediate rationale and explains the timing. These issues shape both the return on existing production facilities and the viability of existing operations without making major changes or new investments.
In all probability, however, this decision would have been made sooner or later – even if the Australian dollar had fallen substantially, or if its workforce agreed to alter terms and conditions in order to reduce production costs. So this provides the reasons for the timing of Toyota's withdrawal, not the key reasons for doing so.
Global shifts in the auto sector
In reality, the decision to quit reflects the investment strategy adopted by auto-makers worldwide to align investment in production facilities to growing markets.
Since 2000, the most significant growth in sales – and hence investment in new production facilities – have come from Asia, notably China.
In Toyota's case, its production capacity in Japan accounts for around 40% of its productive capacity – although that share has been steadily declining. In North America and Europe investment in new production facilities has, like sales, slowed considerably as well.
In contrast, Toyota's Asian-based factories (excluding Japan) have grown at a phenomenal rate. In 2003, Toyota's Asian factories accounted for around one-in-ten vehicles it produced. Today, Asia accounts for around one-in-three vehicles produced by Toyota.
The Australian experience stands in stark contrast to Toyota's Asian growth story. Sales growth has been at best sluggish – and this reflected in its output in Australia. In 2003, Australia accounted for just under 2% of Toyota's total global production. Today, it stands at a meagre 1%.
In short, Australia has not warranted the attention of Toyota's headquarters and could certainly not be capable of justifying future investment.
Put another way, Toyota Australia had reached a critical point beyond which there was no return – the business was not viable and could not be retrieved. In this scenario, no amount of subsidy from state or federal governments could have enabled Toyota to work around what had become a dire situation for its Australian business.
Impacts of withdrawl
The impacts will be substantial. Combined with the pull-outs announced by Holden and Ford, this decision confirms that in the lead-up to the 2016-17 closures of production facilities in Geelong, Altona, Broadmeadows and Fisherman's Bend – all based in Victoria – there will be substantial job losses.
Estimates have varied between 30,000 and 50,000 jobs. I think this is difficult to estimate just now. The fact is the precise impact will likely depend on the capacity of manufacturers supplying the auto-makers to find new sources of businesses. For some, they have already diversified and produce inputs for other manufacturing processes; but for others this will prove impossible.
It will also depend on the approach of government to supporting the industry in transition. While previous governments have been willing to provide significant subsidies to protect jobs, the current government has made clear that it is not in the business of supporting failing businesses. And that is fair enough.
But in many respects this is different and presents a strong rationale for government intervention and support, even for a government that believes in the power and efficiency of market forces. The nature of these supports will be deep and broad-ranging, and may need to be in place for some years to come.
What governments need to do now
Businesses will require support in many ways to adapt and change, or simply to exit.
Displaced employees will need help in finding alternative jobs, perhaps in other parts of manufacturing, to retrain and move on, or simply to deal with extended periods of unemployment.
Prior experience indicates that the unskilled and semi-skilled, along with older workers, will be particularly vulnerable. They will face the prospect of diminishing opportunities to find jobs that match their current skills and fewer opportunities or resources to retrain and shift into growing sectors.
These processes of transition will require government support to ensure that the economic and social costs are minimised and fairly shared. The government will also need to support the development of new investments in more sustainable industries to replace what is now a significant hole in Victoria's manufacturing industry.
This will require a concerted effort to promote innovation in existing manufacturing businesses, and to support growth in emerging areas such as biotechnology, advanced metal manufacturing and biomedical equipment, to name just a few.
It will also test government in terms of investments in regional economies, in investment in new infrastructure and areas such as urban planning.
In short, it is likely to be a mammoth task that will require collaboration on a large scale – across different tiers of government, and involving many different stakeholders.
As I have highlighted previously, there are some examples to follow – such as Newcastle following the departure of BHP. What appears dire in the short-term, opens new possibilities for areas such as Geelong, Broadmeadows and Altona to reshape the economic foundations for future economic prosperity.
But of all course of this takes time, effort and pain before such an outcome might be realised.

Peter Gahan does not work for, consult, own shares in or receive funding from any company or organization that would benefit from this article, and has disclosed no relevant affiliations beyond their academic appointment.