The Short Conversations Never Had
Tuesday, Sep 8, 2015, 06:30 PM | Source: The Conversation
Lauren Rosewarne
One of my best friends often talks about the banter. That he and I have great banter. Completely true, of course. Across hours, across time zones, there is a high quality, exuberantly-talking-over-the-top-of-one-another back-and-forthing that started two years ago and hasn't stopped.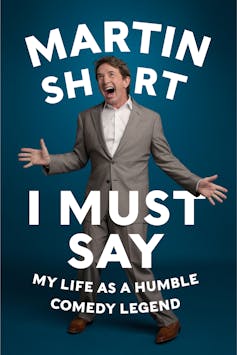 I recently finished Martin Short's autobiography I Must Say: My Life as a Humble Comedy Legend.
My mistake was going in thinking it'd be light relief. In fact, I was more enjoyably distressed listening to those last ninety minutes than anything else I've read this year.
Given that Short is a public future it's no spoiler to reveal that his wife, Nancy Dolman, died of cancer in 2010. And while I've only got a swag of his words as testimony, their union seemed to have been a good'n.
Something referenced throughout is Martin and Nancy's banter; joyfully he too uses the word. That for 36 years the duo had this this beautiful back-and-forthing. I found myself engaged in some mild keening when he described how after her death the banter continues. Him knowing her well enough to have written all her lines.
As is my tendency to get melancholic about multiple things at once, I was listening to the Short memoir at the same time as I became hopelessly drawn into the dying of Amanda Palmer's best friend, Anthony Martignetti, a tale that kept appearing - vinegar fly-like - in my Facebook feed.
I don't follow Palmer on social media, and yet like a soap opera or reality TV show that you promise to only watch two minutes of, I kept reading every entry until Martignetti died. Of course. God forbid I stopped before I became hysterical.
Decades of banter was coming to an end; the horribleness of which we rubberneckers got only the merest wretched taste.
I'm on my own in Connecticut, away from my banter. My solitude, the Martignetti death and then the Dolman death, were almost too much to bear.
The bit in the Short memoir responsible for most of my smeared mascara was when he described filling his dead wife in about news. About the birth of Prince George. About, the Chris Christie bridge scandal. A couple of years ago I had a short story published where, fresh from some of my own awfulness, my concern was not being able to banter about Obama.
Outside of hormones, there are pretty much three triggers that can bring me into a state of melancholy. One. Perfume. That moment that gets completely shat upon by the bergamot top note of a long-banished perfume. Two. Music. I was teary, for example, at the gym the other day when The Cure disrupted the usual Rihanna monotony. Three. The banter that won't ever be had. That quip on the tip of your tongue that has an audience of one but that audience is in your deep past.
It's not often - afterall, my banter-needs are very well taken care of now - but every so often I'll find myself collecting a story that's so obscure that there's only one person who'll appreciate it. And she and I grew apart years ago. Or contact with him would open up blood vessels. Or so much time has passed that perhaps I've overestimated how hard they'd laugh. There's less of these moments as the distance between some relationships becomes longer - and that's grief-inducing for a whole lot of other reasons - but it's a jab nevertheless.
I Must Say - horrendous title, even worse cover, really great book - has plenty of Hollywood stories and many enjoyable links for those who've read the autobiographies of other comedians like Billy Crystal and Steve Martin. And it's worth it for a lovely anecdote about Kurt Russell, someone who I've never given a passing thought to but who, through Short's eyes, emerges as gob-smackingly sweet.
It's also a book that will pretty much shove your heart through the the food processor. Which, let's be honest, I'm always up for.