The medium and the message: comics about asylum seekers
Friday, Feb 14, 2014, 12:18 AM | Source: The Conversation
By Elizabeth Macfarlane
The medium and the message: comics about asylum seekers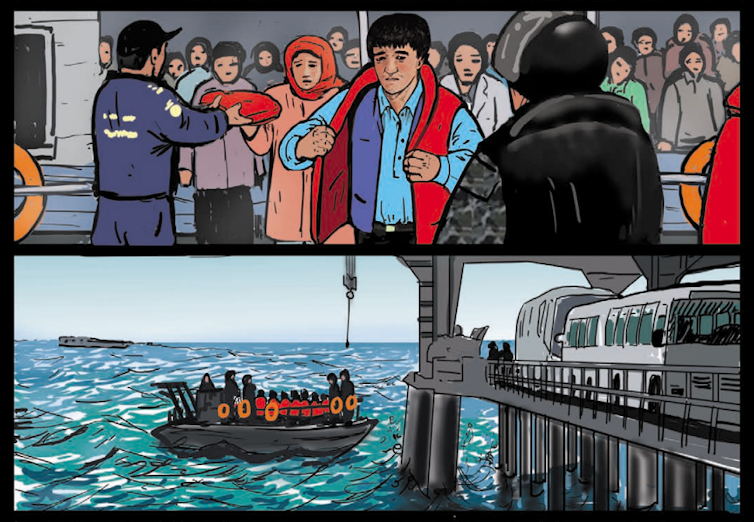 Elizabeth MacFarlane, University of Melbourne
This week, two very different Australian comics about asylum seekers have received widespread attention.
The first is At work inside our detention centres: A guard's story by Melbourne comics artist Sam Wallman.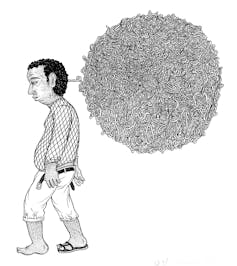 The story has since been shared on Facebook more than 50,000 times. "At work" documents in the first-person a man's experiences being hired, trained and then working for Serco, the multinational services company that runs all the immigration detention centres on the Australian mainland.
The comic, designed to be read on-screen, is sparse, monochrome (with two notable exceptions), dominated by white space, unpanelled, and features Wallman's unmistakeable bendy anatomies.
Almost every picture is metaphoric in some way, requiring its readers to interpret not only its verbal language, but its visual language also. When I teach my subject "Graphic Narratives", I tell my students that this is what makes for good comics: when the pictures don't just illustrate the words, but ultimately tell their own story.
By contrast, the second comic is literal to a point, though whether it is believable is another issue.
It is an 18-page digital graphic novel first published on the Australian Customs and Border Protection site last November. It was allegedly commissioned by the Department of Immigration and Citizenship under the Rudd administration.
The message on the first and last pages of the comic, repeated in both Dari and Pashtun is (literally):
If you go to Australia without a visa / You will not be established there.
(I emailed Professor Shahram Akbarzadeh, formerly of the Asia Institute, for this translation. Shahram also identified Pakistan and Indonesia in the comic.)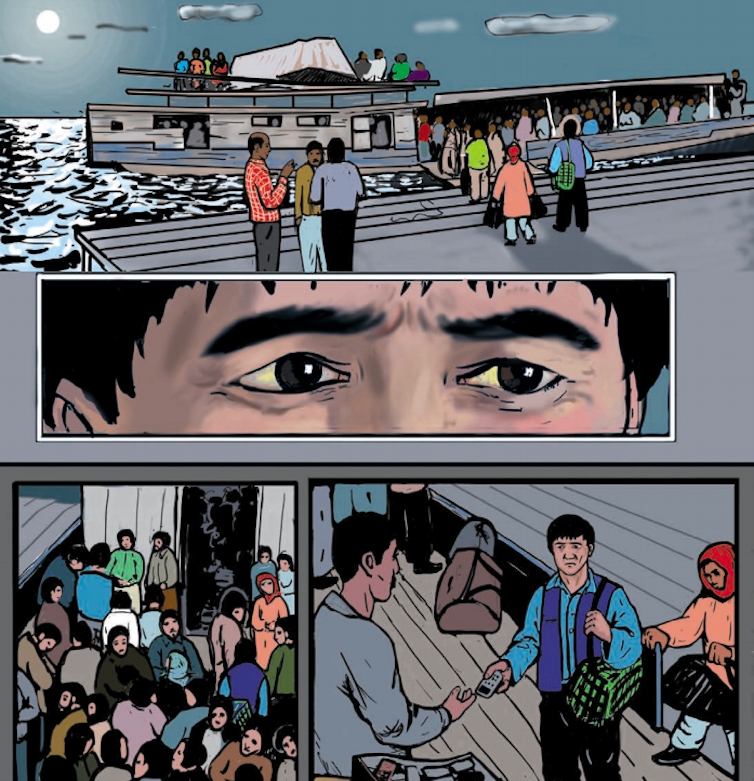 The wordless comic tells the story of a young, poor Afghani man who works as a mechanic and is persuaded by his family to use their savings to seek asylum in Australia – specifically, for some reason, on the Perth foreshore. He flies to Pakistan, then to Indonesia, where a people smuggler offers him passage on a boat. En route, the boat is detained by the Australian navy and the man is taken to an offshore detention centre where he is homesick and plagued by mosquitoes.
The comic has been labelled government propaganda by many commentators – though as most have also pointed out, it is a strange kind of propaganda which paints its own government as such a menacing and threatening presence.
New Zealand cartoonist and author of the graphic novel Hicksville Dylan Horrocks summed this up on a Facebook thread:
The message of this comic is: stay where you are. Just don't even think of leaving. You will regret it (we will make sure you do).
And AusOpinion contributor Mark Fletcher wrote:
Now, the Government tells potential asylum seekers that the reason not to come to Australia is that you might encounter Australian officials.
Comics that send a message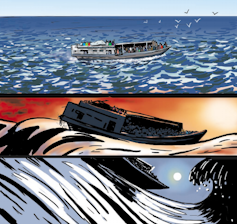 This isn't the first time the Australian government has used the comics form to send a message about asylum-seekers.
In 2003, as a direct response to the 2001 Tampa incident, the New South Wales Attorney-General Bob Debus launched anti-racism comic The Other Side via Streetwize Communications, a national not-for-profit communication organisation.
The comic aimed to dispel myths held by Australian young people about refugees and encourage them to seek the "other side" of the media stories.
Other governments have adopted similar campaigns to the current Australian one, such as Zero Tolerance for Trafficking in Persons in West Java and Chimen Lakay in Haiti, aimed at reducing irregular migration to the US.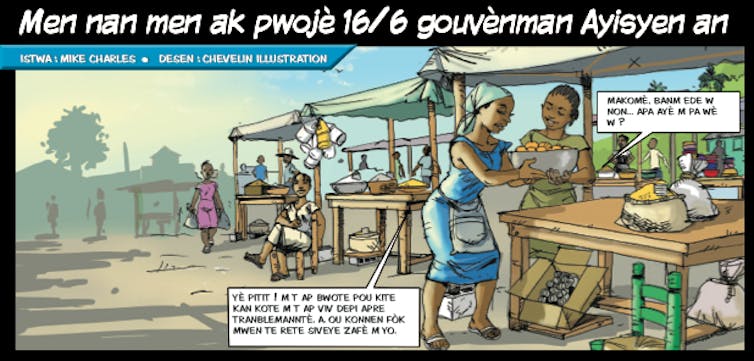 Telling the stories of the silenced
The modern graphic novel has its origins in struggle and marginalisation when in the late 1960s underground comics were born partly in reaction to the Comics Code Authority. These flagrantly anti-authoritarian comics gave rise to one of the most important and enduring sub-genres of modern comics: autobiography.
Robert Crumb wrote about his sexual fantasies, Harvey Kurtzman broke the war-comics model to write personal stories of soldiers struggling with doubt and fear, and Aline Kominsky-Crumb reacted against the right-wing anti-pornography movement to depict various registers of female sexual experience from masturbation to abuse.
Telling the stories of the silenced has thus always been part of the history of the form, and this spirit has formed a large part of the comics community's backlash against the government's graphic novel, from political cartoonist Jon Kudelka's tweet – "Honestly whoever drew that customs comic needs to take a good long look at him or herself. They cannot be in my gang." – to satirical captioned versions of the original comic; to Kate Iselin and Thomas Blatchford's Pozible campaign to create: "You are welcome in Australia".
This last project seeks to produce a comic:
explaining that seeking asylum in any country that has signed the UN Refugee Convention (as Australia has) is not illegal, that there are many Australians who disagree with the government's treatment of asylum seekers and who are fighting for their fair treatment.
One of the great beauties of the comics form is its facility to tell stories beyond words, and in that space where pictures and words collide.
This strength has been used by two very different artists to two distinct ends this week. As a relatively young medium, comics would like to defend its counter-culture origins, but in the end form is a vehicle and it is the message of the government's comic that many have, rightly, taken issue with.

Elizabeth MacFarlane, Lecturer, School of Culture and Communication, University of Melbourne
This article is republished from The Conversation under a Creative Commons license. Read the original article.