A wonderful musical legacy: Peter Sculthorpe remembered
Saturday, Aug 9, 2014, 07:30 AM | Source: The Conversation
Stuart Greenbaum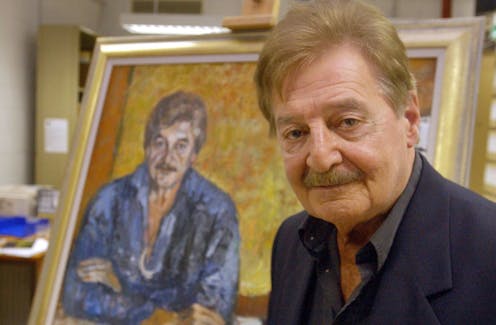 Peter Sculthorpe passed away at the age of 85 on Friday. As Australia's best known composer of classical contemporary music, this gives us pause to reflect on the legacy of his music and also upon the role he played as elder statesman of new music in this country.
He perhaps most clearly defined our cultural transformation from colonial outpost to a modern – and magnificently diverse – musical nation, with its own song to sing.
A Tasmanian by birth and early education, Sculthorpe came to study at my institution, the University of Melbourne, as a teenager shortly after the end of the second world war. Despite overseas travel to Europe, which at that time was considered essential for any serious musician, his artistic interests were closer to Australia and the Asia-Pacific region. For the last half a century, he has been a Sydney resident – teaching for many years at the University of Sydney.
There aren't many degrees of separation between Sculthorpe and the collective Australian compositional community.
A number of my friends and colleagues studied there with Sculthorpe – including Matthew Hindson, John Peterson, Paul Stanhope and Elliott Gyger– and they all attest to his insight as a composition teacher and to his ability to allow an individual's voice its own direction. Sometimes this would be a simple, but profound, question of what a composer actually wanted for their own music. I didn't personally study with Sculthorpe, but both of my teachers did – Barry Conyngham and Brenton Broadstock – and so goes the lineage.
Perhaps most famous for his Sun Music series from the 1960s, Sculthorpe's work brings Aboriginal and Asian influences into his depiction of the Australian landscape.
His 1988 orchestral work, Kakadu was a seminal work from a composer at the height of his powers. But there was plenty more to come.
I sat next to Sculthorpe during a performance of his Great Sandy Island (1998/2000) and found the melodic and harmonic spaciousness of the music rewardingly beautiful and told him so. But this was not the premiere. It was merely another repeat performance, part of an SSO education concert at the Eugene Goossens Hall at the ABC in Sydney. The composer didn't have to be there. But Sculthorpe was very generous with his time, and was more inclined to talk to me about my piece than his own.
Last December, I bought three CDs for myself as a Christmas present: Sculthorpe String Quartets volumes 1–3, performed by the Goldner Quartet. Over January I listened to this huge body of work. Shostakovich wrote 15 string quartets, Bartok wrote six. Peter Sculthorpe wrote 18.
They make for compelling listening. It's deep and intriguing music. Often mournful and sometimes ebullient; but always engaging. Kronos Quartet made his 8th quartet well known internationally. But I recommend listening to the full cycle of quartets recorded by the Goldners. It's a captivating way to experience the subtle morphing of language across the Sculthorpe career.
The comment is sometimes made of novelists that they really only have one book in them – and keep writing it over and over. This is partially true of Sculthorpe's output. It is certainly distinctive and quite quickly recognisable. There are many variations on similar themes and consistent harmonic shades of colour. But what is lasting are the beautiful, shining examples in the very best of them. It's a wonderful musical legacy for a country that has forged its own sound across the lifetime of an amiable and gifted soul.
Peter, you will be missed so much by so many. And listened to with pleasure for many years to come.

Stuart Greenbaum has been the recipient of funding from the Music Board of the Australia Council for the Arts.