Why Norway says No Way to gender segregation in the military
Wednesday, Aug 13, 2014, 04:26 AM | Source: The Conversation
Leah Ruppanner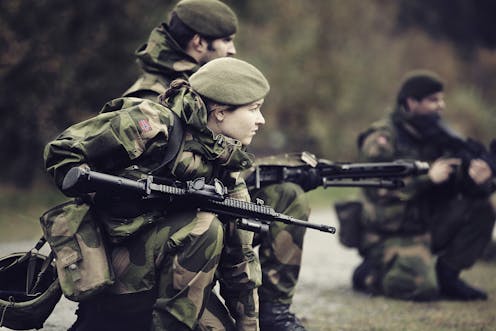 Earlier this year, Norwegian sociologists Ulla-Britt Lilleaas and Dag Ellingsen released a report on their country's armed forces entitled The Army: The Vanguard, Rear Guard and Battlefield of Equality. Counter to expectations, the study found that the recent introduction of unisex dormitories in the Norwegian army was associated with a decline in sexual assault.
Unisex dorms eroded gender divisiveness, which was replaced by a shared status as soldiers. Soldiers in these units developed a shared fraternity. This is not to say that some soldiers did not develop romantic relationships, but when they did they were separated from shared dormitories.
The main conclusion of this study is that male and female soldiers can live harmoniously in a shared space without increase in sexual violence against women. The bigger question about expectations of masculinity and sex requires additional investigation.
The study may also have resonance for the Australian armed forces, which have in recent years struggled with sex scandals and how best to respond to them.
Hegemonic masculinity
One of the central arguments against incorporating men and women in shared domestic space is that it makes women vulnerable to men's sexual advances. However, this is premised on the assumption that men need sex and will take advantage of opportunities if unchecked.
American teenager Elliot Rodger's recent killing spree was a result, according to his manifesto, of women rebuffing his sexual advances. It is in this context that sociologist Philip Cohen highlighted the need to challenge hegemonic masculinity. This provides us with the cultural norms of masculinity that, in many cultures, are based on the inherent assumption that men need sex and can exhibit this need through violence against women.
It is here that the Norwegian case provides the most significant lessons. In western cultures, hegemonic masculinities are most closely linked to violence, sex and sport. The success of the Norwegian unisex dorms indicates that hegemonic masculinity can be superseded through direct contact with women in close quarters. This process is illustrated by a young recruit who said:
You have to be a team here, and then you have to live together in order to be able to trust in one another.
This shows that unity around camaraderie becomes more important than divisiveness around gender.
Gender role expectations
This finding is important given that most army recruits are young and moving out of the family home. In this life-course transition, close interaction with strangers of the same age yet opposite sex is less common. As a result, young adults may be less confident in their interactions and rely more heavily on traditional gender role expectations, which include cultural scripts around masculinity and sex.
However, living in an inclusive environment that requires daily personal interaction over mundane experiences such as flushing the toilet may deteriorate expectations of the opposite sex rooted in fantasy which are replaced with routine and comfort. And for these young adults, these experiences of living with the opposite sex may have long-term effects on their gender role expectations, marriages and views of equality.
It is this spillover effect that is the most interesting and requires additional investigation.
Broadening the findings
So, do unisex dormitories reduce sexual assault across the military holistically? Or does it only reduce soldier-on-soldier attacks for those who co-habit? It may be that the social experiment of co-habitation reduces sexual assault only among those who participate and may manifest in other areas.
It is also uncertain whether these findings are replicable in other contexts. It seems unlikely that this type of experiment could be extended to jails or other "total institutions". But it may be successful on university campuses and for sports teams. Unity around one's status as an athlete may reduce sexual assault and violence in other domains.
Finally, this study calls into question the legalisation of prostitution rooted in the logic that men need sex and providing safe and legal means to access it benefits everyone. Many Nordic countries have moved past these arguments, highlighting that prostitution is exploitation of women and raises bigger issues regarding masculinity and sex. This Norwegian example identifies the need to challenge assumptions about masculinity and sex.
Ultimately, the Norwegian study provides three main takeaway messages. First, true equality is achieved by equalising opportunity and risk. Second, challenging negative assumptions through high-frequency personal contact can be unifying and not dividing. This is a point of increasing importance as western countries become more multicultural.
Finally, the long-term and spillover effects of these experiences may create a more just and civil society which benefits us all.

Leah Ruppanner does not work for, consult, own shares in or receive funding from any company or organisation that would benefit from this article, and has disclosed no relevant affiliations beyond their academic appointment.