These Heathen Dreams: rage and tenderness at MIFF 2014
Thursday, Aug 7, 2014, 08:28 PM | Source: The Conversation
By Wendy Haslem
These Heathen Dreams: rage and tenderness at MIFF 2014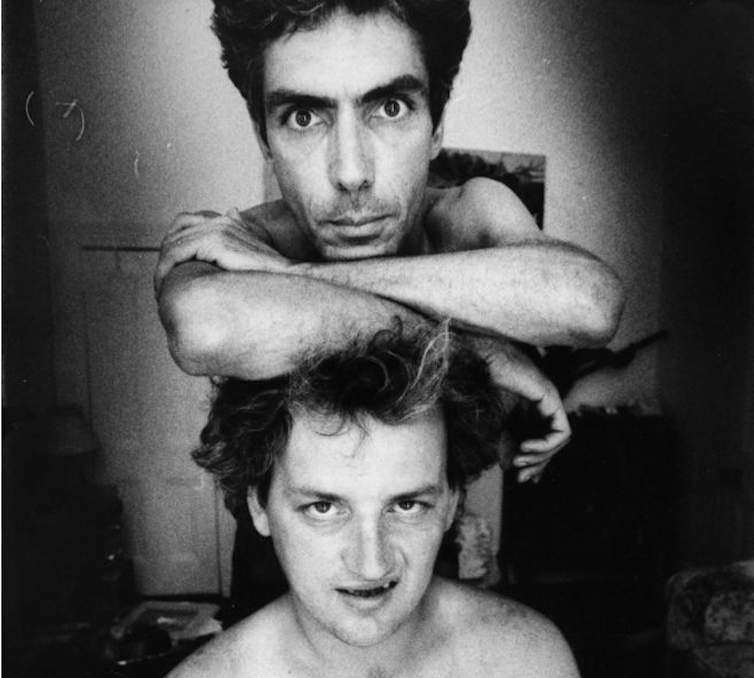 Wendy Haslem, University of Melbourne
I met the Australian poet Christopher Barnett in Nantes in 2009. He strode the narrow streets in his long leather coat, occasionally crossing the road in front of cars, staring drivers down. When I asked him if he would ever return to Melbourne he said no, because "here, I am magnificent". It is true.
These Heathen Dreams, which premiered at the Melbourne International Film Festival (MIFF) on Tuesday, documents Barnett's lifetime of writing, performing poetry and creating experimental theatre. Art historian Anne Marsh describes the lack of recognition of Barnett's work in Australia as a national crime – and this film may go some way to addressing that.
The film begins with a grainy image, an extreme close-up of his ear, his face and then a glimpse of his mouth forming words in silence as the discordant, frenetic sound of the violin dominates the soundtrack. Barnett is a performance poet. His work is passionate, political, transformative – and above all else furious. The fire that colours the title text signals this fury from the start.
In the film, Barnett talks about working constantly in a state of war, his voiceover revealing that "fighting" is what interests him. Songwriter Paul Kelly chimes in to add that while Barnett might not deliberately pick fights, he certainly is involved in upping the ante. Later he describes Barnett's performances as a combination of rage and tenderness.
A similar rage and tenderness is at the heart of the narrative and aesthetic of These Heathen Dreams.
Listen to this voice
The documentary features sequences of Barnett performing poetry, rhythmically reciting the work. He performs as if in a trance – but is also completely present in the moment. He is a charismatic figure on stage with a strong, compelling voice – a commanding presence. His voice is central and heard in a range of intonations.
Black-and-white footage shows Barnett leading the chant at an anti-Vietnam war moratorium in Adelaide in the early 1970s. Later, he sings as he wanders down Brunswick Street in Melbourne. While Barnett's voice is deliberate and rhythmic when he reads his poetry, it is also tender, softening in moments when he reunites with colleagues, straining slightly when he reads poetry in memory of his father. This documentary asks us to listen.
In transit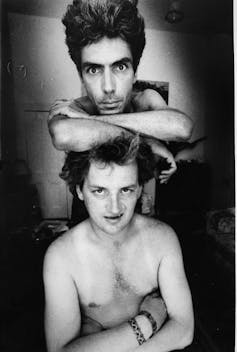 This film begins in transit, on a road trip to Bavaria. Barnett is on his way to visit his contemporary Thomas Harlan. Harlan is a pioneer docu-drama filmmaker, in Barnett's description, "a revolutionary communist", creating "films of resistance".
Harlan was the first to translate Barnett's book The Blue Boat into French. Symbolic images and prosaic moments build anticipation of the reunion for two ailing, creative men. In transit, the green neon light illuminating tunnels and the softer green images of abstracted landscapes appear to rush behind Barnett as he travels. The camera maintains focus on his face, pitting stillness against movement. He observes the passing landscapes through the window, smoking – always smoking.
Later, the car is immobilised by a problem with the fuel line. Movement and delay, clarity and abstraction build an impression of a shift towards an other worldly space.
Friends and collaborators
In this discursive documentary, Barnett both speaks and is spoken about. This is a narrative built on Barnett's words interspersed with impressions from many who collaborate and are inspired by his work. The film invests in the relationships that surround Barnett – present and past. Harlan, for example, is devoted to Barnett's creative life, describing his work with new writers as a miracle.
Barnett is the co-founder of Le Dernier Spectator (with Stéphane Anizon), a theatre laboratory in Nantes dedicated to working with people on the margins of society. Barnett understands this as returning to his origins, using "the same equation of what is creation" to facilitate survival and transformation. A participant in his workshops, Lucette Dubuc, talks about the transformative potential of the writing process, saying that "once it's written, it's not the same. It's a relief".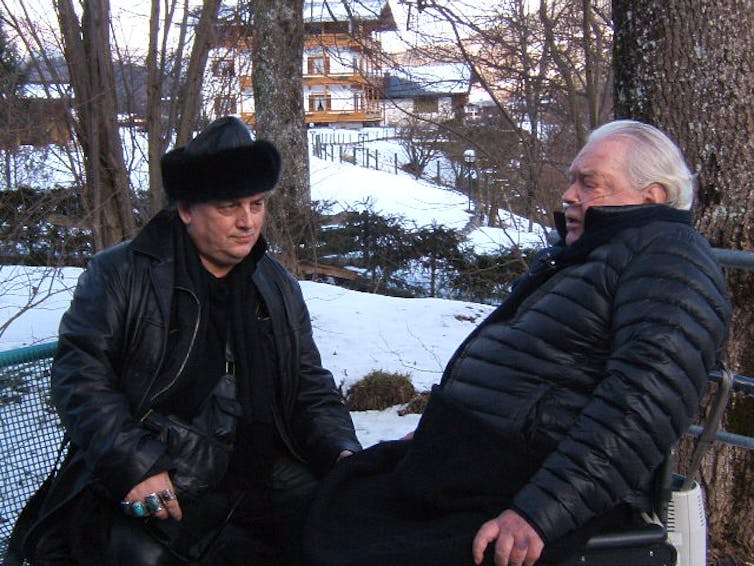 These Heathen Dreams includes beautiful footage of the Adelaide suburbs shot by John Cumming. Cumming films Barnett's return to his family home after decades of absence.
The framing is intimate, the spaces shallow, exposing the depth of connection between Barnett and his brother Michael. In the small space of the kitchen the brothers talk about Michael's writing. They are connected by proximity and both move uneasily beneath the gaze of the camera. Slightly wavering eye contact hints at the histories of presence and absence in this family. These men are connected intimately within space, within the family and as writers.
Other sequences show Barnett's mother Dorothy retreating into the kitchen to make some tea and to escape the camera. Later, she describes the difficulty of standing, monitoring her son, fearful of the impact of drugs on his body.
Absences and memory
There is more than a spectre of absence in These Heathen Dreams. The documentary is structured around memory and the continuing influence of those absent. Barnett describes the absence of his father who was ill throughout most of his life. He recalls how during his infrequent visits home, his father would set him writing tasks. Barnett recounts his memory, as a 12-year-old boy, of trying to wake his father in vain.
Another absent presence is the Turkish-American activist Furkan Dogan, who was shot in close proximity in Gaza in 2010. The memory of Dogan inspired the creation and publication of the epic poem, When They Came/For You: Elegies/of Resistance (2013).
These Heathen Dreams identifies Barnett as a deliberate exile, an exile by choice. He says that he arrived with $200 in France, a place where "the breathing is easier". Nantes, where he now lives, is on the Loire River in the north-west of France. In the 18th century it was a principal port for the slave trade.
In the second world war, German forces occupied Nantes. It was bombed and then liberated by US forces. It is a site of turbulence and struggle, a place where Barnett's work is appreciated deeply and where he feels at home.
Directed by Anne Tsoulis, produced by Georgia Wallace-Crabbe, funded by a crowd-sourcing campaign and supported by the South Australian Film Corporation, These Heathen Dreams is an eloquent and passionate documentary that provides some very late recognition of the importance of Christopher Barnett's work for Australian and global literary cultures.

The Melbourne International Film Festival 2014 runs until Sunday August 17. See all MIFF 2014 coverage on The Conversation here.
Wendy Haslem, Lecturer - Screen Studies, University of Melbourne
This article is republished from The Conversation under a Creative Commons license. Read the original article.