From ancient China to an Italian chick flick: the story behind Venice's love lock burden
Monday, Sep 29, 2014, 10:35 AM | Source: The Conversation
Catherine Kovesi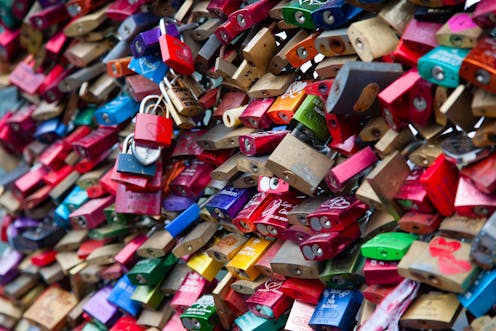 "If you love somebody, set them free" sang Sting in 1985. Few would argue with that sentiment. Yet for thousands of lovers around the world, the perfect symbol of their love has become a padlock. Not a padlock to which they have an exclusive key, but a padlock whose key has been thrown away. Locked together. No way out. Forever.
For the lovers concerned, presumably the padlock is a symbol of unbreakable love. For weary survivors of broken hearts, the padlocks are a reminder of the entrapment of relationships in the name of love. For city municipalities, the locks are increasingly simply a symbol of mindless urban vandalism. For commentators on global social phenomena, the padlocks are all grist to the mill.
The "padlock on the bridge" phenomenon is well known, with regular, if fleeting, commentary about it in the press over the past few years. I first became aware of the phenomenon in Venice a few years ago on the Accademia bridge; one of the most prominent in the city, one of only four straddling the Grand Canal, with a breathtaking view down across to the Salute Church, to the mouth of the Grand Canal, and beyond. It is a favourite spot in the city, a spot for lovers and others to pose for photographs and to take endless selfies.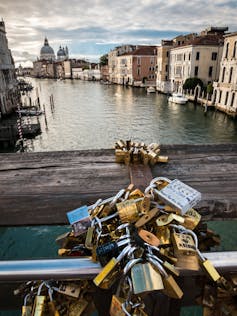 A steel version of this bridge was originally built by the Austrians in 1854 to facilitate their occupation of the city. Now the bridge itself has been invaded by thousands of locks. On my daily walk across it I would pass an enterprising young Bangladeshi, who offered small, nondescript padlocks for sale. "Half price," he claimed, as he shyly offered one to me. Was that half price because I was on my own without any lover in sight, I wondered? Half of what original price? And at what price for the bridge – and for the city? Week after week, the city, as well as self-appointed local anti-lock guerrillas, remove huge quantities of padlocks – 20,000 have been removed from the Accademia bridge in the past two weeks. But week after week they reappear.
In the beginning
Like all good myths expressed through popular practice, there is some dispute about the origin of the padlock on the bridge. According to lovelocksonline.com, a savvy company with a vested interest in the "tradition", the practice goes way back to "ancient China" (always a safely nebulous location for the origins of a myth). Another account blames the Serbs. The story centres on Nada, a lovelorn schoolmistress, who was rejected by the dashing officer Relja in favour of a woman from Corfu.
In the early 1900s young women from Vrnjačka Banja started paying tribute to the unbroken fidelity of Nada's love by locking padlocks on a local footbridge, now called the Bridge of Love (Most Ljubavi). But this is a localised tradition. And I doubt many of the lovers affixing their padlocks to the Accademia bridge are aware of poor Nada, or are channelling ancient China.
Love locks have gone global, and this spread is a relatively recent phenomenon. Many blame two Italian novels for this. Both have been adapted to film and are aimed at the teen and "chick-flick" market. Their author, Federico Moccia, has done little to dispute his own role in this new iteration of the "tradition". Ho voglia di te (I Want You) was published in 2006, a sequel to another novel from 1992 Tre metri sopra il cielo (Three Steps Above Heaven). There have been film adaptations of each in Italian, and one in Spanish. Ho voglia di te (2007) had the best-ever opening box office success of an Italian movie.
The two novels involve a love triangle in which the main protagonist, Step, is led astray from his first love, Babi, by the independent and charismatic Gin. Step initially declares his eternal love to Babi by locking a padlock on a bridge, Rome's Ponte Milvio. In the film, a tower of locks are affixed to a street lamp on the bridge. Step takes a padlock from his motorcycle. He locks it, looks at Babi, kisses the key, proclaims the word "sempre" ("always") and throws the key over his shoulder into the Tiber.
And so was born a global practice, a practice that in the wake of the film has enveloped Rome and Venice and Paris and has even reached a small footbridge over the Yarra river in my hometown of Melbourne.
Lock down
Who knows what the innumerable lovers are thinking as they symbolically lock themselves into a relationship, and throw away the key to their escape. But the fact remains that love locks have not merely become an eyesore, but also a major hazard, both to the bridges and to those crossing them. And it seems unstoppable. In June, part of the Pont des Arts footbridge in Paris had to be evacuated after more than two metres of the hand railing of the bridge collapsed under its burden of entrapped love.
But now a rival popular movement is striking back. In a blog post in January, Lisa Anselmo pointed out the perilous state of both the Pont des Arts and the Pont de l'Archevêché. "Dear Tourists, please Unlock your Love," she wrote. The post created a buzz in social media, and she and another Lisa, Lisa Taylor Huff, subsequently launched the No Love Locks campaign.
And now Venetian writer Albeto Toso Fei has added impetus to this new social movement with a campaign launched during the Venice film festival. His slogan is "Unlock Your Love", and his posters proclaim:
Putting locks on Venetian bridges is against the law. Your love doesn't need chains. Venice doesn't need garbage.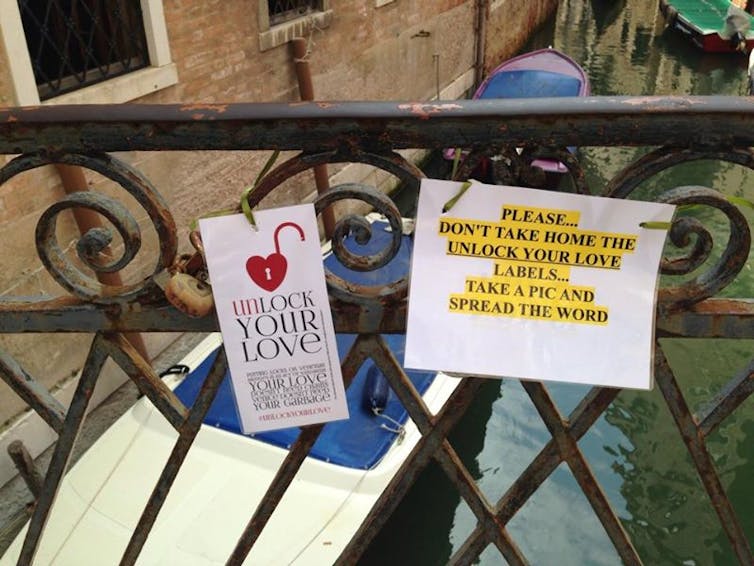 Tying "Unlock your Love" placards all over the bridges, Toso Fei wants to make lovers think about the nature of their relationships. A padlock could be seen as a pernicious idea, antagonistic to true love, but for Toso Fei it is simply banal. Veteran instagrammer Silvana Di Puorto enlisted a wide range of celebrities to assist the cause, photographing them holding Toso Fei's poster.
There's something deeper at work here though. The campaign's Facebook page states: "Venice needs love not locks." For the 57,960 current inhabitants of the City of Love, Venice is being despoiled on a daily basis by up to 80,000 visitors, an annual influx of 23m tourists. Their search for love and beauty, however, does not seem grounded in a love for, and respect of, the city itself.
One local group regularly updates its Facebook site with photos of tourists behaving badly and expresses increasing outrage at the flagrant disrespect for their beautiful, precious and fragile city. Others have left messages of warning on the duckboards, which are placed around the city when Acqua Alta (high water) rises; messages indicative of the need to respect the delicate eco balance of the lagoon.
These local Venetians are faced with a deep paradox. They love their city and they set it free. But increasingly they will be faced by the reality that perhaps to save it, they'll need to put it under lock and key.

Catherine Kovesi does not work for, consult, own shares in or receive funding from any company or organisation that would benefit from this article, and has disclosed no relevant affiliations beyond their academic appointment.