High rents aren't hip: the contradictions of the 'creative city'
Sunday, Feb 9, 2014, 07:06 PM | Source: The Conversation
Kate Shaw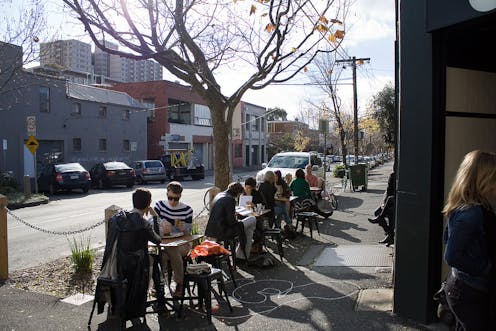 Recent reports have confirmed what many already know: the cost of housing in Australian cities is among the highest in the world.
The growth rate in Australian property prices over the last 15 years is the biggest sustained increase recorded anywhere. Australia also has the highest debt-to-income ratio – encouraged by generous tax incentives to the middle and upwards classes to invest in property – meaning that as more households commit more of their incomes to mortgage repayments, so prices continue to rise.
High prices push out the arts
Sydney is most expensive, with a median dwelling price of A$660,000, followed by Melbourne with a median of A$553,000.
That these two cities lead the field is not surprising: Sydney is Australia's financial capital, and Melbourne is commonly positioned as the nation's most liveable and cultural capital.
Melbourne's arts and live music scenes are indeed internationally renowned, and Sydney is now trying to revive its long-gone music scene, having taken guidance from Melbourne researchers on the development of a Live Music Action Plan.
Melbourne is not quite the exemplar it could be, however, and is already falling victim to its own success. In recognition of this, the Victorian state government has established a live music roundtable; and the inner-city councils of Yarra, Port Phillip and Melbourne have set up their own live music taskforces. Each is attempting to respond to the effects of the increasing property prices and residential population on local arts and cultural activities.
My research team has tracked the location of Melbourne's arts and music scenes over the past 20 years.
The two maps below show the location of independent and community-based (ie. non-commercial) cinema, visual arts, performance and live music (for elaboration on these definitions see our recent paper here) in 1991 and 2011.
The pattern they show is the pattern of gentrifying cities all over the world: low-yielding land uses get pushed into areas where land values are lower, as high-end residential and office buildings – the "highest and best" uses in most market economies – proliferate.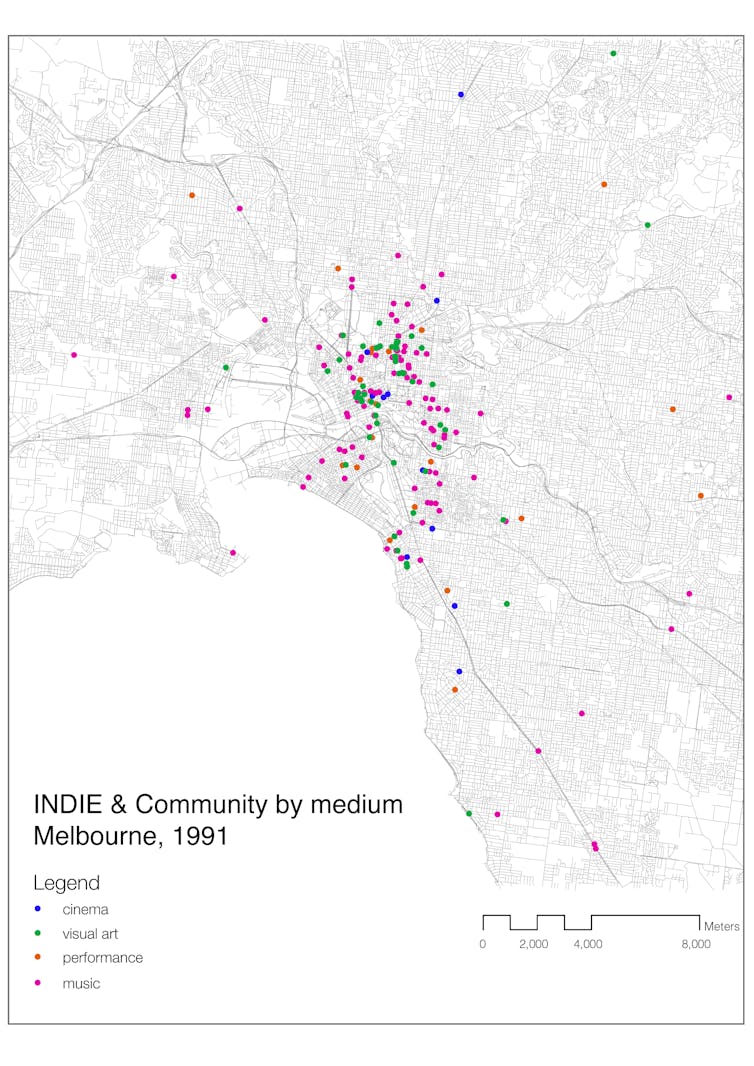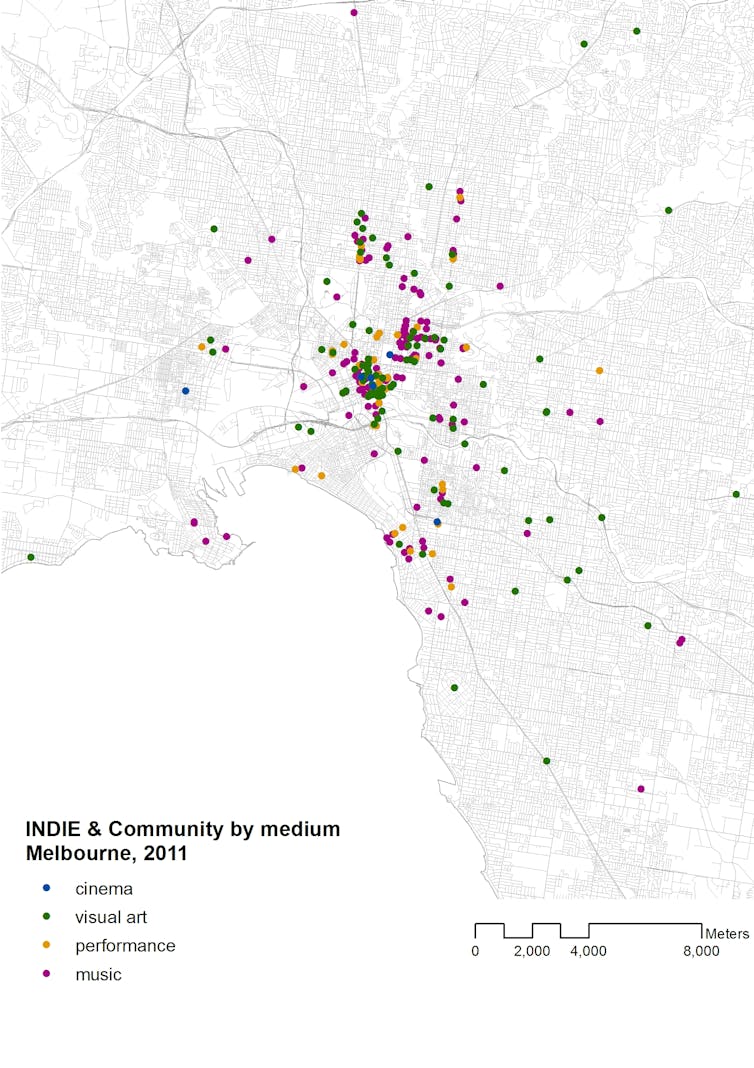 The displacement of the venues that host these activities from the wealthier south-eastern suburbs is expected. Interestingly, they are not fleeing to the city fringe where prices are much lower, but clustering where they can in the inner-city or heading north. The two intense clusters on the 2011 Melbourne map are in the CBD and Collingwood/Fitzroy, and the northward trajectories are in Brunswick/Coburg and Northcote/Preston.
It is these areas that have the greatest diversity in property prices in inner-Melbourne – some of the most expensive, to be sure, but also some of the cheapest and, importantly, smallest spaces available in the inner-city. The fact that these venues are not (yet) relocating to the outskirts is due partly to the need for centrality and good public transport for their audiences, and partly to the residential populations in these areas that largely support the presence of sometimes loud and messy activities.
The arts and live music scenes in Melbourne in 2011 (and now) are still strong and the number of small venues is increasing, but they are also increasingly precarious. At their core are the independent artists and musicians whose relative freedom to experiment – and to continue to feed more commercial or mainstream culture – has been sustained by low rents and the capacity to live relatively cheaply.
A 2010 report by the Australia Council for the Arts shows that the financial position of practicing artists over the last 20 years has worsened. Titled Do you really expect to get paid?, the report shows that very few artists in Australia earn high incomes and most earn very low incomes. Most earn from their chosen profession less than A$10,000 a year.
The pressures of gentrification
Gentrification is placing all sorts of pressures on arts and cultural venues, and on the people who work and play in, and live around and support them.
Those inner south and eastern areas on the 2011 map of Melbourne that are being emptied of their arts and music scenes, and areas such as Docklands that never had (recognised) cultural activity and still don't, were subject to urban regeneration strategies – those market or state-led economic development strategies so often inspired by notions of the "creative city".
Intended to decrease vacancy rates and increase land values, these strategies bring revenue to local governments and capital gains to landowners, essentially by displacing lower than best economic uses – including low-cost housing and low- and non-profit cultural uses.
While lifestyle and property media features gush over the "hipness" of the latest district discovery, the scene tries to hang on or moves on. The doubling and tripling of rents is not "hip", it's a problem.
The "creative city" is a contradiction other cities have been grappling with for years. Local governments in San Francisco, New York, Portland, Amsterdam, Berlin and Hamburg, among others, unable or unwilling to curb gentrification, are at least ensuring that some of the financial returns are invested in rent controls, capital works and purchases for (sub)cultural uses, and more cautious and egalitarian urban regeneration programs.
Few Australian governments have come to terms with the depth of the dilemma, but some in Melbourne and Sydney are making a good start.
Now they must accord a place to independent arts and cultural uses in their planning policies, their zoning designations and their regeneration strategies.
Most importantly, they must make investment decisions not just in the interests of culture, but of those low-income people who put the social, cultural and economic diversity into gentrifying cities.

The project from which this piece comes was ARC-funded.