The Indi Project: Sophie Mirabella in the bunker
Monday, May 30, 2016, 02:06 PM | Source: The Conversation
Michelle Grattan, Adrian Beaumont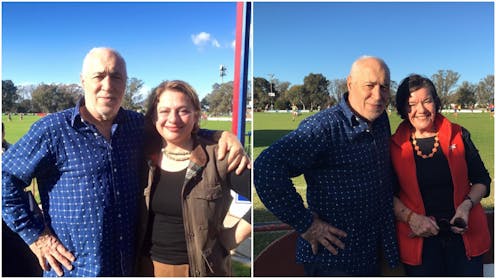 Phil Cleary, left-leaning one-time independent member for Wills, and Sophie Mirabella, the former Liberal MP for Indi who is trying to regain the seat, are far from political soulmates.
But on Saturday, when Cleary addressed a lunch before a Wodonga football match on the subject of violence against women, Mirabella asked for a photo with him, and posted it on Facebook.
Cleary had found himself caught in the picture wars.
A couple of hours later Cathy McGowan, the independent who in 2013 beat Mirabella, arrived at the ground. Cleary, feeling in distinctly more comfortable political company, posed with her too. The House of Representatives needed more progressive independents to change the national conversation, he said.
The fight for this northern Victorian electorate that a few years ago was rock solid for the Liberals is complex and intense. As a human tale, it is all about Mirabella, a driven woman who squandered the prize of a safe electorate but won't let go.
Politically, it is a test of whether this regional community is satisfied with a member who can only wield limited clout – except if there were a hung parliament. Then there is the sub-story – the entry into the field of the Nationals, pushing for advantage on the weakness of an unpopular Liberal contender.
Indi, an Aboriginal name for the Murray River, is a rural electorate that at its southwest end is close to the outskirts of Melbourne; its northern boundary extends to the NSW border. Its main centres are Wodonga and Wangaratta; it contains picturesque tourist towns such as Beechworth and Bright, the Alps country and Falls Creek. A federation seat, its occupants have included Isaac Isaacs, who later became governor-general, and the Country Party's legendary "Black Jack" McEwen.
Indi hasn't seen a Labor member since the Great Depression, so this is not your normal "marginal" seat. But in 2013 McGowan won by just 439 votes, beating Mirabella 50.2%-49.8% on the two-party vote, after Mirabella polled 44.7% of the primary vote and McGowan 31.2%.
A ReachTEL poll done in March for the Australia Institute showed McGowan in a winning position. Federal Liberals are dismissive of Mirabella's prospects, regarding McGowan as dug in. ABC election analyst Antony Green points out that traditionally independents elected in seats like this increase their vote in the second election. But with both the Liberals and Nationals in the field, the outcome remains uncertain.
A Melbourne lawyer and therefore an outsider, Mirabella won the seat in 2001. A high-flyer, she was very close to Tony Abbott and would have been the second woman in the initial Abbott cabinet. But in a major revolt against her neglect of them and her abrasive style, her constituents bucked the national pro-Coalition swing to throw her out. The whack had been on the way for a while and only needed the right candidate to deliver it: Mirabella's vote dropped from 63% in 2004, to 54% in 2007, 53% in 2010, and 45% in 2013.
Mirabella persuaded the Liberal Party to keep an office in this electorate it no longer held. As she geared up for a comeback bid, her tone was that of one seeking redemption: she accepted she'd not listened, indicating that she'd got the message, she'd changed.
But then she didn't seem to have changed at all. Things tanked. It was reported in the Benalla Ensign that she'd pushed McGowan to deny her a picture opportunity – Mirabella rejects the allegation and there are legal letters. She claimed Indi was denied hospital funding she'd had in the bag before the 2013 election because it elected McGowan. Senior Liberals knew of no such money. An ABC 7.30 interview with comedian Libbi Gorr didn't go well.
Mirabella, who once relished her high profile, now declines to do interviews with the national media. As far as they are concerned, she's in the bunker.
Liberal ministers have weighed in to help her. Treasurer Scott Morrison made an appearance – unfortunately for him, just when the hospital story had exploded. Assistant Treasurer Kelly O'Dwyer, the minister for vocational education and skills, Scott Ryan, and Communications Minister Mitch Fifield have campaigned. Ryan says he and his colleagues have found "strong support" for her. She is not on Malcolm Turnbull's immediate visiting schedule. Abbott keeps in touch but doesn't have plans to go to Indi at this point.
The Nationals are looking to the future. If McGowan, 62, holds on, that will end Mirabella's Indi ambitions and the Nationals could be well placed after a McGowan retirement in 2019. Going into the three-cornered contest late last year the Nationals were on about 8%. They have been encouraged by support for their candidate, 36-year old Marty Corboy, who is part of the family stockfeed business in Wangaratta. He's had Nationals leader Barnaby Joyce and deputy Fiona Nash, whom he describes as "a little superstar", on the trail with him.
Corboy gets a strong rap from an unlikely quarter. Michael Cooney, executive director of the Chifley Research Centre, Labor's think-tank, and Julia Gillard's former speech writer, who has known him for years, says: "He's a good bloke – he'd have my second preference [after Labor] if I were voting in Indi. He's a quite positive product of a new conservative generation that's post the culture wars. He's just got his positions – he's not a cranky contrarian."
Last time the Nationals ran, in 2001, their vote was about 12%. Corboy will pick up some votes from both McGowan and Mirabella. In 2013 McGowan was helped by support from certain Nationals, including former state MP Ken Jasper, who now endorses Corboy.
The order in which the top three candidates come in and the flow of preferences will be crucial.
McGowan says: "I think it's going to be very close." Although Mirabella and Corboy will exchange preferences, McGowan believes many of their preferences will in fact go to her, especially given both Coalition candidates are well to the right, in contrast to her centrist position.
On same-sex marriage, for example, Corboy – who once ran as a Family First candidate in a state seat – welcomes the government's proposed plebiscite, but when pressed on what he'd do if elected on the enabling bill after a "yes" vote says "I'd have to see the legislation".
McGowan says: "I'm hoping that the National Party people will consider giving me their second preference and I'm hoping that Liberal Party people will think – certainly the ones in Wodonga – [that they] don't see their answer in the National party and they will consider giving me their preferences."
Mirabella and Corboy push the argument they can deliver in a re-elected Turnbull government. Corboy, who describes Mirabella as a polarising figure, says: "Indi is a conservative seat. There were many reasons why the current member was elected", but "people coming to me think they are better served by someone around the table of government".
The issue of who can deliver is one voters talk about. McGowan, who cites her role in obtaining the substantial number of phone towers allocated to the electorate (disputed by Mirabella) and in helping persuade some crossbench senators to oppose deregulating universities, says: "It is not true that the only way to get things done is to be a member of the governing party. Parliament works on your ability to work with people and get things through the system."
Indi, she says, has moved from being a safe seat that was ignored to one that's "competitive" – "everyone is paying attention and knows their vote is going to count and the current government is paying attention". She points to Morrison's visit just before the budget.
A grassroots campaign won in 2013 for McGowan, who was a popular local with a farm high in the mountainous country near Beechworth. This time she has some 600 volunteers signed up, campaign "hubs" in the major centres and A$90,000 raised already. There are no big donors, she says.
McGowan cut substantially into the Labor vote in 2013, which suffered a swing of 16.5% on primaries, falling to 11.7%. Eric Kerr, a local councillor from Wodonga, is Labor's candidate this time; he is the 22-year old son of lesbian parents and same-sex marriage is one of his big issues. He's also an open critic of Labor's tough border protection policy.
The Greens' Jenny O'Connor, a nurse who works in the mental health area, is contesting the seat for the fourth time. Wangaratta GP Julian Fidge is badged as "Australian Country Party" and there is an independent candidate, Alan Lappin, from near Rutherglen.
Because of its special and interesting aspects the University of Canberra's Institute for Governance and Policy Analysis has chosen Indi for its 2016 Election Project. Two focus groups comprising "soft" voters – people who have not decided definitely how they will vote – were held in Wodonga last week. The discussions are presented in a separate article. There will be further focus group reporting later in the campaign.

The authors do not work for, consult, own shares in or receive funding from any company or organisation that would benefit from this article, and have disclosed no relevant affiliations beyond their academic appointment.