Should we change the way we measure student progress in schools?
Monday, Mar 21, 2016, 10:01 AM | Source: The Conversation
Glenn C. Savage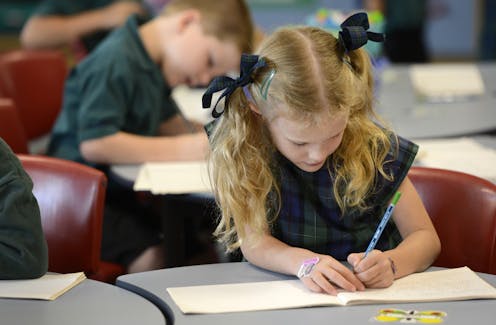 Every year, the National Assessment Program – Literacy and Numeracy (NAPLAN) reveals stark inequalities in student achievement in literacy and numeracy across Australian schools.
While recent results showed some improvements around the nation, serious performance gaps remain between young people from different backgrounds.
Addressing these gaps is a major policy challenge that both sides of the political divide are struggling and failing to solve.
The Grattan Institute's new report, Widening Gaps, invites us to think differently about how to measure student progress and tackle entrenched inequalities in achievement.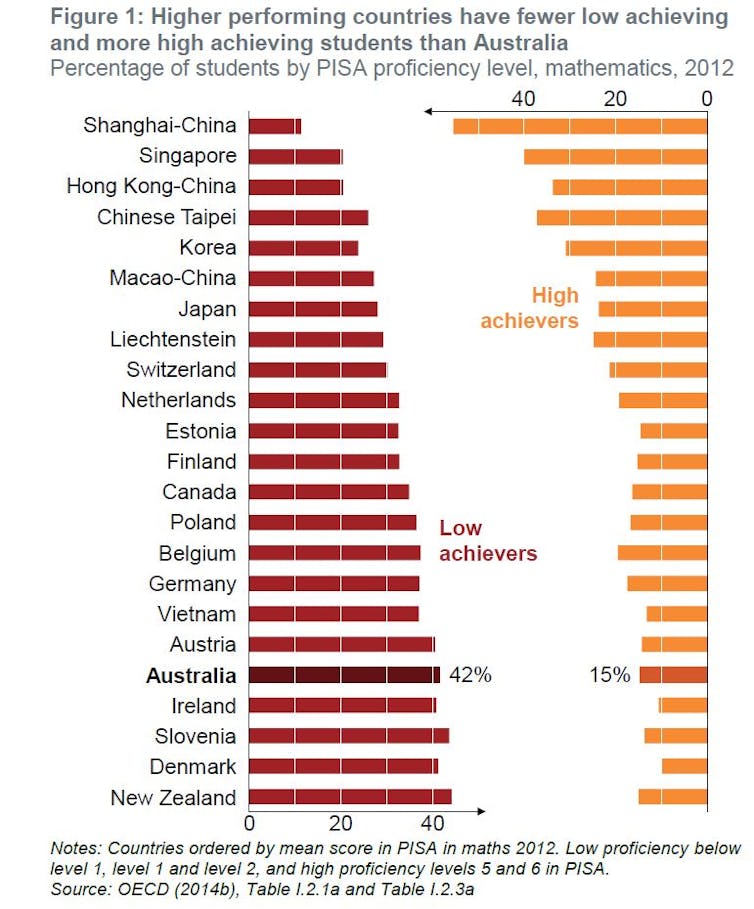 The key arguments
"Widening Gaps" proposes a new way of reporting on and understanding student progress each year, using "time" (years and months of progress) rather than "distance" (gain in NAPLAN scores).
This means instead of simply measuring a student's progress in terms of the change in scores from year to year, Grattan suggests we should also be looking at how much progress they have made relative to expected years and months of improvement.
This is because some students make faster progress than others and it is crucial, the authors argue, to understand these differing rates of progress.
Let's take, for example, two imaginary students, Sally and Michael.
In Year 3, both perform at the minimum standard for Year 3. But by the time they reach Year 5, Sally is performing well above the minimum standard but Michael has fallen below.
Sally has progressed, therefore, at a faster rate than Michael, which means Michael needs more help to catch up.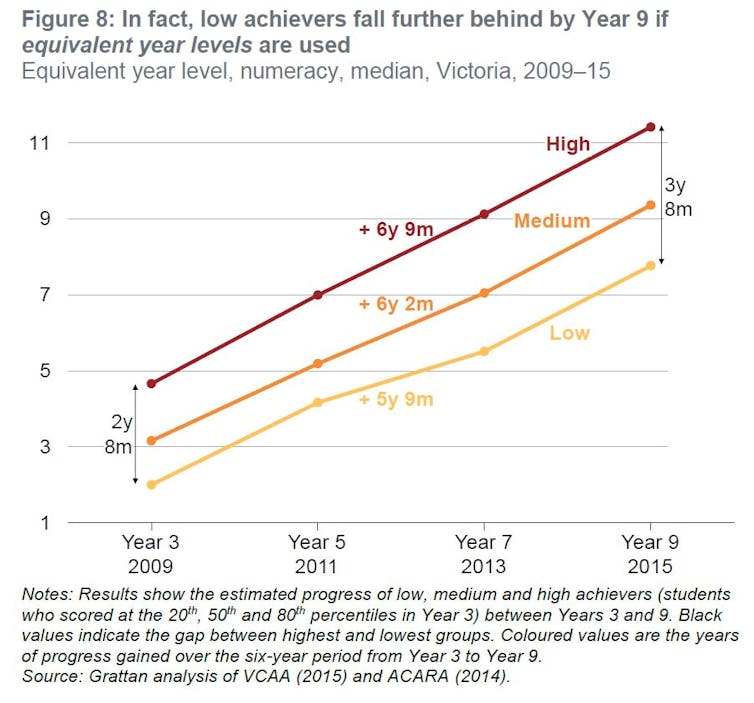 This relates to "the performance gap" problem, the authors argue, because when we analyse student progress at broader system levels, some worrying patterns emerge.
For example, based on its analysis, the authors claim:
socioeconomic background makes a big difference between Years 3 and 9, with young people attending schools in poorer areas progressing at much slower rates than those in wealthier areas;

lower-performing students fall behind at a faster rate than higher-performing students, and higher-performing students in low socioeconomic area schools show the greatest loss in potential;

parental education levels play a key role, with children of parents with lower education levels falling more than two years behind children of parents with a university degree by Year 9;

geography matters, with students living in inner city areas making much more progress than students in regional or rural areas;

the overall spread of student achievement increases dramatically as students move through school.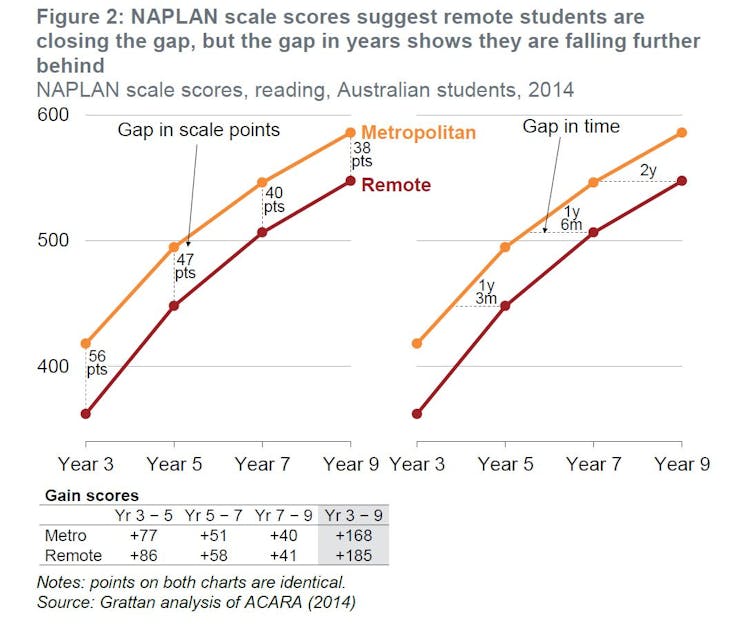 The report also argues that national minimum scores (NMS) are far too low, with the NMS for Year 9 in numeracy below the Year 5 student average.
These are worrying findings for anyone concerned by educational standards and inequalities in student achievement.
So what should be done?
The report argues that three major reforms are needed.
First, Grattan argues that policy organisations should adopt its "years of progress" approach as a supplement to existing reporting measures.
The authors claim this will produce a more nuanced portrait of student progress and enable more targeted interventions in a range of policy areas, including resource allocation and needs-based funding.
This recommendation arguably has the most relevance for the Australian Curriculum, Assessment and Reporting Authority (ACARA), which has responsibility for NAPLAN.
Second, the report argues systemic changes are needed to the way teachers teach and assess student progress, by adopting what Grattan has previously called "targeted teaching".
This basically means teachers should adopt more clinical and reflective approaches that consistently evaluate the impact of their work on student progress, and better cater to the individual needs of students.
Finally, the report argues that young people from disadvantaged backgrounds need more support to close progress and achievement gaps.
This might sound like the bleeding obvious, but it is a message that Australian politicians appear unable to fully comprehend.
Where to from here?
While the report signals some interesting reform options, putting its ideas into practice would be another matter entirely.
For one, it is unlikely that all policy stakeholders will agree with Grattan's position. I can imagine, for example, that ACARA would see its current approach to NAPLAN reporting as effective and sufficient.
The report also signals ideas that require large-scale reform, not only of data reporting, but also of how teachers teach. And large-scale reform is both tricky and expensive.
For example, the overhaul of teaching practice required to have every teacher doing "targeted teaching" would need, by Grattan's own admission, much more "time, tools and training".
In tight fiscal times in which school funding agreements like Gonski remain up in the air, it is hard to see where the money for such reforms would come from.
Ultimately, therefore, whether we agree with Grattan's position or not, driving any major schooling reform is an almighty task.
But it is not a challenge that should simply be put in the "too hard basket", as quality schooling is central to building the social and economic prosperity of our nation.

Glenn C. Savage receives funding from the Australian Research Council.