Are university flagship courses actually workable? And will they be a disaster for equity?
Friday, Aug 5, 2016, 05:10 AM | Source: The Conversation
Gwilym Croucher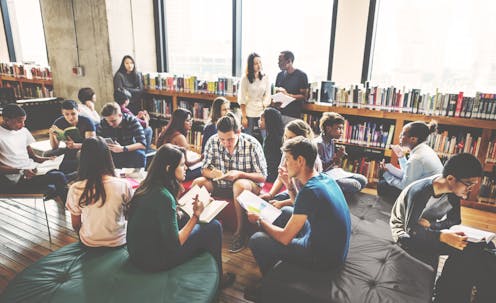 In the options paper for higher education released on budget night, the government proposed the idea of "flagship courses", which would mean that universities would be allowed to set the fees for some of their courses.
In the paper, the government said universities would be given:
freedom to set fees for a small cohort of their students enrolled in identified high-quality, innovative courses [to provide] additional flexibility to innovate, differentiate themselves.
Universities are broadly opposed
Many universities have reportedly come out against the idea of introducing flagship courses, as have some of the peak education groups, including the Group of Eight, Australian Technology Network and Regional Universities Network.
One concern is that partial deregulation could create a two-tiered system – between flagship courses and other courses – that locks out disadvantaged students.
There is also concern about the unknowns of this proposal.
The Go8 "supports and welcomes" commitment to flexibility, but, "in the absence of further detail", is cautious about this option.
The Innovative Research Universities was more welcoming of "exploration of mechanisms … [to] develop some areas of high achievement".
The ATN, on the other hand, said it is "very difficult to see how … it would be workable and it has the potential to create perverse consequences", echoing a general concern the policy could be bad for student equity and access and have other unintended outcomes.
Meanwhile, Universities Australia said:
While some members have indicated a preparedness to further explore … the majority oppose the proposal on the basis of implementation complexity, the likelihood of perverse outcomes, the potential to devalue existing degrees, and the potential creation of a two-tier system.
How the idea of flagship courses came about
The flagship proposal made its debut in 2011 through the final report of the Base Funding Review.
While full details were never published, essentially the idea was that universities would have been allowed to offer a "flagship course". This course could have been one where the university offered something different and innovative, such as a highly specialised bachelor of crime scene investigation.
Universities could have charged 50% more than usual to cover the cost of their "innovation in teaching and learning". But there could have been no more than 5% of total enrolments in the flagship.
The government's current proposal implies flagship courses could be quite different to this, but would have a similar goal of "more choice and higher-quality offerings".
The government suggests there might be no cap on fees and flagship course enrolments might be up to 20% of total enrolments.
The paper says the government might reduce the public subsidy as fees increased, but get the Australian Competition and Consumer Commission (ACCC) to keep a watchful eye.
Are university heads right to be concerned?
It raises questions over how this model could work effectively to meet the government's goal.
If the rules are too lax, even with the ACCC playing a part, we might see a concentration of flagship courses in a few high-demand and high-margin courses where universities could maximise revenue, but do not deliver either choice or innovation in teaching.
Does Australia really benefit from 40-plus commerce or law degree flagship courses? Get the incentives and rules wrong, and this might be the policy outcome.
And will the policy be bad for student equity and access as some vice-chancellors claim?
Whether or not flagship courses foster bad outcomes for student access and equity depends on how they are designed. For example, they might deter students who have faced disadvantage and make it unviable for them to undertake a course due to excess fees not covered by HELP.
An increase in fees for some courses, especially if this is a capped increase and deferred through HELP, is probably not enough to mean the policy will be detrimental overall for student access or equity.
As previous rises in HELP have shown, these do not on their own markedly affect enrolment trends.
Where to now?
The consultation process presents a window of opportunity for the government to continue thinking through what flagships might look like.
Good design might deliver more flexibility for universities to innovate, but this needs to be balanced with the possibility of unintended outcomes if the desired institutional incentives are misaligned.
Ensuring that the parameters for flagships provide incentive for universities to innovate, rather than being a roundabout way for students to contribute more for the very same courses as at present, would seem to be central to a workable proposal.
This suggests that, for flagship courses to be a success, a modest initiative – perhaps focused on individual units of study – might turn out to be a better choice than a program encompassing a fifth of a university's enrolment.
There are clearly potential risks the model could be bad for students, but this depends on how the policy is designed.
If flagships drive quality, specialisation and differentiation, something that many agree is a good thing, they might yet be an important part of future Australian higher education.
If the policy does not end up driving choice or quality, it is hard to see it gaining support.
Whether or not the policy can be designed in a way to ensure it delivers the policy outcome is the next question.

Gwilym Croucher is Principal Policy Adviser in the Chancellery at the University of Melbourne and Senior Lecturer in the Melbourne Centre for the Study of Higher Education.