Labor's struggle to remain 'the education party'
Monday, Feb 1, 2016, 12:10 AM | Source: The Conversation
Glenn C. Savage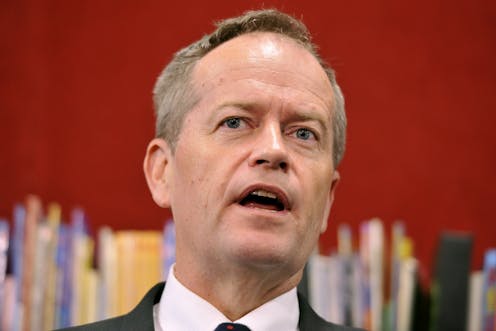 Bill Shorten is playing perfectly to the Labor campaign script.
Find a school in a suburban growth area, get the cameras rolling while you sit and laugh with kids, stand against a wall replete with colourful paintings and promise billions of dollars to fix the nation's schools.
Let the election games begin.
Labor's commitment to (once again) fund the final two years of the Gonski school funding reforms signals a strong intent by the party to position education as a wedge issue in the upcoming federal election.
School funding is a powerful card for Labor, not only because it can capitalise on the Coalition's retreat from Gonski, but also because funding strikes an emotive tone in the public imagination.
The 2011 Gonski Review cut to the heart of debates about who gets what in Australian schools and revealed gross inequalities across the nation.
A fairer needs-based school funding model, the review argued, was central to improving the quality and equity of Australian schooling.
Federal Labor has capitalised on union support and a broader public appetite for Gonski. State Labor parties have followed suit, campaigning hard on school funding and resourcing in recent elections.
Shorten now sees a fresh opportunity to re-assert Labor as the Gonski saviour.
Playing to party strengths?
Media responses to Labor's choice of funding as a key election issue suggest it is seeking to play to traditional strengths as "the education party".
While there is little doubt education has been a reliable part of the Labor brand over the past decade, this explanation alone misses something crucial about why school funding in particular has been foregrounded rather than many other issues in schools.
The truth is, funding is one of the few areas Labor has left to distinguish itself from the Coalition when it comes to schooling policy at the national level.
Funding is one of the final playing cards Shorten can use to draw a wedge between the two parties in an era marked by furious agreement between Labor and Liberal on schooling.
A decade of party convergence on schools
Labor's "education revolution" of the late 2000s set in motion an unprecedented era of national reform, giving life to a number of major innovations, including the Australian Curriculum, the Australian Professional Standards for Teachers, the National Assessment Program, the My School Website, and eventually, the Gonski Review.
When the Coalition came to power in 2013, however, Australia saw very little substantive change of position in relation to schooling policy.
Despite some early rhetorical flourishes and political posturing, the Coalition has maintained strong support for the core elements of national schooling policy.
Sure, the Coalition commissioned a Review of the Australian Curriculum, but that only led to very minor changes.
It also sought to increase school autonomy under its Independent Public Schools initiative, but Labor had already supported school autonomy during the Rudd and Gillard era through the Empowering Local Schools initiative.
In fact, similarities between the two parties are so strong that current Federal Education Minister Simon Birmingham is now spruiking national teaching standards and curriculum as core bones of Liberal policy: two reform areas developed under federal Labor.
Other key elements of Labor's election announcement, such as raising year 12 completion levels and an increased focus on science, technology, engineering and maths (STEM) are also old news and have had bipartisan support for many years. STEM is also a central focus of the Coalition's current innovation agenda.
School funding, however, has remained a key point of contention. It is the one area that represents a distinct gulf between the two parties, reflecting significant ideological and economic differences.
Breathing new life into the Gonski debate, therefore, offers Shorten a rare chance to distinguish Labor from the Coalition on education and draw what is left from the cup of history that has solidified Labor as the education party among many Australian voters.
Coalition not (yet) taking the bait
Rather than engaging in an arms race on education funding, the Coalition has so far stood firm in its position that it will not engage in a "fistful of dollars" election campaign.
Treasurer Scott Morrison has been warned that Australia is heading into bleak economic waters, with tricky budget decisions forthcoming.
Simon Birmingham has also maintained that he will not "shower more money on schools". Instead, he will negotiate a new funding deal with the states from 2018.
Birmingham has been scathing in his appraisal of Labor's funding announcement, describing it as little more than a "three page press release".
Of course, while the Coalition knows as well as Labor that school funding isn't a magic bullet to fix Australian schools, we should not underestimate the power of the funding debate to steer public opinion.
It will be interesting to see how long the Coalition can hold out before being forced to outline its own funding plan.
If the Coalition can put forward an option that seems competitive in comparison to Labor, it will be painful blow to Shorten's election hopes, as he holds on by his fingernails to convince Australians that Labor is still the party to fix the nation's schools.

Glenn C. Savage receives funding from the Australian Research Council as part of the 'Discovery Early Career Researcher Award' (DECRA) Scheme for his project titled 'National schooling reform and the reshaping of Australian federalism'.