What are the attributes needed to be a successful sporting leader?
Friday, Sep 9, 2016, 04:14 AM | Source: The Conversation
Mark Elgar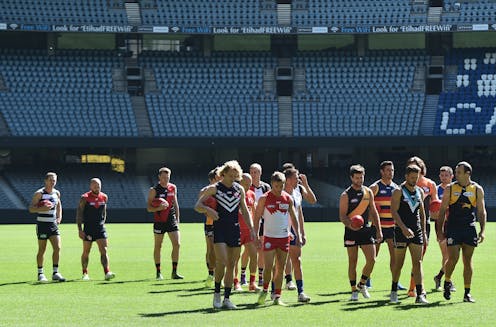 Most team sports have captains, appointed in the belief their leadership skills will increase the chance of winning games. But what attributes of players might mark them out as successful leaders?
This question typically exercises the minds of spectators at major sporting events, like the Olympics, and is also cause for nervous reflection by AFL and NRL captains and coaches as we approach the pointy end of those seasons. But the goal of identifying leadership attributes that translate into team success remains as elusive in sport as it does in other spheres of human endeavour.
Bemused sports administrators trying to identify leaders might derive some comfort from a 2011 review of political leadership, which concluded:
… if the little green men used this literature to prepare themselves for Earth landing, they would not have a clue about whom they would meet upon demanding, 'Take me to your leader.'
Understanding what makes a great leader depends upon the measure of success, which in commercial sport is brutally unambiguous – the numbers on the scoreboard and the place on the ladder. Trophies are success; wooden spoons are not.
Does size matter?
A recurring claim about leadership, especially within popular literature, is the alleged prevalence of physically large and potentially intimidating leaders – the so-called "Big Man" theory of leadership.
Evolutionary psychologists claim an inherent basis to this preference for large leaders: in our ancestral past, humanity comprised small groups of humans in fear of other small groups.
By selecting large, intimidating leaders, so the theory goes, individuals would enhance their personal security and prospects of survival. Accordingly, our preference for large leaders is in our DNA.
Given the underlying aggressive context of this evolutionary perspective, a robust test might involve comparing the size of leaders and members of violent, criminal gangs. Logistics aside, measures of gang success still remain uncertain.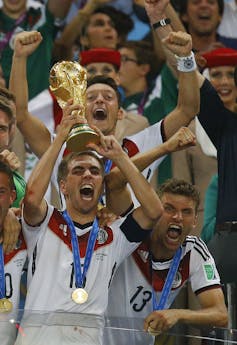 The 2012 London Olympics, however, offered a safer and quantitatively more rigorous test of the Big Man theory.
Team captains of the women's and men's basketball, football, handball, hockey, volleyball and water polo teams were not taller than the other team members. And selectors were wise to ignore their ancestral DNA, because the captain's height did not influence team success.
Philipp Lahm, the hugely respected captain of German football club Bayern Munich and a World Cup-winning captain of his national team, puts the lie to the Big Man model of leadership success in sport. At 1.7m tall, he is among the smaller professional football players in the world, earning him the dubious nickname "The Magic Dwarf".
Do older, more experienced captains do better?
The value of experience for leadership success seems intuitively more obvious and apparently figures in the thinking of those selecting captains.
At the London Olympics, although captains were not necessarily the oldest player on the team, they were on average between two (women's volleyball and men's wheelchair rugby) and seven (women's water polo) years older than the other players.
Why are older players chosen as captains? They have longer experience at the senior level, often reflecting their superior playing skills.
And leading from the front impresses rugby league pundits, who rank playing skills as crucial for successful captaincy – witness emeritus captains Wally Lewis, Mal Meninga, Brad Fittler and the "captains' captain", Darren Lockyer.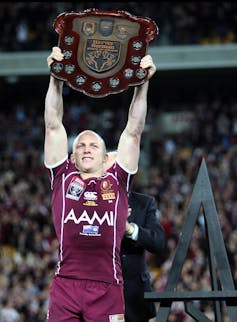 The extraordinary skills of Lauren Jackson and Richie McCaw, likely the finest-ever captains of the Australian basketball and New Zealand rugby union teams respectively, are similarly crucial to their leadership successes.
But this might not be true of all sports. Mike Brearley allegedly earned his place in the English cricket team through his captaincy rather than playing skills. He led his side to victory in 18 of 31 Test matches as skipper.
On the other hand, the leadership skills of Sir Viv Richards and Ricky Ponting were unquestionably matched by their skills with the bat.
But these anecdotes are not generalisable. The captain's age didn't translate into team success at the London Olympics. Teams with older captains were not more likely to reach the semi-finals, nor did they score more points per game.
Team discipline can be a crucial contributor to team success, and this is where a captain's age plays a part. At the London Olympics, teams with older captains typically conceded fewer penalties per game than teams with younger captains. (This might also be true of rugby league: while the captains of NRL teams in 2012 were no taller or heavier than their teammates, they were around four years older.)
We don't know whether this is because older captains lead by example, or if they are better at modifying the rest of the team's behaviour, or a combination of these and other attributes. And spectators typically miss these skills, as Nick Maxwell, a former captain of AFL club Collingwood, sagely noted:
If you go to a game, 90% of the time your eyes are drawn to where the ball's going, not behind the play where [the captain] grabs a player and then talks to him.
How can we learn more?
It is remarkable that captains exert such an influence, despite the plethora of advice and support provided by coaches and others on the sidelines. This seems to be especially the case in rugby league and Australian rules, where numerous team aides invade the pitch, dispensing fluids and advice.
Perhaps the captain's influence is greater at more modest, regional or local competitions – with fewer, and probably less experienced, support staff.
Our fascination with leadership is unsurprising, given its impact on our lives. But most research seems to gain insights from questionnaires and laboratory games, rather than the outcomes of "real life" decisions.
Given recent events in federal parliament, it's tempting to suggest that those who contemplate political leadership might closely observe the captaincy skills of AFL and NRL teams in the coming weeks, at least where team discipline is concerned.

Mark Elgar receives funding from the Australian Research Council.