Overcharged for hearing aids? Australia's audiology industry isn't rogue, but needs improvement
Friday, Jul 1, 2016, 04:58 AM | Source: The Conversation
Robert Cowan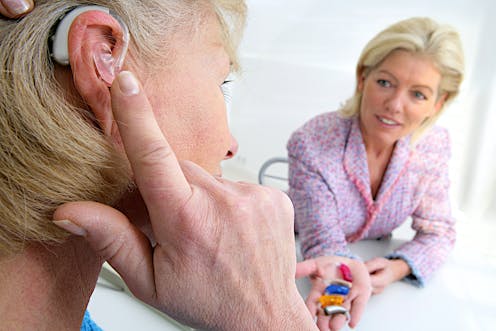 Since last year, the Australian Competition and Consumer Commission has been watching the audiology industry in light of claims "rogue" practitioners are overcharging for hearing aids. This week, further reports have emerged about alleged rorting in the "unregulated" industry, with some patients reportedly spending up to A$17,000 for hearing aids.
Parts of the audiology environment is government-regulated, such as in the case of services for children up to the age of 26 and pensioners with a Health Care Card. But many with hearing impairment fall through the cracks and rely on the self-regulation of the industry.
Hearing loss in Australia
One in six Australians are affected by hearing loss and the Senate inquiry "Hear Us" reported that with an ageing population, this is expected to increase to one in four by 2050. Overall, hearing loss is estimated to cost Australia A$11 billion per year.
Hearing problems in children can delay language development and impact educational achievement. In adults, they can reduce productivity, employment and social participation. Hearing loss can isolate the elderly from family and friends, and add to their cognitive decline.
Due to universal screening for newborns in all Australian states, hearing loss is generally detected at birth. Depending on cause and degree, hearing loss can be treated by medical and audiological solutions. Alternatively, parents and adults may opt to use sign language.
The two most common audiological solutions in Australia are cochlear implants and hearing aids. To be sold in Australia, these must be registered on the Australian Register of Therapeutic Goods (ARTG).
Cochlear implants involve a surgical procedure and their provision and fitting is medically regulated. But there is no single regulatory regime governing the fitting of hearing aids.
The regulated environment
For children, hearing aid provision is managed through Australian Hearing – a national body that provides government-funded hearing services to children and young people up to the age of 26. The eligibility was extended from 21 years, after it was recognised this was important to support young, hearing-impaired people entering the workforce.
The organisation has 80 centres across Australia and provides outreach programs for Aboriginal and Torres Strait Islanders. Services are provided by audiologists, who are university trained professionals clinically accredited by their professional association.
Australian Hearing, and approved private sector companies, provide hearing aids under the commonwealth government's Office of Hearing Services program.
Holders of Pensioner Concession Cards, Veterans' Affairs Gold Cards and some White Card holders and their dependants, members of the Australian Defence Force, and clients referred by the Disability Employment Services, are all eligible to receive services under the program. Some people with hearing needs will also be eligible under the National Disability Insurance Scheme (NDIS), which begins a full national rollout on 1 July 2016.
A range of hearing aids and assistive listening devices are available under the program. Clients may choose a free device, or pay a fee for ones with additional features. Qualified practitioners – audiologists and audiometrists – fit the hearing aids under the program, which is audited and regulated through the Office of Hearing Services.
Self-regulation for the others
For consumers over 26 years and those ineligible for the Office of Hearing Services program, including self-funded retirees, there is a potentially unregulated environment. Currently, there is no requirement in Australia that a hearing aid be sold and fitted by an audiologist (or audiometrist), and anyone can call themselves an audiologist.
However, anyone who sets up a business offering hearing services in Australia is regulated under Commonwealth, state and territory legislation governing health complaints laws, public health regulation, consumer protection law, employment law, criminal law and the law of contracts.
It is because of this governance of consumer protection law that the ACCC is investigated the overcharging of hearing aids.
Some argue that registration under the National Registration and Accreditation Scheme is the only way to ensure consumers are protected from commercial interests. However, audiology does not meet the "risk to the public" criteria for a registered profession, where a practitioner can put the patient at risk of physical harm.
Audiology Australia, the peak professional body representing around 95% of audiologists, has lobbied government to require audiologists be licensed. In the absence of this, Audiology Australia has implemented self-regulation through establishing a Code of Conduct and offering clinical certification and accredited audiologist programs.
With support from the Office of Hearing Services, Audiology Australia is also working with professional associations to implement a national Scope of Practice – that will set out procedures to be delivered by audiologists and audiometrists – to cover all providers of hearing services who are their members.
However, this will not prevent others, such as non-members, from selling hearing aids. Nor will it address the overpricing issue.
Get a second quote
Consumers can choose from a range of hearing aid models. Cost of devices is largely driven by additional features designed to improve listening. But additional features such as remote controls can add to the price.
In the current competitive market, there are commercial pressures for hearing aid providers to upsell devices with additional features, at an additional cost.
As with any purchase, consumers should closely question the provider as to why each added feature is necessary for their hearing loss and communication needs. Consumers should get a second quote and ask for cost comparisons.
Of course, this puts the onus on the consumer, and for the elderly in particular, this is difficult.
Most importantly, while the focus is on cost of devices, the very best device will not provide optimum benefits without appropriate fitting, rehabilitation and ongoing maintenance. To ensure they get the right service, and to reduce the risk of over-fitting, consumers should ensure they get services from a qualified professional such as an Audiology Australia accredited audiologist.

Robert Cowan is CEO of the HEARing Cooperative Research Centre, which receives funding from the Commonwealth Government through the Cooperative Research Centres Programme, and from its member organisations. He is currently a Director of Audiology Australia.