One of Marlowe's finest plays roars into the 21st century
Friday, Aug 5, 2016, 12:36 AM | Source: The Conversation
David McInnis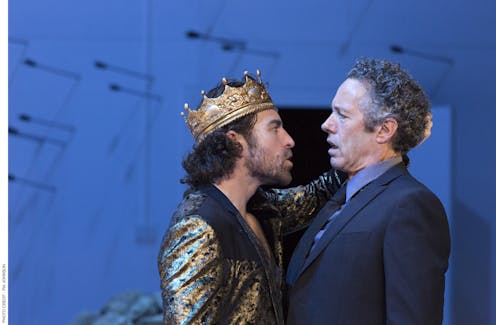 While the rest of the world is marking the 400th anniversary of William Shakespeare's death, Melbourne's Malthouse Theatre is turning to Shakespeare's Other: the bad boy of Elizabethan drama, Christopher Marlowe.
Marlowe's plays are as outrageous as his life was said to be: Tamburlaine burns the Koran on stage, Faustus sells his soul to the devil, the Jew of Malta poisons a convent of nuns, and Edward II neglects his wife and kingdom by doting on his male lover, the "basely born" Piers Gaveston.
Edward II (c.1592) is a play about the intersection of the personal and the political; about leadership and the monarchy as well as favouritism and homosexuality. Writer Anthony Weigh and director Matthew Lutton have set out to breathe fresh life into an Elizabethan history play that has already seen radical adaptations at the hands of Bertolt Brecht (1923) and Derek Jarman (1991).
Through a rapid series of "fractured 'scenelets'", their boundaries demarcated by the sound of a knife being sharpened, we see Ned (Edward II, played by Johnny Carr) in love with a commoner, Piers Gaveston (played by Paul Ashcroft), and out of love with his wife, Sib (Queen Isabella, played by Belinda McClory). She takes a lover of her own, the Machiavellian Mortimer (played by Marco Chiappi), who is here – like Piers – from humble origins, but has served the king all his life.
The lab-like set, replete with museum artefacts and document cameras, offers a nod to the genre of Marlowe's play; its significance as a "monument" to Ned's "decadence" becoming apparent only in the final scenes.
A young boy, the future Edward III, plays a choric function, itemising significant and symbolic objects on the display tables and thereby forecasting the subsequent focus of the plot. With the exception of the mise-en-scène, this adaptation largely eschews history in order to accentuate the political and psychological dimensions of Marlowe's play.
Carr's Ned doesn't care for politics: with flagrant disregard for his public office, he wears the crown during an otherwise entirely naked sex scene with Piers.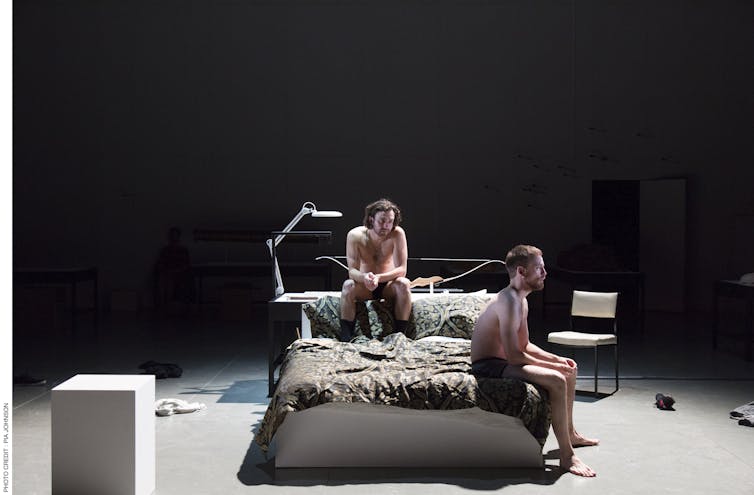 Like Caligula appointing his horse as a consul, Ned sends "a fucking pony" to France as an English diplomat, thereby jeopardising "stability", "normalcy", and "the status quo". Ned is instead attracted to the "authenticity" of ordinary people, and fawns on his lover, Piers. But as Piers is told by Mortimer, Ned has a "destiny"; he is singular, not like the common people.
Politics is all that Mortimer cares about. He asks the young boy Edward,
Why do we have a king? What would it be like without one?
Without a king to bind the kingdom together, he implies, there would be chaos. This Mortimer is attracted to the institution of the monarchy but distinguishes between the office bearers; like Ned, he too can separate the body politic from the body natural, but his blind loyalty to the institution (like Ned's investment in the personal) proves his undoing.
Marlowe's "basely born" Piers is romanticised here, recounting how he "slept rough" by the river in his youth, as part of a gang. The people love Ned as "the people's prince" precisely because of Piers. Far from objecting to the homosexual relationship, the people are initially pleased that "one of their own" (a commoner) has been welcomed into the monarchy.
Weigh's portrayal of the lovers' relationship in these terms is especially welcome inasmuch as the suggestion of the homosexual relationship between Edward and Piers being destructive is so easy to overstate: Stephen Orgel has observed of Marlowe's play that
both politically and morally, the power-hungry nobles and the queen's adultery with Mortimer are as destabilizing as anything in Edward's relationship with his favourite.
Instead of identifying Ned's sexuality as the cause of his fall, Weigh has described being struck by its very "unremarkableness"– the objections to his lover having more to do with class than gender.
To this end, Weigh's lovers are granted a beautiful fantasy where Marlowe's Edward, resigned to the knowledge that Piers will be murdered, is tragically deprived of the opportunity to see his lover one last time.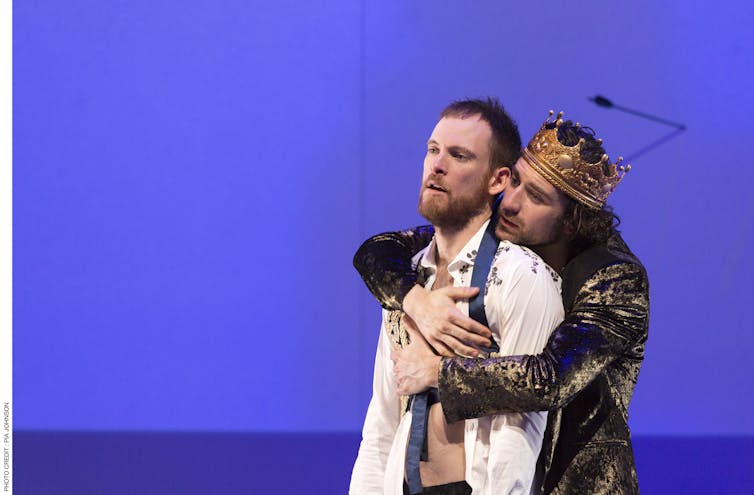 In a genuinely poignant exchange, Ned tells his son that Piers has to go away, but that they will all go to the seaside together for a holiday, "like a family".
"Not like", Piers corrects him: "A family".
McClory's wonderfully cold and injured Sib, whose position is compromised by virtue of being most directly affected by Ned's new love, represents the most vocal critic of the king's homosexuality: "I'm a better man than you'll ever be" she tells Ned, before accusing him of "killing yourself over some skank".
The turning point of the play occurs when Ned humiliates and fires Mortimer after years of loyal service to the monarchy. Marco Chiappi's brilliantly delivered monologue as the ejected Mortimer, recounting his fall from grace, provides a centre for the fractured scenelets of the play.
Describing an encounter with an ordinary family, Mortimer ruminates on how the "greatest shifts in history begin in the mind", and we witness the transformation of popular opinion that once favoured Piers but now recognises that "he's sort of taken over" the king. Mob violence is imminent as Piers is to learn what happens "when you get between the people and their king".
This is a moving and thoughtful production; brilliantly written and cleverly executed. It resists the temptation to overcorrect by making Ned and Piers entirely likeable – their petulance, and appalling treatment of others whilst in power, remains troubling – and it brings one of Marlowe's finest plays roaring into the 21st century with urgency.
Edward II is on at the Malthouse until August 21

David McInnis does not work for, consult, own shares in or receive funding from any company or organisation that would benefit from this article, and has disclosed no relevant affiliations beyond their academic appointment.