For lovers of graffiti, Pokémon Go is old hat
Tuesday, Jul 19, 2016, 08:07 PM | Source: The Conversation
Lachlan MacDowall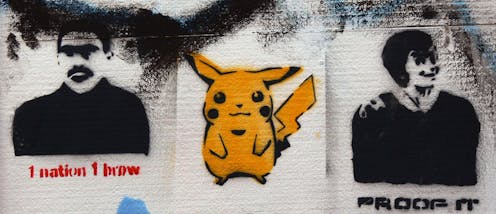 For those of us who practice or follow graffiti and street art, the Pokémon Go craze doesn't seem that new – and not just because street art and graffiti feature so prominently in the game play.
Rather, graffiti and street art provide a prior model for the Pokémon Go brand of mobile, collective urban gaming. We have seen the frenzied, phone-wielding crowds of urban hunters before. When the world's best-known street artist Banksy staged an informal residency in New York in 2013, for instance, he installed 31 artworks across the city, leaving clues to their whereabouts.
The documentary Banksy Does New York (2014) shows the crowds of New Yorkers who raced across the city to capture the works before they were removed or destroyed, just like the crowds reportedly flocking this week to a rare Pokémon site in Central Park.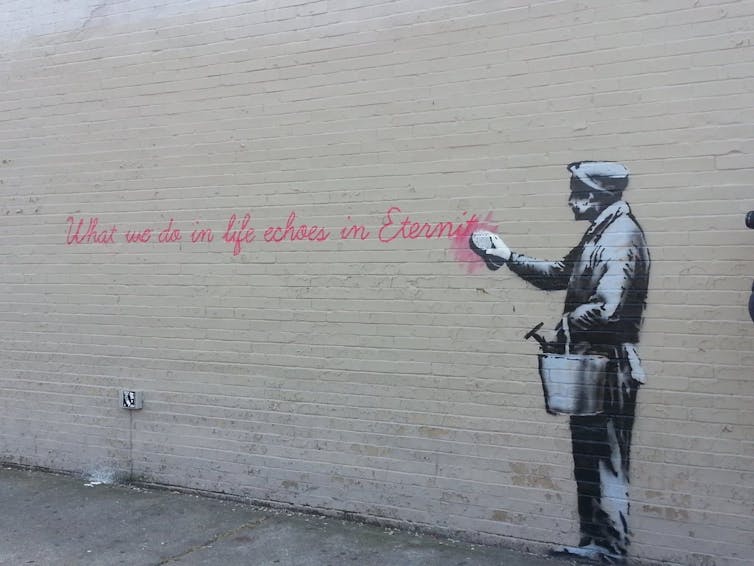 I tried Pokémon Go on Friday in Fitzroy, and was surprised how many sites within the game were actual pieces of street art – both commissioned murals and illegal graffiti bombing.
Even though the game claims to use traditional public art forms such as "monuments and sculptures" as the sites where players can congregate to collect equipment (Pokéstops) or catch Pokémon (Gyms), in practice the architecture of the game "recognises" a much wider array of art forms.
It even displayed clunky names for artworks, such as "Scary Halloween mural" for a graffiti piece in Northcote that includes a few random demon characters.
In my brief test run in Fitzroy, about half of the Pokéstops were spray-painted examples of street art or graffiti. Others were public artworks that I rarely notice, such as Giuseppe Raneri's Sun sculpture on Brunswick St.
Yes, it's dizzying to see small critters dancing on the lap of the tram passenger opposite you, but maybe even more confusing to be invited by a phone app to run across Smith St to the Wominjeka Wurundjeri Bik artwork to grab a handful of Pokéballs.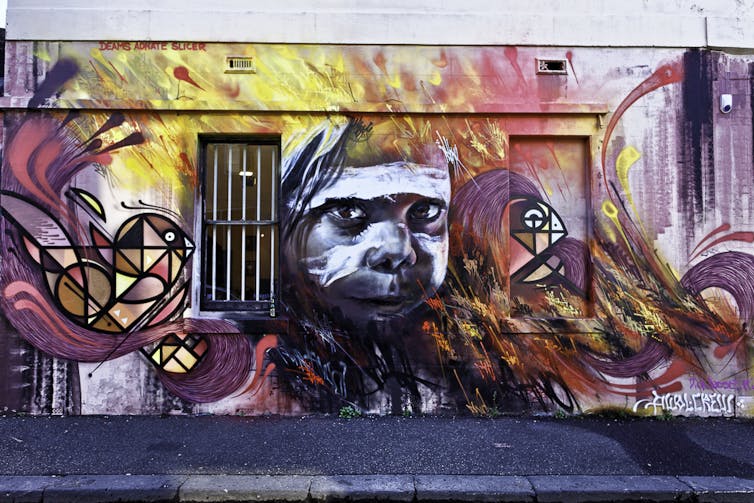 Where is this data coming from? In part the Pokémon sites are repurposed from Ingress, a previous game by the same makers. Ingress used similar reality augmentation to Pokémon Go to create "portals" throughout cities, combining crowd-sourcing and publicly available data, like Google Street View.
This world of game data is generating a new and more open taxonomy of public art.
In the world of crowd-sourced data, no distinctions are made between an indigenous meeting place, architectural details, street furniture, commissioned murals and illegal street art.
And while Pokémon Go is designed around physically stable sites such as sculptures and monuments, many of the street art sites are also artworks that have been erased or painted over, just one of many glitches in the game.
However, my broader argument is that graffiti and street art are not just a backdrop for the game but rather a template for it and and how to navigate urban space.
Pokémon Go reflects contemporary confusions about being in public and the imperfect overlaps between public institutions, public conduct and public access.
Glitches in the game reflect existing glitches in public space, ones already navigated by street artists and graffiti writers and familiar to followers of these art forms.
The Melbourne-based street artist Lush has been quick to take to the Pokémon craze, creating sexualised body paintings of lewd Pokémon characters and morphed combinations of US Presidential candidates on the streets.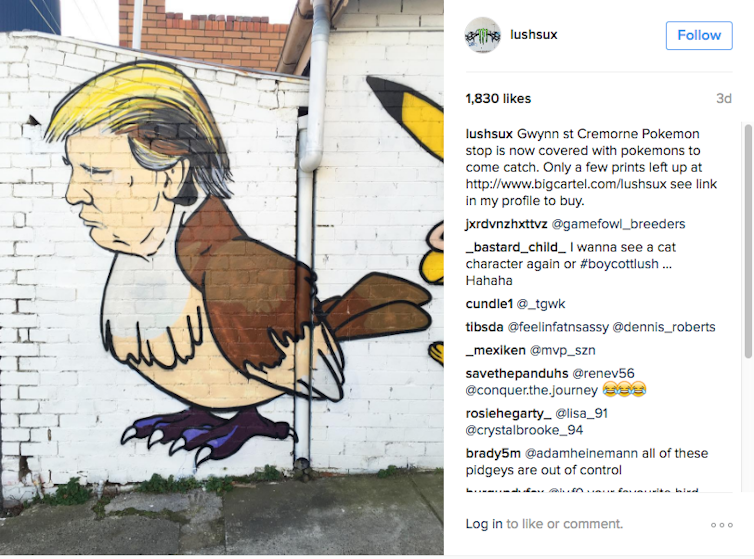 Like Banksy, Lush had already seen crowds of hunters searching for his artworks, such as his series of murals of Kim Kardashian selfies or his sequence of of face-swapping Snapchat portraits – all prefiguring the Pokémon gameplay.
Maybe Pokémon Go isn't as new as it appears and the frequent appearance of street art in the game is less of a coincidence.
The Pokémon craze shows us how graffiti and street art are already forms of social media, their own kind of massive, multi-player game, with their own sites and rewards hidden across the city.

Lachlan MacDowall has previously received funding from the City of Melbourne and the City of Stonnington to undertake research into graffiti and street art.