Higher education policies could result in big increase to federal debt: experts respond
Wednesday, Apr 6, 2016, 03:51 AM | Source: The Conversation
Timothy Higgins, Geoff Sharrock, Ittima Cherastidtham, Peter Noonan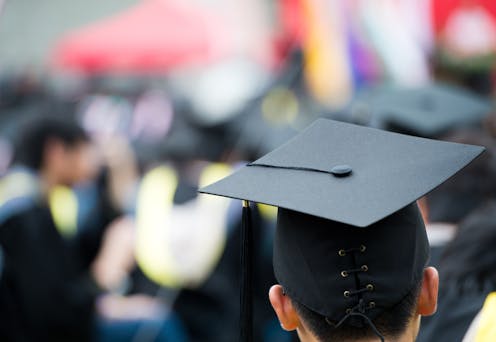 The government's proposed policies to make subsidy cuts to higher education and allow universities to set their own fees will result in big increases to federal debt, warns a report released by the Parliamentary Budget Office (PBO).
The report, looking into the impact of the cost of the Higher Education Loan Program (HELP) on the budget, shows the overall cost of the HELP is increasing rapidly due to the uncapping of student places, which allows universities to recruit as many students as they wish.
By 2025, the cost of HELP will rise by A$9.3 billion. This is largely fuelled by higher interest rates and an increase in unrepaid debt.
Around $4 billion of student loan debt is likely to never be repaid by 2025. The concessional cost of the interest on the loans is forecast to climb from $1 billion to $2.4 billion.
With university fee deregulation still on the cards, and HELP costs continuing to escalate, is government bearing all the risk?
The Conversation spoke to experts about the report's findings and asked them to offer their opinion on the biggest challenges the higher education sector faces.
---
Fee deregulation threatens to increase amount of unrepaid debt
Timothy Higgins, associate professor in actuarial studies in the Research School of Finance, Actuarial Studies and Statistics, Australian National University, says:
The report adds valuable information to the debate, but policymakers should be cautious when interpreting the results.
The projections assume an average 40% increase in fees followed by an annual 2% real increase as a consequence of fee deregulation. The report also presents sensitivity analysis to demonstrate the short-term impact of different rates of fee increase on the underlying cash balance.
But what happens if the initial 40% increase turns out to be 60% instead? What is to stop a course provider from charging excessive fees? Also, what is the impact of fee uncertainty on long-term doubtful debt and concessional interest costs?
Research shows that modest changes in HELP fees could have a considerable impact on the percentage of doubtful debt.
The high, albeit uncertain, projections in the PBO report demonstrate the risk to the sustainability of HELP if deregulation proceeded.
HELP was designed to have unpaid debt, but fee deregulation threatens to increase the magnitude and proportion of doubtful debt to unsustainable levels. There are sound arguments for HELP reform, but fee deregulation needn't be one of them. A solution is to simply not deregulate.
In addition to limiting HELP costs for both students and taxpayers, retaining a price cap on fees would also eliminate the risk of provider price gouging.
The report is based on assumptions that might not come to pass
Geoff Sharrock, program director, LH Martin Institute, University of Melbourne, says:
The report estimates that, due to a mix of factors, the annual cost of HELP loans to the government will rise more than six-fold over the next decade, to $11.1 billion in 2025-26.
This suggests that the current blend of demand driven enrolments and HELP scheme settings needs an overhaul.
The report projects rising levels of students enrolling in courses either partly or fully funded by HELP loans. It says that bachelor degree enrolments grew by two thirds from 2010 to 2015, and are projected to rise further, by a third from 2015 to 2026, to almost 700,000 full-time places. It notes that Vocational Education and Training enrolments have grown hugely in the past few years, but that better controls will flatten growth there.
It projects rising bachelor degree fees (by more than 40% on average) if the government's proposed subsidy cuts and fee deregulation come to pass.
The report is very technical and also helpfully transparent in its assumptions.
Two of those assumptions might be queried, to lower the total cost rises it projects.
One is the 40% increase in fees it expects universities to adopt just to recover losses from proposed subsidy cuts; the 20% cut proposed in 2014 was estimated to need a 30% fee rise offset, although under full fee deregulation a wider spectrum of prices rises beyond cost recovery can be expected.
The other assumption is the interest rate subsidy cost, based on a projection that government borrowing costs rise from 3% to 6% over the next decade. Despite the experience of the last two decades, when a 6% rate was common for Australian government borrowing, here it is possible that the coming decade will see continuing low borrowing rates for Australia in a low-interest global economy.
HELP system needs to be rethought and redesigned into a single scheme
Peter Noonan, professor of tertiary education policy in the Mitchell Institute, Victoria University, says:
The HELP system needs to be rethought and redesigned into a single scheme across the whole tertiary education system rather than through piecemeal changes to the existing schemes. We need a scheme that has broader coverage but is also sustainable. This requires some fundamental changes.
Student fees – supported by income-contingent loans – need to be linked to a benchmark price for different qualifications with government course subsidies and student fee levels linked to that price.
Cuts in course subsidy levels and increased student fees may be a false saving if the government has to write off an increasing level of debt. Great care has to be taken in allowing tertiary institutions and providers to set their own fees where prices significantly exceed costs and returns to students.
Lowering repayment threshold would generate more money
Ittima Cherastidtham, senior associate, higher education, Grattan Institute, says:
The report's projections of HELP lending are probably too high, because they are built on assumptions that fees would be deregulated and the Commonwealth Grant Scheme cut. But so far the government has been unable to get these changes through the Senate. Nevertheless, these projections provide valuable insights.
This year HELP lending is expected to be about $10 billion. It's a big figure, yet its financial impact on the budget is not transparent.
HELP's largest cost – doubtful debt, which is debt that is likely never to be repaid – is not reflected in the budget's fiscal balance until a debtor dies.
Doubtful debt represents about a quarter of outstanding loans. Yet because only 0.35% of people who have had HELP debt have died without paying, large costs will flow to the fiscal balance in coming decades.
In other words, doubtful debt is an intergenerational issue. An educated workforce produces benefits for future generations. But the lack of transparency about HELP's budget impact prevents an informed discussion of how much of these costs can be fairly passed on to future generations.
Government can do more to reduce HELP costs. Grattan Institute's recent report, HELP for the future, argues that current HELP repayment thresholds of $54,126 are too generous. Reducing them to $42,000 would increase repayments by $500 million a year.
---
What do you make of the report's findings? Share your thoughts in the comments section below.

Geoff Sharrock works at a public university which derives substantial income from HELP loans, and which would benefit if fee deregulation allowed fee increases financed by HELP loans.
Peter Noonan is a Professorial Fellow in the Mitchell Institute at Victoria University. The University derives revenue from HELP schemes.
Ittima Cherastidtham and Timothy Higgins do not work for, consult, own shares in or receive funding from any company or organisation that would benefit from this article, and have disclosed no relevant affiliations beyond their academic appointment.