Liberals romp to emphatic victory in Tasmanian election
Saturday, Mar 3, 2018, 10:40 PM | Source: The Conversation
Adrian Beaumont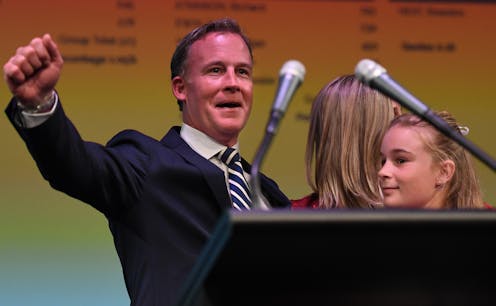 With 84% of votes counted at Saturday's Tasmanian election, the ABC is calling 13 of the 25 seats (a majority) for the Liberals, eight for Labor, and one Green, with three in doubt.
Labor is very likely to win the final seat in Braddon, while the final seat in Bass is a Labor/Greens contest, and the final seat in Franklin is a Liberal/Greens contest.
Vote shares were 50.5% Liberals (down just 0.8% since the 2014 landslide), 32.8% Labor (up 5.4%), 10.0% Greens (down 3.8%), and 3.2% Jacqui Lambie Network (JLN) – which only contested three of the five electorates.
Tasmania uses the Hare Clark system for its lower house elections, with five five-member electorates. A quota is one-sixth of the vote, or 16.7%. For a vote to be formal, at least five candidates must be numbered. Unlike the federal Senate, there is no above-the-line party ticket box.
I will run through each electorate's results from easiest to most complicated.
In Denison, Labor won 2.55 quotas, the Liberals 2.26, and the Greens 1.03. This is a clear two Labor, two Liberals, one Green result, unchanged from 2014.
In Lyons, the Liberals won 3.05 quotas, Labor 1.99, the Greens 0.38, and the JLN 0.32. This is a clear three Liberals, two Labor result, unchanged from 2014.
In Braddon, the Liberals won 3.38 quotas, Labor 1.64, the JLN 0.36, ungrouped candidates 0.26, and the Greens 0.20. Labor is well ahead of everyone else in the race for the last seat, and will benefit from Greens preferences. This will be a Labor gain from the Liberals.
In Bass, the Liberals won 3.53 quotas, Labor 1.59, the Greens 0.54, and the JLN 0.28. Labor is more exposed to within-ticket leakage than the Greens, but is likely to be helped by JLN preferences that do not exhaust.
There will be a crunch point where one candidate from the Liberals, Greens and Labor is left. If the Liberals are third at that point, their preferences probably exhaust. If either Labor or the Greens are third, their preferences should benefit the other left-wing candidate.
In Franklin, the Liberals won 2.91 quotas, Labor 2.07, the Greens 0.86, and the Shooters, Fishers and Farmers 0.16. Premier Will Hodgman won 2.30 quotas, and some of his surplus will leak out of the Liberal ticket. However, the Shooters, Fishers and Farmers ran just one candidate, so four further preferences were required for formal votes. These preferences are likely to assist the Liberals against the Greens.
Labor has gained a seat in Franklin at the expense of the loser of the Liberals/Greens contest.
I believe preferences will start to be distributed following the last day for receipt of postal votes, on March 13.
Why this result occurred
In December, an EMRS poll had the Liberals and Labor tied at 34%, the Greens on 17%, and the JLN on 8%. In the three months since that poll was taken, the Liberals went from a losing position to an emphatic victory – a bitterly disappointing outcome for Labor and the Greens.
EMRS does not usually provide favourable ratings for the leaders, but it did in its December poll. It found Labor leader Rebecca White at a net +40, and Hodgman at a net +13 rating.
There have been two recent state elections with first-term Coalition governments that won landslides at the preceding election, ending at least 14 years of continuous Labor government.
At the Queensland 2015 election, the Liberal National Party under Campbell Newman was defeated; Newman was very unpopular.

At the New South Wales 2015 election, the Coalition was comfortably re-elected; Premier Mike Baird was popular at the time.
Tasmania has now followed the NSW example. Labor was crushed in 2014 after 16 consecutive years in power, and the Liberals easily won Saturday's election.
In Tasmania, White's initial popularity may have inflated Labor's position in the polls. However, people generally do not vote a certain way because they like the opposition leader; the premier's performance is far more important. But popular opposition leaders can inflate their party's vote until close to an election.
At the 2017 Western Australian election, which Labor won in a landslide, Opposition Leader Mark McGowan was popular, but Premier Colin Barnett was very unpopular. The perception of Barnett was probably far more important than that of McGowan.
The Tasmanian Liberals also benefited from anti-Greens sentiment. In the final week, ReachTEL gave the Liberals a 46-31 lead over Labor, and EMRS gave them a 46-34 lead. These polls may have pushed undecided voters into voting Liberal to ensure a majority government, and so they understated the Liberal vote.
It appears that, four years after one term of Labor/Greens minority government, Tasmanians do not want to return to the Greens holding the balance of power. In 2006, Labor easily won an election that was expected to be close because of the Greens factor.
---
Leer más: Liberals likely to win Tasmanian election, while federal Labor's poll lead widens
---
Tasmanian analyst Kevin Bonham has written about why Labor's anti-pokies policy was not a major vote winner.
On Friday, the last day of campaigning, the Liberals were embarrassed when it was revealed they had a policy to relax gun laws that had been hidden from the public. There have been other recent cases where issues that would be expected to have a last-minute impact on an election have fizzled. If the Liberals defeat the Greens on Shooters, Fishers and Farmers preferences in Franklin, the net impact will be positive for the Liberals.
At the 2016 federal election, Tasmania was easily Labor's best state. On Saturday, Labor had its worst result in a state election since the 2014 Tasmanian election – federal and state results do not necessarily agree. A Liberal state government will probably help federal Labor retain its four Tasmanian federal seats.

Adrian Beaumont no recibe salario, ni ejerce labores de consultoría, ni posee acciones, ni recibe financiación de ninguna compañía u organización que pueda obtener beneficio de este artículo, y ha declarado carecer de vínculos relevantes más allá del cargo académico citado.