Federal budget 2016: arts experts react
Wednesday, May 4, 2016, 01:25 AM | Source: The Conversation
By Jo Caust
Federal budget 2016: arts experts react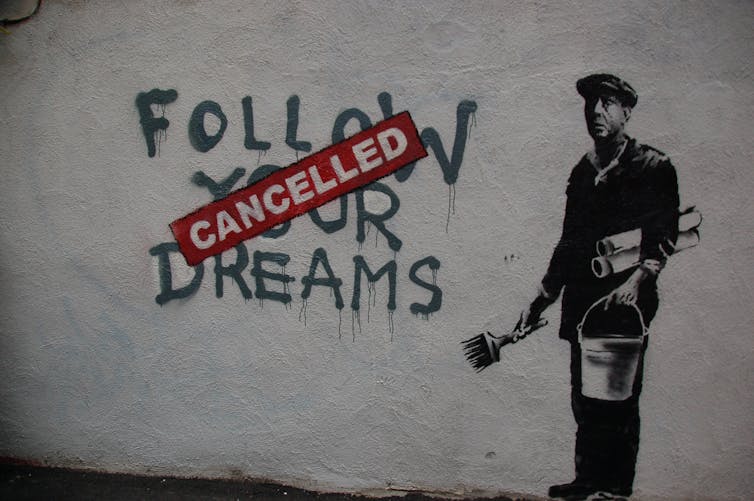 Joanna Mendelssohn, UNSW; Jason Potts, RMIT University; Jo Caust, University of Melbourne; Julian Meyrick, Flinders University, and Peter Tregear, Royal Holloway
Last night's federal budget had little to say about the arts. The Arts Party described it as a "nothing" budget for the arts, while Live Performance Australia said it "fails to deliver any major new policy initiatives or programs" for the industry. The Media, Entertainment and Arts Alliance, meanwhile, highlighted the fact that while the ABC's base funding has been maintained, funding for specialist news services will be cut by A$18.6 million over the next three years.
So, what does all this mean for Australian arts and culture? Our academic experts offer their insights.
---
What happened Malcolm?
Joanna Mendelssohn, associate professor of art and design, University of NSW
We had such hopes for Malcolm: a Prime Minister who revelled in an excellent art collection, a cultured and witty man, who understood that the country needs to be intellectually nimble as it creatively innovates with the latest IT and scientific discoveries on the information superhighway.
Furthermore, here was someone who could address Q&A in his snappy leather jacket. As a graduate of Sydney Grammar and then the University of Sydney, he surely knew that an excellent education is a pathway to success, and to the country's future prosperity.
Well this budget shows how wrong we were. Scott Morrison's stern warning to those who keep the wheels of government turning is that the government is "continuing to keep government spending under control". So nothing for the National Library, National Gallery, National Museum, Australian War Memorial or the Australia Council – which is already on life support.
The only infrastructure mentioned in his government speech is "roads, rail, dams, and public transport" – it gives a mental image of men in hard hats and high viz vests standing in front of earnest television interviewers for the tabloid news. The only difference between the Turnbull and the Abbott era is the addition of trains and public transport.
National arts institutions, along with the rest of the Australian Public Service, will suffer from an expansion of the so-called "efficiency dividend" from which "net savings of $1.4 billion will be achieved over three years".
Probably the best thing arts organisations can do is to line up to give internships for "young jobless" as for the first time in living memory young job seekers are not being harassed but subsidised for their first chance of work. So while there are no regular jobs, it might be possible for embattled arts organisations to give a break to a school leaver.
And that is it for the arts – not very much at all.
---
What rhymes with 'submarine'?
Jason Potts, professor of economics, RMIT University
The main thing that happened with the arts in the 2016 budget is that nothing happened with the arts in the 2016 budget. The arts and culture are obviously not to be part of this coming election campaign.
"This is not a time to be splashing money around" said ScoMo, and then didn't, except on dams and trains and submarines. So much money splashed on so many submarines.
On the face of it, that's good. It means that the new and existing models (e.g. Catalyst, carved out from the Australia Council) are being bedded down. Whatever you think of the new model, which has moved A$15 or so million into a centrally allocated program, this is now the model. So there is value in being ignored, in being made neither a priority, nor a target.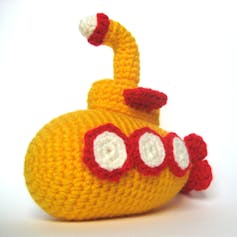 The main benefit, as I see it, came from the corporate tax cuts, small, but a good start. A healthy arts economy ultimately comes from private spending, corporate sponsorship and philanthropy, not from government handouts.
Anyway, someone's got to paint all those submarines. Write songs about them. Make the movies and stories and evocative dances that show us as a great, nay proud and unrivalled, submarining nation.
---
A black and unhappy farce
Julian Meyrick, professor of creative arts, Flinders University
Beckett plays are full of nothing. Narratively, not much goes on. Spiritually, audiences lurch into free fall at the absurdity of human existence. There's time to consider what you should be doing with your life.
A bit like this year's federal arts budget, with Scott Morrison playing the part of Winnie, buried up to her neck in sand, or Nag, who has to spend his time in a box.
No doubt the sector will breath a sigh of relief no major cuts have been unveiled. There's still the thumbscrew of the efficiency dividend ("4.9% in real terms from 2015-16 to 2016-17, and 9.5% in real terms over the period 2016-17 to 2019-20") and a resulting stream of job losses undermining arts organisations large and small.
But at least the Australia Council has survived with its change purse un-raided and its arm's length relationship intact. With decisions about four-year funding only days away, that will mean better sleep for arts practitioners across the country.
Still, let's be honest, what was there to cut? One more slice from the "arts and cultural heritage sub-function" and there wouldn't be much sub-function left to slice. As it is, the lack of investment in the sector is the culmination of two and half years of mistreatment, misunderstanding, and neglect.
No mention of the arts in the Overview at all (unless you include "support [for] a culture of ideas and innovation to encourage commercialisation, reward enterprise and facilitate investment").
Modern economics is a bit like modern drama. The jokes are black and the endings rarely happy. It works on a slenderising principle of "more for less" that can sometimes transmogrify into "everything for nothing".
That's certainly the kind of economic thinking the federal government favours. Rating: one and a half stars.
---
So much for the budget – what about Catalyst?
Jo Caust, associate professor of cultural policy and arts leadership, University of Melbourne
In light of the the 2016 Budget, which generally ignores the arts sector, the announcement of the Catalyst recipients a day earlier was clearly a strategic move by the federal Arts Minister.
Firstly the notion that the Catalyst Fund would be supporting "Innovative Ideas" is not demonstrated. Much of the allocation is going to projects that are likely to have happened anyway.
Nevertheless there is a generosity of funding for particular projects that is unusual in the arts sector. Forty projects are receiving more than A$100,000; the Heysen House in the Adelaide Hills is getting A$1 million and the Back to Back Theatre Company in Victoria will receive A$800,000 (an extraordinary windfall for them). In addition 14 recipients are receiving between A$200,000 and A$500,000. This must be like winning the lottery for several of these organisations.
However several major arts organisations that are already comparatively generously funded have done well from the new Fund. These include Musica Viva in Sydney (A$397,550), the Adelaide Festival Centre (A$400,000), the Arts Centre in Melbourne (A$285,000), the Australian Ballet (A$200,000), and the National Museum in Canberra (A$389,000).
There has been a strong regional focus in the distribution of grants. These include the Wired Lab in the Riverina District near Cootamundra in New South Wales, which is receiving A$340,000 and Artback Northern Territory receiving A$442,536 across two grants.
There a few odd recipients such as the Royal Australian Institute of Architects receiving A$120,000 for the Venice Biennale, the Jewish Museum of Australia $75,500 for a Amy Whinehouse exhibition and the History Trust in South Australia receiving A$125,000 for an exhibition about video games and motor vehicles.
Overall Brandis's original contention of having another pool of money for arts funding with different selection criteria, may have some merit. However the manner in which this occurred – defunding the Australia Council – will leave a bad taste for some time to come.
A major challenge is that there are several arts organisations which may lose their funding to enable this other one to exist. We will all know in a few days what the impact of the Australia Council cuts are likely to be, but it seems that the Coalition Government has not seen fit to remedy the problem by returning the money taken in 2015, back to the Australia Council in 2016. It is a trivial amount in terms of the budget overall, but a huge issue in terms of the beleaguered and vulnerable arts community.
---
How much do we value ourselves?
Peter Tregear, teaching fellow, Royal Holloway
As expected, this year's federal budget delivered no respite from - but also no dramatic furtherance of - the cuts to arts funding bodies and cultural institutions of recent years.
The devil, however, is not in this detail but in the failure, once again, to offer a compelling overall policy framework and vision for the arts in Australia. It is no surprise, therefore, to find no significant new arts programs or reforms in this year's budget either.
While the Australia Council has, for instance, only had to cop an additional A$2 million cut (or around 1%) in its total outlay, overall this budget only confirms its fate to be no longer an arms-length policy and advocacy body for artists but rather a funding delivery mechanism for Government initiatives.
With no relief from their obligations to deliver multi-year "efficiency dividends", our national cultural institutions, similarly, must now operate within severally limited imaginative horizons.
And yet, as Julianne Schultz argued recently in The Conversation, the fact that so much of Australian public life is now in the sway of forces beyond our immediate control only makes the civic role of these institutions "more important than ever", lest our own imaginative horizons become circumscribed by images, shapes, and sounds chosen for us by global media companies with a product to sell, not a civil society to nourish.
Sure, the budget also outlines a growing expectation from the government that these organisations can raise more and more funds from corporate and private philanthropy.
But will those companies and individuals among us who have particularly benefited from this age of unprecedented creation, and concentration, of wealth be prepared to assist?
If government is increasingly unable to express much enthusiasm for the role of the arts in Australian life, why should they? Well, to quote Schultz again,
it is the cultural richness, the democratic, inclusive, pragmatic, egalitarian, highly skilled, educated and creative elements of Australia that make us attractive and distinctive.
Or, to put it another way, how much do we value ourselves?

Joanna Mendelssohn, Associate Professor, Art & Design: UNSW Australia. Editor in Chief, Design and Art of Australia Online, UNSW; Jason Potts, Professor of Economics, RMIT University; Jo Caust, Associate Professor, Cultural Policy and Arts Leadership, University of Melbourne; Julian Meyrick, Professor of Creative Arts, Flinders University, and Peter Tregear, Teaching Fellow, Royal Holloway
This article is republished from The Conversation under a Creative Commons license. Read the original article.