Poll wrap: Labor maintains its lead as voters reject company tax cuts; wins on redrawn boundaries
Friday, Apr 6, 2018, 05:46 AM | Source: The Conversation
Adrian Beaumont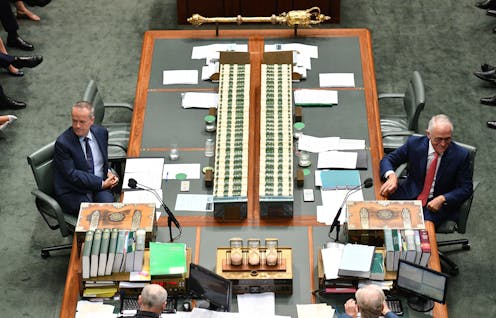 A ReachTEL poll for Sky News, conducted March 28 from a sample of over 2,000, gave Labor a 54-46 lead, unchanged since late February. Primary votes were 36% Labor (down one), 34% Coalition (up one), 10% Greens (down one) and 7% One Nation (steady).
ReachTEL uses respondent allocated preferences. The primary votes imply a swing to the Coalition, though that swing is from the ReachTEL taken the day before Barnaby Joyce resigned as Nationals leader. Analyst Kevin Bonham estimated the February ReachTEL as 55.5% two party to Labor by last election preferences, and this ReachTEL at 54.2%.
Malcolm Turnbull led Bill Shorten by 52-48 as better PM in ReachTEL's forced choice question (53-47 in February).
By 56-29, voters opposed tax cuts for big companies. 68% thought it unlikely that tax cuts would be passed on to workers, with just 26% thinking it likely. The government was unable to pass its company tax cuts through the Senate before parliament adjourned until the May budget.
By 64-25, voters did not want Tony Abbott to return as Liberal leader after the next election. 37% opposed Labor's plan to alter the tax treatment of franking credits, 27% were in favour and the rest were undecided.
Newspoll: 53-47 to Labor
In last week's Newspoll, conducted March 22-25 from a sample of 1,600, Labor led by 53-47, unchanged since early March. Primary votes were 39% Labor (up one), 37% Coalition (steady), 9% Greens (steady) and 7% One Nation (steady).
As has been much discussed, this Newspoll was Turnbull's 29th successive loss as PM, just one behind Abbott's 30 losses. Labor's primary vote was its highest since Abbott was still PM, and the total vote for Labor and the Greens was 48%, up one point - the first change in the total left vote since August.
Turnbull's net approval was up one point to -24, while Shorten's improved three points to -20. Turnbull led Shorten by 39-36 as better PM (37-35 previously).
By 50-33, voters were opposed to Labor's franking credits policy. I believe Labor has gained despite this opposition as those strongly opposed are likely to be Coalition voters anyway. In addition, Labor's policy may give it more economic credibility as they may be seen as more likely to balance the books.
On Monday, The Australian released Newspoll's February to March analysis. In Queensland, the Coalition improved from a 55-45 deficit in October to December to a 51-49 deficit. It appears Newspoll is now assuming One Nation preferences flow to the Coalition at about a 65% rate, consistent with the Queensland state election; previously they assumed the Coalition would receive just half of One Nation preferences.
With One Nation's Queensland vote at 13%, the four-point gain for the Coalition is partly due to the changed preference assumptions. Under the previous method, Labor would lead in Queensland by 52-48 or 53-47.
Turnbull's net approval with those aged 18-34 was just -3, compared with -20 overall, yet the left-wing parties dominated this age group with a combined 57%, to just 30% for the Coalition and 4% One Nation. Turnbull has been seen as a social progressive, restrained by the conservative Coalition base. Young people are far more likely to like Turnbull than they do the Coalition generally.
Turnbull's persistent lead over Shorten as better PM can be explained by a lead with young people, among whom the Coalition would be crushed at an election.
Essential: 52-48 to Labor
Unlike ReachTEL and Newspoll, last week's Essential moved two points to the Coalition, though Labor retained a 52-48 lead. Primary votes were 38% Coalition (up two), 36% Labor (down two), 9% Greens (steady) and 8% One Nation (steady). This poll was conducted March 22-25 from a sample of 1,027.
Only 21% understood a lot or a fair amount about franking credits. 10% said they received a cash payment from franking credits and 16% a tax deduction. By 32-30, voters supported Labor's plan on franking credits.
Voters generally supported left-wing tax ideas, though they supported "cutting the company tax rate to 25%" by 40-30, in contrast to ReachTEL. Voters trusted the Coalition over Labor 28-26 to manage a fair tax system, with 31% opting for no difference.
By 79-12, voters thought there should be more regulation of Facebook, and by 68-22, they were concerned about how Facebook uses their personal information. Nevertheless, voters thought Facebook is generally a force for good by 45-37.
In the early March Essential, concerning the Adani coal mine, 30% supported the Greens' anti-Adani position, 26% the Liberals' pro-Adani position, and just 19% Labor's murky position. 38% of Labor voters supported their party, 31% the Greens and 15% the Liberals. Other voters supported the Greens by 40-26 over the Liberals with 11% for Labor.
Voters supported regulating energy prices 83-7, creating a new Accord between business, unions and government 66-11, increasing the Newstart allowance 52-32 and company tax cuts 42-39. These proposed measures were all asked with a question phrased to skew to support.
By 65-26, voters supported same sex marriage (61-32 in October, before the result of the plebiscite was known).
Victorian and ACT federal draft redistribution
Last year, it was determined that Victoria and the ACT would each gain a House seat, giving Victoria 38 House seats, up from 37, and the ACT three seats, up from two. On Friday, draft boundaries were released.
The Victorian redistribution creates the new seat of Fraser in Melbourne's north-western growth suburbs, which will be a safe Labor seat. According to the Poll Bludger, Labor also notionally gains Dunkley from the Liberals, and the renamed Liberal-held seat of Cox (formerly Corangamite) is very close.
Labor won the ACT-wide vote by 61-39 against the Liberals at the 2016 election, so the new ACT seat had to be a Labor seat.
In other changes to state representation, South Australia will lose a seat, falling from 11 seats to ten. The total number of House seats will increase by one, from 150 to 151. The new draft South Australian boundaries will be released on April 13.
At the 2016 election, the Coalition won 76 of the 150 seats, and Labor 69. The draft boundaries released Friday give Labor three extra notional seats, while the Coalition loses two. With the South Australian redistribution still to come, the Coalition has notionally lost its majority, and will require a swing in its favour at the next election to retain a majority.
---
Read more: ReachTEL: One Nation voters prefer Abbott to Turnbull by over 3:1
---
The draft boundaries will go through a further consultation process before they are finalised. If an election is called before all boundaries are finalised, emergency redistributions are used. These emergency redistributions have never been used.
Batman byelection final results
At the March 17 Batman byelection, Labor's Ged Kearney defeated the Greens' Alex Bhathal by a 54.4-45.6 margin, a 3.4% swing to Labor since the 2016 election. Primary votes were 43.1% Labor (up 7.9%), 39.5% Greens (up 3.3%) and 6.4% for the Conservatives. The Liberals, who won 19.9% in 2016, did not contest.

Adrian Beaumont does not work for, consult, own shares in or receive funding from any company or organisation that would benefit from this article, and has disclosed no relevant affiliations beyond their academic appointment.