How Australia can help reform higher education in India
Tuesday, Dec 5, 2017, 03:56 AM | Source: The Conversation
Craig Jeffrey
The Indian higher education system faces stiff challenges. Australians may not imagine they're well placed to help. But there are opportunities for exciting collaboration between Australia and India in reforming higher education.
In 2004 and 2005 I spent a year living in the north Indian city of Meerut, where I was working as a geographer and anthropologist. Every day I'd get up, walk past a crowded tea stall, and enter the local college to chat to students.
On one side of the college gate was a statue of Gandhi. He passed through the campus in the early 1920s, when the college attracted students from as far away as Nepal.
Near the statue a small group of students congregated to protest about corruption in the city. They called themselves the Chingari group – "chingari" means "spark" in Hindi.
On the left of the gate was a decrepit science block. A student had scrawled on the building in huge white letters "In need of an acadmic atmosphere" – with "academic" misspelled. Although a few students saw themselves as sparks and tried to effect change, the general feel of the college was depressing. The graffiti was like a projection of the mood of most students I met. One told me:
The equipment here is like the equipment in your country fifty years ago. They should throw it down a well.
---
Read more: India soon to have the largest tertiary-age population in the world
---
One in ten people in the world is Indian youth under the age of 30.
Roughly 94% of Indian students study at state-run universities and colleges. These State run institutions face many challenges.
First, curricula are poor. India has a rich tradition of critical education. The British systematically eroded this system, and post-colonial governments have not been able to sufficiently revise colonial courses. By some estimates, only a tenth of those graduating from private colleges in India have skills relevant to employment markets.
Second, there is a lack of research occurring in universities. This partly reflects Prime Minister Nehru's decision in the 1950s to channel research funds into non-university research institutes. And this situation is getting worse. In 1990 India produced more scientific research papers per year than China. In 2011 India produced barely 30% of China's.
Other major problems include inadequate governance arrangements and mismanagement within universities, poor university links to industry, and lack of funding. Educated unemployment and underemployment is also a critical issue. Some students say they're engaged only in "timepass": everyday efforts to stave off boredom and manage a sense of dead time.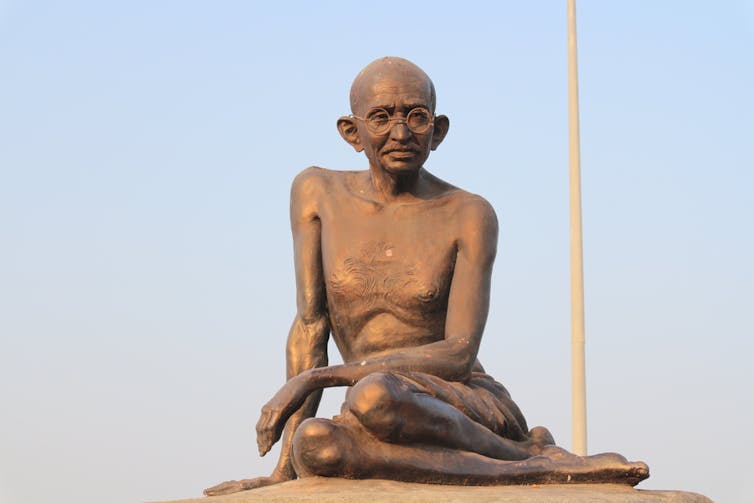 ---
Read more: Why it's the right time for Australia and India to collaborate on higher education
---
Why should Australia be involved?
There's a moral argument for Australian universities to engage with this situation, since they profit from Indian student enrolments.
There's also a financial incentive. People in regional India are spending enormous amounts of money on poor quality education. Australian providers could fill the gap in this market by offering better quality courses.
There's also untapped talent among the mass of Indian students in state-run universities and colleges. Australian universities should be helping to identify and provide opportunities to these many great minds.
And there's a mandate from many sections of the Indian government. Niti Aayog, India's Policy Commission, has called for international assistance in reforming higher education.
Challenges to collaboration
Australia is poorly placed to respond to this challenge in some respects.
Despite the tripling of the Indian population in Australia since 2005, India knowledge in Australia is low. Six universities in Australia taught an Indian language in 1996. Now only two do.
Australian universities tend to concentrate only on engaging with elite higher education institutions in India, which puts the significant amount of students in regional Indian institutions at a disadvantage.
Strategies for collaboration
There are reasons for hope. Prime Minister Narendra Modi is trying to reform higher education in India.
Within India, philanthropists have established some excellent private universities in recent years that could generate educational and economic growth in the regions they're located. Australian universities have recruited faculty with Indian expertise, and are already engaging in some exciting experiments in this space.
How efforts could be extended:
Australian universities could link with top universities in India to create regional educational ecosystems. Many of the best new private universities in India are already engaged with their regions. Ashoka University, for example, runs workshops for college principals and outreach programs in schools. Australia could learn from and supplement such initiatives, using the best private and public universities as hubs.

Australian universities could sponsor basic research. We know almost nothing about Indian higher education in regional and rural India. Even within India there's very little understanding of higher education in those areas.

Australian universities could develop access scholarships for talented Indian students who are not part of the elite. This might entail trusting Australian faculty with India expertise to make qualitative assessments of students outside the normal metrics.
For these approaches to work, we need to use Australian universities' experience in thinking about access and diversity onshore, and apply it in India.
Some of my friends in Meerut have responded to educated unemployment by getting involved in counterfeit private education. They are reproducing the system that produced them as unemployed youth. But others are energetically improving their local school and college systems. These "sparks" could be partners in reform.

Craig Jeffrey receives funding from The Australian Research Council, and is director of the Australia India Institute which receives funding from The Commonwealth Government of Australia, Victorian Government, University of Melbourne and other private sources.