How the aid community responds in Syria will dictate its role in future crises
Sunday, Apr 15, 2018, 08:16 PM | Source: The Conversation
Denis Dragovic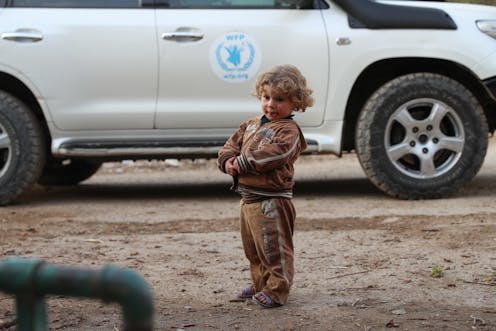 The latest military strikes by the US, France and Britain in Syria highlight the Trump administration's uncertainty on its role in the conflict. With a near triumphant Syrian President Bashar al-Assad firmly under the control of Moscow and Tehran, the strikes against military bases suspected of facilitating the chemical weapons attacks will be nothing more than a footnote in the wider battle for influence in the region.
Trump must look towards the future and focus on influencing the reconstruction of Syria.
Without an active United States, Turkey, Iran and Russia will push international aid agencies and influential Western donor governments onto the sidelines. Instead, they will take the lead in rebuilding Syria in their images, an outcome that will hurt the Syrian people and further destabilise the region.
---
Read more: Further strikes on Syria unlikely – but Trump is always the wild card
---
The size of the challenge
It is hard to find parallels in history with the extent of destruction in Syria.
Not since Dresden has devastation been so extensive. The four-year siege of Sarajevo, where regular bombardment from the surrounding mountains ravaged the city and reduced many areas to rubble, is a comparable yardstick repeated across Syria in Damascus, Aleppo, Idlib, Homs and Hama.
And then there is the human cost. More than 6 million people are internally displaced. Another 5 million are living as refugees.
Each person fled a home, a job and a community that will have to be re-established. This won't be easy, given those who have migrated to Europe are estimated to represent between one-third and one-half of all Syrians with university-level education.
Even if it is theoretically possible to overcome these challenges, the most basic level of reconstruction has been estimated at US$100 billion, and possibly as high as US$350 billion. This far exceeds the estimated US$60 billion reconstruction cost of rebuilding Iraq after the 2003 invasion.
What to expect
Some reconstruction experts have advocated sidelining Assad's Syria, and only providing support to rump areas under the control of US allies. NGOs are advocating conditioning international support on a political solution being agreed, respect for human rights, and protection of an independent civil society.
The Western-led international aid community faces a conundrum as it sits on the sidelines watching others prepare for the post-conflict reconstruction. Should the international aid community adapt and compromise or stand firm with their demands and principles?
Without the West driving the development agenda, Syrian authorities will eschew aid focused on human rights, gender equality, market liberalisation, and democracy. They will have little patience for the Western allegory of aid as salvation, in which the original sin of colonialism drives an effort to save people from poverty by recreating their societies in our image.
Instead, akin to Chinese aid to African countries, major infrastructure projects that serve government interests will top the agenda at the expense of assistance to the other pillars of successful modern countries.
These projects will be funded, managed and implemented on a quid-pro-quo basis. Syrian elites and foreign governments will secure most of the benefits.
---
Read more: How and why China became Africa's biggest aid donor
---
For an aid industry weaned on Western donors and their gender mainstreaming, community consultation, and pro-poor development, adjusting to taking direction from a Syrian government dismissive of the Western conscience and liberal democratic values will pose a substantial challenge. It will lead to serious ethical questions being asked.
Such questions will revolve around whether:
aid agencies participate in donor co-ordination led by an illiberal Russia, an ostracised Iran, or an Islamist Turkey;

collaboration with the Assad government irrevocably compromises NGOs' work; and

aid agencies can contribute to sustainable development if they are prevented from strengthening civil society.
There is no right answer to these questions. Some will take the pragmatic path; others, the high road.
For many aid workers – particularly those associated with advocacy NGOs – staying true to their worldview will mean being sidelined. They will be forced to operate in neighbouring countries, as Syrian authorities refuse to tolerate what they will perceive as social engineering disguised as humanitarian assistance.
This will leave UN agencies flying the flag of the development consensus in word only; they will be bereft of many of their implementing partners. Without these partners, they too will have to reconsider their modus operandi: partner with local sectarian NGOs with questionable affiliations, or undertake more direct implementation.
The benefits of a new approach
Under these circumstances, new approaches to implementing humanitarian and development programs will be need to be sought.
One opportunity is to harness Syria's rich tradition of religious institutions playing a leading role in society. But even such a pivot will pose a conundrum: engaging with these groups will require the international aid community to reconsider its secular agenda.
How the international aid community responds to these challenges will shape outcomes not only in Syria but for future humanitarian crises.
Trying to force the Western development agenda onto Syrians will be counterproductive, leading to the strengthening of non-Western aid organisations that operate outside the decades-old development consensus.
With new-found experience and cashed-up from the largest reconstruction effort since the second world war, these agencies will begin to set the agenda not only for Syria, but in other countries whose leadership will prefer respectful collaboration over what's seen as Western condescension.
Alternatively, Western aid organisations can acknowledge this emerging dynamic and find ways to work with the regime, its sponsors in Russia and Turkey, and the young, emerging aid organisations.
This will require compromising some of the ideals that have been at the heart of the sector and adopting new ways of working. But doing so will lead in the long run to a wider buy-in to the development consensus by the next generation of global aid actors.

Denis Dragovic does not work for, consult, own shares in or receive funding from any company or organisation that would benefit from this article, and has disclosed no relevant affiliations beyond their academic appointment.