Election explainer: what are the opinion polls and how accurate are they?
Wednesday, May 11, 2016, 08:09 PM | Source: The Conversation
Adrian Beaumont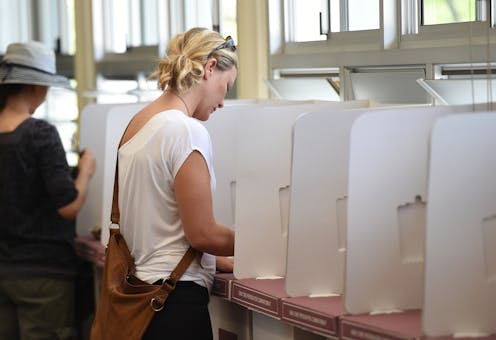 Many opinion polls will be published during the election campaign. Most use either live phone polling (calls made by a human), robopolling (computer calls) or an online panel (poll sample selected from a large database of potential respondents).
Australia's system of compulsory voting makes the pollsters' job much easier than under voluntary voting. Polls in Australia can weight their data to reflect the demographic breakdowns given by the census, while overseas pollsters have to estimate who is likely to vote. Final pre-election Australian polls have usually been accurate, at least on primary votes.
There will be many individual seat polls during the election campaign. Seat polls have not performed well in Australia and we should be sceptical of them. If a seat poll gives an outcome that would be plausible given national polling, we can accept it more easily than a seat poll that shows an outcome very different to what would be expected by national polling.
Below is a guide to all the major national polls. Other national polls are likely to be released, but the six below are the polls that do at least some polling outside of election campaigns, so we can track their behaviour against other polls over a long time.
A poll that "leans" to one side or the other relative to other polls is not necessarily wrong; it may be that the other polls are wrong. However, a "biased" poll is one that election results show to be wrong.
All polls take a long break over summer; the frequency entry excludes these breaks.
Newspoll
Publisher: The Australian
Methodology: Online panel and robopolling, which does not include mobiles.
Sample size: About 1,600-1,800 for most surveys.
Frequency: Usually once a fortnight, but three-week breaks are not uncommon. Once a week during election campaigns.

Newspoll is the poll the political media obsess about most. However, the current version is not the old version, which was conducted by landline-only live polling.
The old version tended to be bouncy, with some big poll-to-poll shifts for no apparent reason. The new Newspoll seems much less prone to random fluctuations. However, it appears to lean a little to Labor, relative to other polls.
The new Newspoll, which started in mid-2015, has not been tested at an election. Galaxy Research conducts the new Newspoll.
Ipsos
Publisher: Fairfax Media
Methodology: Live phone polling, which includes mobiles.
Sample size: 1,400
Frequency: Monthly, but will appear more frequently during election campaigns.

Fairfax had used Nielsen until mid-2014; Ipsos is the replacement for Nielsen. The sample size and methodology are the same as for Nielsen.
At both the previous New South Wales and Victorian state elections, Ipsos' final poll was close on the Coalition primary vote, but underestimated Labor and overestimated the Greens. Recent Ipsos Federal polls have had high primary votes for the Greens and low Labor votes, relative to other polls.
Generally, Ipsos uses the previous election method as its headline figure. But, it asks the respondents to allocate their preferences.
ReachTEL
Publisher: Most frequently Channel 7 News, but has occasionally appeared in Fairfax and local Tasmanian and Western Australian papers. Also does much private polling. Most ReachTEL public polls can be found at the ReachTEL blog.
Methodology: Robopolling, with mobiles included.
Sample size: 2,400 to more than 3,000. All interviews are conducted in one night.
Frequency: Monthly, but will appear more frequently during election campaigns.

ReachTEL was Australia's first robopollster. At the 2013 federal and 2014 Victorian elections, ReachTEL underestimated the Coalition's primary vote and overestimated the Greens.
However, it was very close on all parties' votes at the 2015 Queensland and NSW elections, though the change in preferencing behaviour at the Queensland election meant that ReachTEL overestimated the Coalition after preferences.
Federally, there have been periods when ReachTEL has leaned to one party or the other relative to other polls.
Morgan
Publisher: Self-published at Roy Morgan online.
Methodology: SMS and face-to-face polling.
Sample size: Usually 2,500 to 3,400.
Frequency: Usually once a fortnight, with results based on interviews conducted over the previous two weekends. Once a week during election campaigns.

Until 2013, nearly all Morgan polls were conducted face-to-face and were clearly biased against the Coalition. Final pre-election Morgan polls were conducted by live phone interviews and were much more accurate.
Morgan's SMS and face-to-face federal polling has leaned to Labor, but not to the extent that only face-to-face did. When Malcolm Turnbull became prime minister, Morgan swung to favouring the Coalition relative to other polls, but this lean has decreased as the left have become disillusioned.
Morgan's SMS-only polls have been disasters at the recent Victorian and NSW elections. Like Ipsos, Morgan gives the respondent-allocated preference figure, and in fact uses this figure as the headline number.
Essential
Publisher: Crikey, but also published at Essential Report.
Methodology: Online panel.
Sample size: 1,700 to 2,000 for a normal two-week sample.
Frequency: Once a week, but voting intention results are usually based on the last two weeks. Every week, one new week's fieldwork is added and fieldwork from two weeks ago is dropped. Questions other than voting intentions are based on only one week's sample.

The old Newspoll had too much poll-to-poll bounciness; Essential has too little. There have been many instances where Essential has had the same voting intentions, week after week, even when other polls were showing a clear trend to one side or the other.
When Essential does change, the change is often not replicated in other polls. Essential did not perform well at the last federal election, or at state elections.
Galaxy
Publisher: News Limited tabloids
Methodology: Online panel and live phone, including mobiles.
Sample size: 1,200 to 1,700.
Frequency: Infrequent outside election campaigns.

Prior to the 2013 election, Galaxy was a live phone poll. It has now added an online panel component, so its current methodology is different from that used at the 2013 election.
Since it started conducting Newspoll, there have only been two Galaxy-labelled polls, but I expect more Galaxy polls to appear in the election campaign.
Galaxy had a very strong performance in tracking voting intentions during the 2013 campaign. It also performed well at the recent NSW, Queensland and Victorian elections.
Final pre-election poll tables
The tables for the final pre-election polls are below. Poll numbers in bold are those where a poll was within 1% of the election outcome. The pollsters were quite accurate on the primary votes at the Queensland 2015 election; the change in preferencing behaviour from the 2012 to the 2015 election caused a two-party miss.
Federal election, September 2013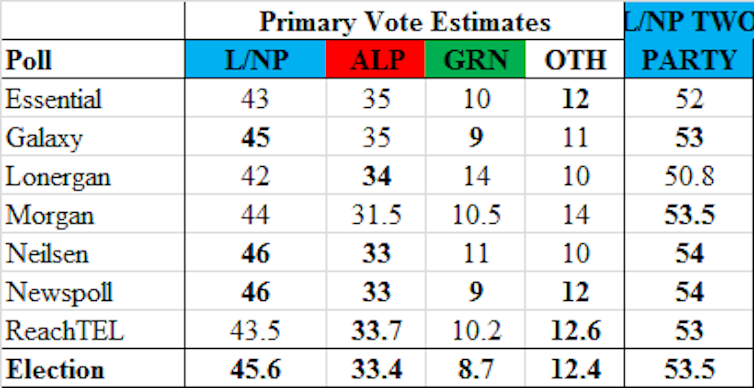 Victorian election, November 2014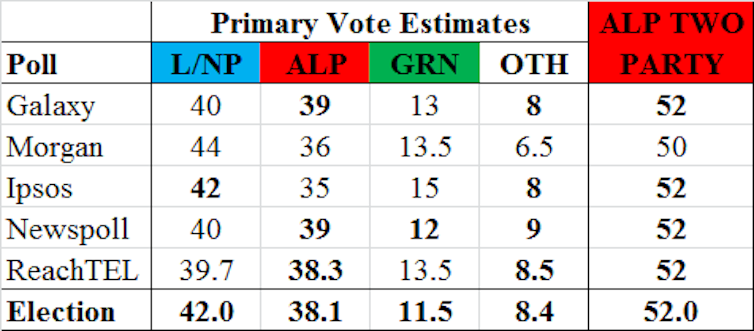 Queensland election, January 2015

NSW election, March 2015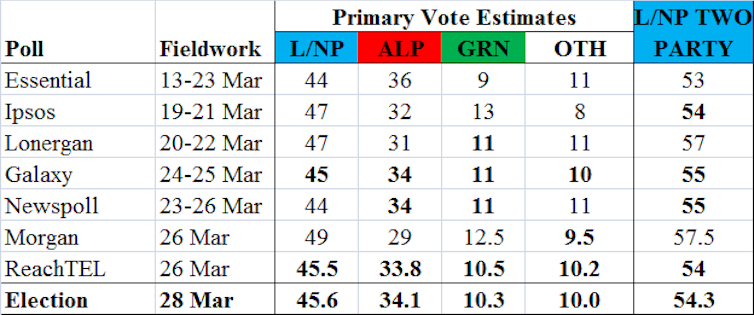 Adrian Beaumont does not work for, consult, own shares in or receive funding from any company or organization that would benefit from this article, and has disclosed no relevant affiliations beyond their academic appointment.