Poll wrap: Newspoll asks skewed company tax cut question as Labor gains
Tuesday, May 29, 2018, 04:00 AM | Source: The Conversation
Adrian Beaumont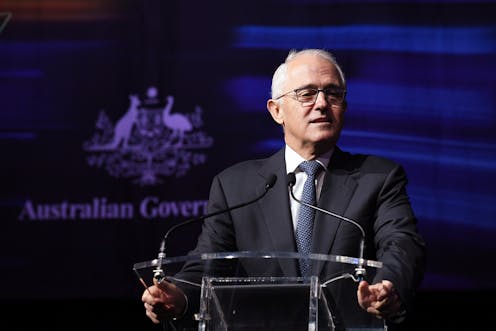 This week's Newspoll, conducted May 24-27 from a sample of 1,590, gave Labor a 52-48 lead, a one-point gain since last fortnight. Primary votes were 38% Coalition (down one), 38% Labor (steady), 9% Greens (steady) and 8% One Nation (up two).
This is Malcolm Turnbull's 33rd consecutive Newspoll loss as PM, three more than Tony Abbott. While Turnbull's last two losses were both by a narrow 51-49 margin, Labor extended its lead in this poll.
The total vote for Labor and the Greens was steady at 47%, while the total vote for the Coalition and One Nation was up one to 46%. One Nation's two-point gain is probably due to its reversal on the company tax cuts.
By 49-39, voters were dissatisfied with Turnbull's performance (50-39 last fortnight). Turnbull's net approval of -10 is a new high for this term. Bill Shorten's net approval was -21, up one point. Turnbull led Shorten by 47-30 as better PM (46-32 last fortnight); this is Turnbull's best better PM lead since September 2017.
---
Read more: Turnbull and the Coalition begin the year on a positive polling note – but it's still all about the economy
---
26% (up three since early April) preferred Anthony Albanese as Labor leader, with 23% for both Shorten (down one) and Tanya Plibersek (steady). Albanese is benefiting from stronger support from Coalition and One Nation voters, who are unlikely to vote Labor. He is in third place with Labor and Greens voters.
By 39-37, voters thought Shorten and Labor would be better at maintaining energy supply and keeping power prices lower than Turnbull and the Coalition.
Last week there was a parliamentary sitting. The Coalition tends to do better when Parliament is not sitting. During parliamentary sittings, there is more focus on the Coalition's policies, and these policies have been attacked by Labor.
In previous cases where Turnbull's ratings have spiked, they have fallen back quickly. This time, Turnbull's net approval increased by one point following a post-budget spike. If these ratings are sustained, they are likely to assist the Coalition.
On May 16, the ABS reported that wages grew at just a 0.5% pace in the March quarter, and 2.1% in the year to March. As I said in my first Newspoll article this year, wage growth is likely to be crucial at the next election.
Newspoll's skewed company tax cuts question
The full wording of Newspoll's company tax cut question can be seen here. Rather than asking a simple support/oppose type question, Newspoll asked whether voters wanted the company tax cuts as soon as possible, over the next ten years, or not at all. This is a skewed question, as two of the possible responses were favourable to the tax cuts, with only one unfavourable.
The question also suggested a "when", not an "if". That is, voters were asked when the tax cuts should be introduced, rather than if they are a good idea.
In addition, the current debate is not over whether "all" Australian businesses receive a tax cut. Companies with a turnover of up to $50 million received a tax cut in March 2017. The debate is whether larger companies should receive the tax cut. The only pollster that has asked explicitly about big companies, ReachTEL in late March, showed voters were opposed by an emphatic 56-29.
---
Read more: Poll wrap: Newspoll not all bad news for Turnbull as Coalition's position improves
---
In last week's Essential, not providing company tax cuts for large business was the most popular option when voters were asked to assess measures to cut government spending (60-22 support).
According to this Newspoll question, 36% wanted company tax cuts as soon as possible, 27% over the next ten years, and 29% not at all. The Australian's Simon Benson claimed that the 63% who supported the company tax cuts is higher than for the same-sex marriage plebiscite (61.6%) - a very dubious claim.
Essential: 51-49 to Labor
Last week's Essential poll, conducted May 17-20 from a sample of 1,025, gave Labor a 51-49 lead, a one-point gain for the Coalition since the post-budget Essential. Primary votes were 40% Coalition (up two), 36% Labor (steady), 10% Greens (steady) and 8% One Nation (up one).
With a Coalition primary vote at 40%, this poll would have been a 50-50 tie using Newspoll's new methods. Essential continues to use the 2016 preference flows for its two party results. This poll was taken before Parliament resumed.
After a detailed question, 45% supported Labor's tax plan proposal, while 33% supported the government's. Most voters are not familiar with this much detail on policies. Similarly, voters supported Labor's plan for the economy by 44-38 after much detail on Labor and Coalition proposals.
32% (up six since March) would trust Labor to manage a fair tax system, while 32% (up four) would trust the Coalition, and 22% (down nine) say there would be no difference between the major parties.
Just 34% correctly named the Queen of Great Britain as Australia's Head of State, with 30% selecting the Governor-General and 24% the PM. By 48-30, voters would support Australia becoming a republic with its own Head of State (44-29 in January). 65% thought an Australian Head of State should be directly elected, 12% appointed by a two-thirds parliamentary majority, and 9% appointed by the PM.
Tasmanian Senator Steve Martin joins the Nationals
As a result of the citizenship fiasco, Jacqui Lambie resigned from the Senate, and her place was taken by the second candidate on her ticket, Steve Martin. Martin refused to resign, which would have allowed Lambie to retake her seat, and was expelled from the Lambie Network.
On Monday, Martin joined the Nationals. While Lambie was conservative on immigration issues, she was a reliable vote for the left on economic issues. Martin's replacement of Lambie is a clear loss for the left. The Coalition will have a slightly easier path for its legislation, with 31 seats, up from 30. 39 votes are required for legislation to pass the Senate.
Super Saturday: July 28
Last week, the Speaker of the House announced that the byelections for the five lower house seats of Braddon, Longman, Mayo, Perth and Fremantle would not be held until July 28. Labor's conference had been scheduled for that weekend, and has had to be postponed.
While Labor is very unhappy with the byelection timing, it may be a favour. The rights of asylum seekers are important to Labor's left, but not to the general public. Public division within Labor over the treatment of asylum seekers could damage them. Policy on asylum seekers is an issue where the public backs the right.
---
Read more: Centre Alliance's Rebekha Sharkie most vulnerable at byelections forced by dual citizenship saga
---
In brief: Tasmanian polling, Ireland abortion repeal referendum
An early May Tasmanian EMRS poll gave the Liberals 47%, Labor 30% and the Greens 14%. The upper house seat of Prosser held an election on May 5, and the Liberals won it on May 15 after preferences were distributed. You can read more about this at my personal website.
On Friday, Ireland repealed the eighth constitutional amendment by an unexpectedly large 66.4-33.6 margin. The eighth amendment, passed in 1983, had greatly restricted abortion rights. The effect of repeal is that Parliament can legislate on abortion. You can read my preview for The Poll Bludger here, and my results report here.

Adrian Beaumont does not work for, consult, own shares in or receive funding from any company or organisation that would benefit from this article, and has disclosed no relevant affiliations beyond their academic appointment.