Friday essay: the art of the pinch – popular music and appropriation
Thursday, Nov 30, 2017, 07:06 PM | Source: The Conversation
Mitch Goodwin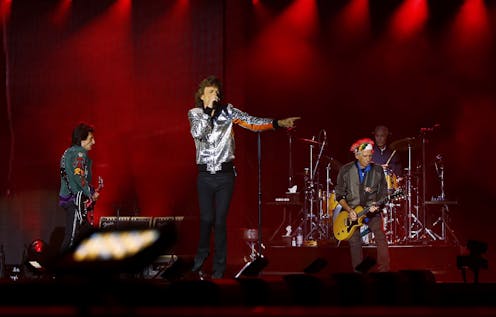 Everything old is new again. Today the Rolling Stones release On Air, a collection of much-bootlegged BBC live studio broadcasts taped for a variety of programs between 1963 and 1965. The remastered set provides a rare glimpse of the young musicians playing to order the songs that defined their early hybrid sound and telegraphed – much like The Beatles – their love for African-American music.
The recently restored archival recordings map their transition from astute performers of seminal black American blues and roots music to legitimate codifiers of its (mostly white) bastard offspring. From I Can't Be Satisfied to (I Can't Get No) Satisfaction, from Route 66 to 2120 South Michigan Avenue. Full circle, full steam ahead.
The release of these archival recordings, following on from last year's bristling Blue & Lonesome set and the recent nostalgia-laden #NoFilter tour are a reminder of how entwined the band's legacy is with the pioneers of black American music. From their Delta roots to their electric spirit animal offspring - Chicago and West Coast blues, Stax and Motown soul and early Sun and Chess rock 'n roll - the old masters had cast a wicked spell over the young lads from Dartford. This, of course, is in stark contrast to the saccharine radio programming Mick Jagger and Keith Richards had grown up with in the 1950s in which appropriating another person's culture and creative output had turned an artistic endeavour into a form of soft-manufacturing.
Music production became a lucrative industry with straight-edge white performers like Bill Hayley, Perry Como and Pat Boone cutting sanitised versions of Little Richard, Big Joe Turner and Fats Domino records when the original renditions were still fighting their way up the pop charts. As Richard explained in the Chuck Berry documentary Hail! Hail! Rock 'n' Roll:
Then here come Pat Boone. The white kids wanted mine, 'cause it was real rough and raw, and Pat Boone had this smooth version. And so, the white kids would take mine and put it in the drawer and put his on top of the dresser. I was mad. When Pat Boone covered my record, I was mad, I wanted to get him. I said, 'I'm goin' to Nashville to find him'.
Cultural appropriation in a musical context doesn't have to be at the exclusion of the original artist or the culture from which they carved their path. Pinching musical phrases and stylistic approaches – when done thoughtfully and with a desire to connect with the original work's unique properties – has always been a part of the art making process.
And yet, as artists like the Stones and the Beatles have demonstrated, it should not be a closed circuit. It should manifest itself as a social and artistic conversation across languages, across media, and across generations - a form of cultural exchange. Although, as Keith Richards discovered when working with Chuck Berry in the late 1980s, getting it right ain't always easy. There is inevitably a price to pay, and Richards more than anyone knows the score. For every lift, there is a link to the past – a debt owed and a palm to grease. With every lick comes a nod and a cheeky wink.
A medium of social exchange
The production of culture is very much informed by the technology that enables it. The Philadelphia and New York disco movement, for instance, were as much a technological evolution as a dance floor phenomena. Legendary DJs such as Frankie Knuckles and Larry Levan would isolate, cut, loop and layer sounds using reel-to-reel tapes to create extended remixes to maximise a track's dancefloor credentials.
In much the same way, hip hop culture helped facilitate the emergence of the remix as a technological act via turntablism, scratching and later sampling. Inevitably, pinching the break or the intro or a signature moment and re-purposing it would evolve into an art form. By dropping musical fragments into new material arrangements, disco and hip-hop DJs from the Bay to the Island devised an accessible production methodology that would translate seamlessly into the post-analogue world.
Producers like Danger Mouse (The Grey Album) and The Avalanches (Since I Left You) and mash-up artists like Girl Talk (Feed the Animals) and Tom Caruana (Black Gold) are the millennial cut and paste inheritors of this practice.
The digital remix not only accelerated modes of cultural exchange but made possible an almost infinite splintering of sub genres and associated sub cultures. What makes hip hop culture so important – and this is analogous to the Stones – is that in the beginning, DJs like DJ Kool Herc borrowed from music that was not only underrepresented on mainstream radio, but was made by revered funk and soul artists - the so called "the sacred crates. Kool Herc championed records by James Brown, The Jimmy Castor Bunch, Cymande (UK), The Incredible Bongo Band and Baby Huey & The Babysitters.
Music is also a medium of social exchange, we can see (and hear) this in the evolution of not only disco and hip hop but also in Jamaican sound system culture of the 1950s. Sound clashes were inherently socio-political events organised as mass gatherings around big speakers and big sounds and big ideas. In essence, a sound clash was a competition between sound system crews who marshalled speaker stacks, often on the back of trucks, spinning imported American R&B records and later dub plates of exclusive Ska and Rocksteady mixes. It was sonic warfare. DJs and MCs - like Count Machuki and Clement "Coxsone" Dodd - became local superstars who cultivated their own sounds. From Jamaican Sound System culture we can mark the emergence of brand new sonic techniques like scratching (Lee "Scratch" Perry), beat boxing (Machuki), the break (Kool Herc) and the remix (King Tubby).
These musical innovations became statements of Caribbean identity. Like African and Cuban rhythms that migrated to the Americas, these sounds became migratory too, travelling with West Indian migrants to the UK, leaking into the sonic palette of predominately white groups such as Madness, The Pretenders, The Specials, The Police and of course The Clash. These would later mutate into more distilled contemporary forms such as Dub, Jungle and Drum & Bass.
A cultural awakening
The release of On Air by the Rolling Stones is indicative of a recurrent theme of the group not only appropriating African American musical stylings, lyrical patterns and performative techniques but pointing audiences to the source. Whether it be in the mimicry of Chuck Berry guitar phrases, the jungle rhythms of Bo Diddley, the vocal mannerisms of Jimmy Reed or the lyrical misogyny of Sonny Boy Williamson, the band has always worn its passion for the source material like a badge of honour.
The Stones' breakout tours of the US and Europe (1967-72) are indicative of this dogged commitment to the form. They stacked their support act packages with African American artists such as Taj Mahal (1968), Ike and Tina Turner (upon whom Jagger is rumoured to have based his raunchy stage persona), BB King (1969), Buddy Guy (1970), and Stevie Wonder (1972). As Guy remarked recently
They were bigger than bubble-gum … when they came to America, they recognized some of the greatest musicians that I had admired – Ike and Tina Turner, Muddy Waters, Howlin' Wolf – and let America know who we were. They let white America know what the blues is. We owe those guys all the thanks in the world.
The American tours of the early 1970s took place in a politically charged atmosphere of racial division, sexual awakening and inter-generational conflict. A time when white American audiences were still reconciling with the notion that culture was a form of identification, of exchange, a mode of storytelling rooted in race, identity, faith, sex and – after Dylan via Guthrie – politics.
It was also a period of cultural awakening, as a rich lineage of African American music - which had given the world fiercely original artists such as Robert Johnson, Billy Holiday, John Coltrane, Miles Davis and Chuck Berry - was now being commodified for new audiences by a new industry and a new genre of musical expression.
An open source 'cookbook of rock'
The musical tool kit the latter artists laid bare – open tunings, a swinging back-beat, bending notes, long form improvisation, call and response, vocal phrasings, urban storytelling, spiritual empowerment, stage theatrics and of course overt sexual bravado were all mutated into this musical progression.
Bands like the Stones, The Animals, Fleetwood Mac, Cream and later Led Zeppelin, The Allman Brothers Band and the Grateful Dead appropriated many of these elements to design an open source Cookbook of Rock – flexible enough that it would facilitate decades of experimentation and manipulation, yet well-enough defined so that it would require devotion and authenticity to pull off a lick with your chops and dignity still intact.
Bo Diddley, the original "guitar slinger" – and by his own admission, "the man" – was one of rock and roll's true technical innovators who has a very different take on this.
Speaking to the New York Times in 2003, he made it quite clear who were the beneficiaries of this process: "I opened the door for a lot of people, and they just ran through and left me holding the knob".
Accusations of appropriation have, of course, dogged Led Zeppelin, with several claims that they lifted song parts and lyrics without accreditation or acknowledgement (although a court cleared the band of plagiarism in relation to Stairway to Heaven in 2016). The argument they proffer in their defence, that the pinch was more like a sample and that the result was a considerable transformation of the original, is consistent with the conceit of musical appropriation as an artistic prerogative. Yet it would seem that Zeppelin were more brazen than most.
Cultural forms as fashion accessories
The brashness of Page and Plant displays a degree of insensitivity and perhaps white privilege that lies at the heart of the contemporary cultural appropriation debate.
We have seen recently – from bindis at Coachella to American Indian regalia at Burning Man – how racial and cultural forms have been commodified and trashed as fashion accessories to serve bizarre notions of connectedness, freedom and belonging. Most prominently, this is exploited by art directors and marketing departments to window dress pop music by highly visible major label music acts who probably should know better in the Twenty-Teens.
Indian and Hindu culture gets the full treatment in the ethno-confused art direction of Coldplay and Beyoncé's promo clip for the song, Hymn for the Weekend, that portrays Indian stereotypes – like "levitating gurus, slum dogs, and throwing coloured powder" – in a manner that, according to Rashmee Kumar, stifles critical thinking about India's social and political climate.
Coldplay's video romanticizes Hinduism to further exoticize India as a westerners' paradise unsullied by harsh realities.
We see this time and again in the mish-mash of Asian referencing in productions featuring Major Lazer & DJ Snake (India), Iggy Azalea (India, again) and Katy Perry's bizarre appearance as a Geisha at the American Music Awards.
Epitomising this trend is John Mayer's video clip, Still Feel Like Your Man, a musical performance he confusingly labels "disco dojo" and "ancient Japanese R&B". Although the clip is emblematic of this creative clumsiness by major artists, the music press at the time went along for the ride. Rolling Stone magazine called the clip "colourful" while Billboard magazine repeated Mayer's mixed Japanese metaphor, adding that the Mister Whitmore directed clip is "decorated with kimonos, dancers in panda bear costumes, swordfighting and bamboo trees" despite the obvious contradiction that Panda bears are traditionally from China.
Music journalist Touré cuts to the chase saying Mayer is "not racist, he is dumb on race". In just one tweet Touré calls out Mayer's ill-informed approach to not only the video's production design but even the song's origins, which evidently have more to do with Katy Perry's old shampoo bottles than the origins of global Asian culture. The West's colonial view of the East however has always been perverted, as Malek Alloula wrote in The Colonial Harem back in 1981, the Orient
has fascinated and disturbed Europe for a long time. It has been its glittering imaginary and its mirage.
Pop culture is the messiness between the concentric orbits of personal identity and collective history. When appropriation is done well, with a quest for knowledge or to seek out an emotional core or a narrative truth, this messiness can create new meanings and new partnerships. It might even construct new narratives and spawn new beginnings.
When it is done in an ill-informed, shallow, tokenistic manner, it only serves to perpetuate tired yet stubbornly persistent colonial, racial and patriarchal stereotypes.
An informed practitioner
Jagger and Richards are not alone in their quest for authenticity and musical integrity. Many productive relationships were forged between African American musicians and their British disciples in the Sixties. Studious artists such as The Beatles, Eric Burdon, Ray Davies, Eric Clapton, John Mayall and Peter Green well understood the burden of institutional oppression and the insult of segregation that framed the Blues narrative. Eric Clapton in particular, when not flirting with radio schmaltz, has spent a large part of his career trying to perfect the performance stylings and musical arrangements of artists such as Freddy King, Robert Johnson and Lowell Fulson.
Listen for instance to Clapton's extraordinary vocal performance and brutal guitar playing on his late career electric blues covers album From the Cradle.
In the swinging London of the Sixties, Clapton's chariot swung low, he understood better than anyone the importance of cultural exchange – of being in the moment, of finding the sound, of going deep. For Clapton, the moment had to be real. He devised his own version of the power-trio band format after seeing the Buddy Guy trio tear up a club in London in 1965.
A year later, at the Regent Street Polytechnic, the roles were reversed when he witnessed the Hendrix phenomena first hand. At the bequest of manager Chas Chandler, Hendrix was invited to jam with Clapton's new outfit, The Cream. However, Hendrix's incendiary version of Killing Floor shocked Clapton so completely that he retreated backstage, later confronting Chandler with the immortal line: "You never told me he was that fucking good."
Clapton was knowledgeable enough, however, to understand the lineage back to Buddy Guy and to Otis Rush and the rarefied realm within which these artists operated. Like Clapton before him, Hendrix's brief London period was very much about research and experimentation. He grabbed what he could – sounds, rooms, gadgets, people, the air itself – to create the colours he saw in his head and by doing so blowing everyone's mind in the process.
Keith Altham a writer for the New Musical Express at the time, remembers Hendrix as
a magpie. He would take from blues, jazz – only Coltrane could play in that way – and Dylan was the greatest influence. But he'd listen to Mozart, he'd read sci-fi and Asimov and it would all go through his head and come out as Jimi Hendrix.
Today, if Hendrix were to be studying his Masters at the Melbourne Conservatorium, we would call him an informed practitioner. Back then he was a seasoned professional working in relative anonymity in the hotbed of London with the support of Misters Clapton, Chandler, Jones and McCartney.
Today, magpie extraordinaire Bob Dylan – rock's first poet Laureate, pirate, cowboy, the joker and the thief in the night – has spent the last two decades reverting to the ramshackle rhythm and blues template of the old masters. His Never Ending tour has become a quest for authenticity via a re-imagining of his back catalogue through the DNA of rhythm and blues. Purists take note.
So, it comes down to this notion of being informed and knowledgeable about the origins of cultural idioms that are being appropriated that defines music making and performance. Its evolution is an often lawless and contested process of cultural and technical mutation - a hack of the circuits, a pinch of the code.
In the first instance, something has to be identified as being worthy of emulation or adaptation, and in turn, something then has to be gained from the act of appropriating it. The art form must evolve, diversify, move forward, or – as the case is with Hendrix – take a giant leap into the future.

Mitch Goodwin does not work for, consult, own shares in or receive funding from any company or organization that would benefit from this article, and has disclosed no relevant affiliations beyond their academic appointment.